Tested at CES: Timbuk2 Sleuth Camera Backpack
I trusted my shoulders to Timbuk2's new camera day pack for the marathon that is the Consumer Electronics Show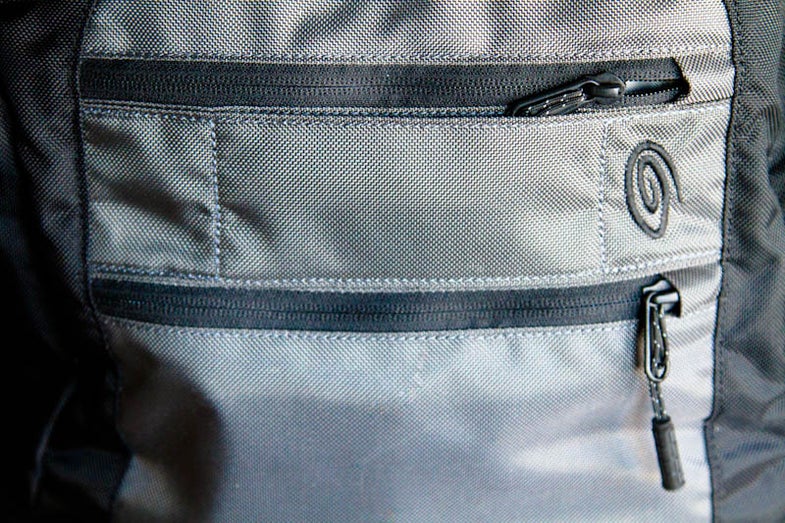 We may earn revenue from the products available on this page and participate in affiliate programs. Learn more ›
Last week, we were on the floor at the Consumer Electronics Show in Las Vegas trying to hunt down the coolest new camera-related gadgets to feature here on the site. It was my sixth time at the show and I've learned that choosing the wrong bag can be both frustrating and physically painful. But, I gave Timbuk2's new Sleuth camera bag a chance to carry my gear and I came away impressed and, thankfully, able to stand up straight.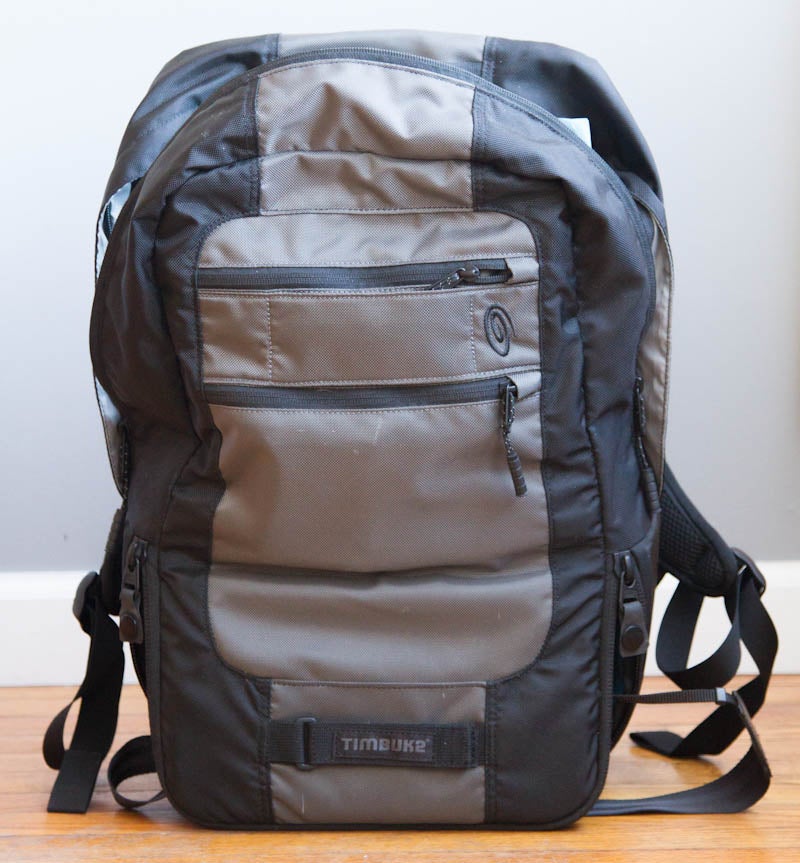 What is it?
Timbuk2 hasn't been a name in the camera bag game for long, but their arsenal of photo-related products is growing steadily. They use the same rugged ballistic nylon found in their messenger bags in their camera line. The Sleuth is a two-pocket system, with the bottom section designed to hold camera stuff and the more-open top compartment designed for personal items. There's also a slot for a laptop which will comfortably accomodate up to a 17-inch laptop. With a lot of new bags catering to the MacBook Air and tablet user, it was nice to find a new bag that had no trouble accepting my 15-inch MacBook Pro.
Pockets
The press material says that the camera compartment is big enough to hold a DSLR with two lenses, as well as a flash and accessories. I found that to be true, although it can be a tight squeeze. Here's what I was carrying, which pretty much maxed out the compartment: 1 Canon 7D with a 24-105 F/4L IS (attached), 1 50mm F/1.8 II, 1 Canon 580 EX Flash and a Leica D-Lux 3 camera I was also reviewing. The Velcro dividers are customizable, but the pocket itself isn't that deep (because of the low-profile of the bag) so it took a bit of configuring before I got everything where I wanted it. Once I had it figured out, though, everything stayed nice and secure. But, if you're using a large pro body or a battery grip, you can expect to fit even less gear.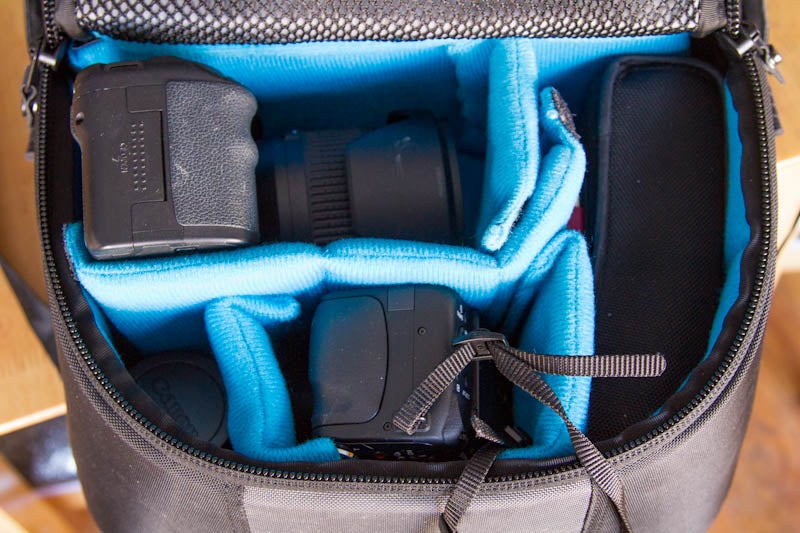 The top pocket looks small when you open it, but I was able to fit full magazines and my notebook in no problem, which surprised me. The zippered pocket inside the flap was great for batteries and memory cards, and there was even a slot for business cards.
There are two pockets on the outside, both of which are big enough to hold battery chargers, but they'd do better with flatter objects if you can manage. I filled mine with Clif bars, a CES staple.
Access
Many sling bags like this give you the option of side entry into the camera pocket, but there's only one way into the Sleuth, so you'll have to take it all the way off if you want to get at the camera compartment. You can leave it on one arm and sling it around, but then you're supporting an open bag, which can get kind of awkward. So, if you're the type that likes to leave the camera in the bag until it's time to shoot, this may not be your first choice. But, in a situation where the camera is almost always out (like CES) it didn't prove an inconvenience.
The top pocket is extremely straight forward and the laptop sleeve is recessed a bit, so even if you leave it open by accident, you probably still won't see it go sliding out .
Protection
I used the Sleuth as my sole carry-on, trusting my laptop and my camera gear to it and everything came out just fine. The laptop slot is lined with Tricot and padding, so even though the sleeve is a rather tight fit, everything remains well protected.
The bottom section of the bag doesn't have quite as much padding as others in its class, so I wouldn't want to drop it, but it's not so little that I ever felt the need to worry about the gear I was putting in it. The dividers in the camera pocket are fairly standard for any serious camera bag.
If you're going to to be in wet environments or overly humid climates, you might want to opt for something with a little more weatherproofing or at least an included rain cover, which the Sleuth lacks. The nylong shell does a pretty good job of resisting moisture, but it's ultimately only average when it comes to keeping things dry.
Fit
One of the things I liked very much about the Sleuth was the way it fit. The straps are wide, but not so much so that they fall off your shoulders. Same goes for padding, which was very effective, but didn't make the straps balloon up and restrict your ability to put it on and take it off in a hurry. They also never seemed to get twisted, which is wonderful because that drives me insane. You can connect the straps across your chest using a clip, which is also a plus because it adds support and keeps the whole pack more securely in place.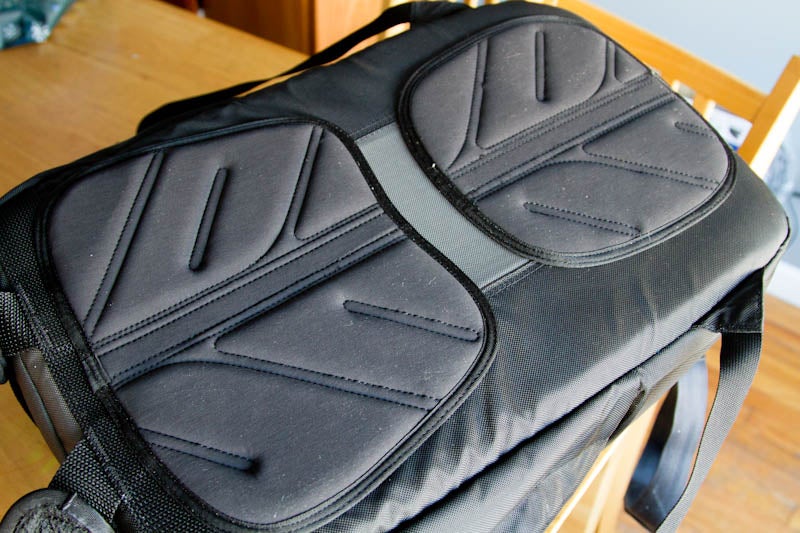 The back panel has vents created by the same low-profile padding found in the straps. I didn't really notice the back padding much, but it must have been working because I saw a lot of very sweaty backs over the course of the show and yet my shirts remained pretty dry.
Even when full, the whole bag still has a very streamlined profile, which allowed me to wear it high on my back where it was most comfortable. It also cuts down on added bulk, which I appreciated on the crowded show floor and in packed elevators.
I'm torn about whether or not it would benefit from a waist strap. While I think it would've improved an already great-fitting bag, it also would've taken away from the simplicity of the whole package, which is a big selling point.
Construction
While a week or so isn't really enough to full test the endurance of a camera bag, I can say that I'd expect the Sleuth to stand up to just about any situation. CES is a long, hard process and it survived no problem. The zippers were strong and the nylon material resisted scuffs common from being thrown on the floor.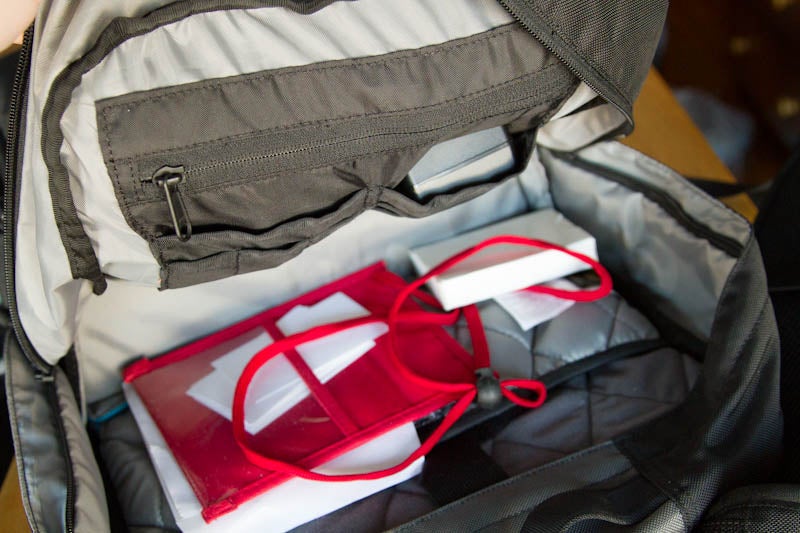 Look
This is another high point for the Sleuth. Just by looking at it, you might not even be able to tell that it's a camera bag, which is a big plus if you're not into advertising the fact that you're carrying a lot of expensive gear. The low-profile pack doesn't give you that Ghost Busters look and the understated black-and-grey colorway goes with just about anything. iIt also comes in Algae green, which takes a bit more bravery to pull off, but that's part of Timbuk2's image. It would be cool if you could take advantage of some of their custom fabric options, but I'm betting that will happen if the camera bag series gets popular enough.
Conclusion
Bags like this one are becoming more common, but with many of them meant to handle an iPad or a tiny MacBook Air, it's nice to see one that can accommodate a full-sized laptop. While I wouldn't have minded a little more room for gear, the Sleuth has plenty of space for a day pack. Plus, it's very tough, extremely comfortable, and it's one of the best-looking camera bags I have seen in a while. I'd have no problem recommending it as a short-list option for anyone in the market for anyone looking for a great camera bag that doesn't, well, look like a camera bag.