New Gear: Sony Alpha A37 Translucent Mirror Camera
The follow-up to the A35 is still all about speed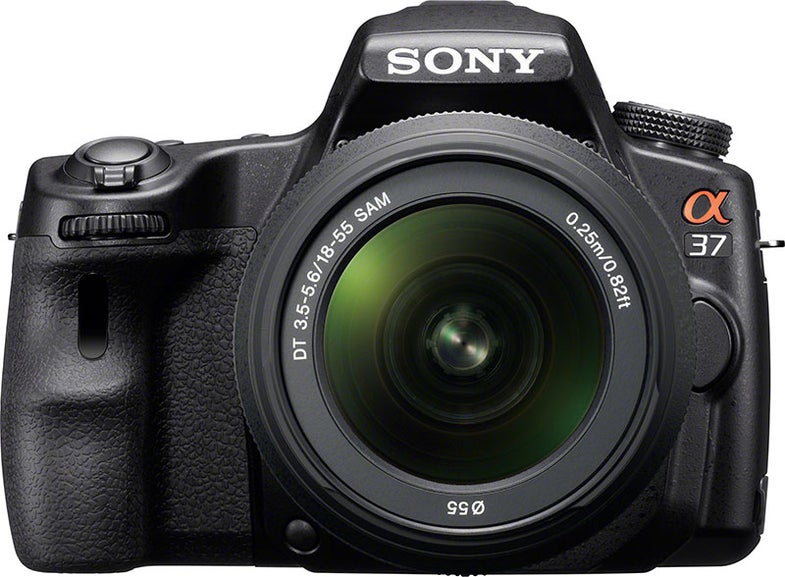 We may earn revenue from the products available on this page and participate in affiliate programs. Learn more ›
The NEX-F3 isn't the only new piece of kit in the Sony arsenal tonight. Following their familiar naming structure, Sony is following up the A35 with the new A37.
Like all of the translucent mirror cameras before it, the A37 is big on speed. If you're in Tele-Zoom High Speed Shooting Mode (which applies a 1.4x crop factor to the already cropped image) you can get up to 7 fps with phase detection AF engaged. It's not quite the 12 fps you can squeeze out of the A77, but it's still pretty good.
The AF system has gotten a bit of a revamp. It now has 15 total AF points, three of which are cross-type. Because of the fixed mirror, you have access to the continuous AF system even in video mode.
EVF is in full effect for the A37. It uses the 1440K dot resolution Tru-Finder with 100% field of view, which is nice to have at a camera at this level. If you'd rather use live view, you can do so from the 2.7-inch Clear Photo LCD screen that tilts.
Like the NEX-F3, the A37 has Pixel Super Resolution Technology, so you can use their Clear Image Zoom to augment your lens's focal length while minimizing loss of quality in JPEG mode. You can also use the Auto Portrait Framing feature, which automatically crops portraits according to the "rule of thirds" and other compositional algorithms. As I said before, it works better if you take bad pictures to begin with, but it can be nice in a pinch. The camera also saves the original image, though, so there's no harm in messing with it.
The 16.1-megapixel Exmor APC-C CMOS sensor should again feel familiar, but the new BIONZ processor stretches the ISO range from 100-16000. Unlike the NEX bodies, the A37 has SteadyShot built right in at the sensor level, which Sony claims will give you four stops of hand-holdability.
To complement the new body, Sony also has a new 18-135 F/3.5-5.6 tele-zoom. Its quiet AF is suitable for video and it has Direct Manual Focus in case you like to be in control.
The A37 is coming in June and it will be available as part of a kit with the 18-55mm kit lens for $600. The new 18-135mm lens will be available for $500 on its own, or as part of an $800 kit with the A37.
We'll have full tests of the A37 eventually, but for now you can check out the sample image gallery shot with pre-production models in New York City.