New Gear: Limited Edition Silver Pentax K-5 With Ultra-thin Marc Newson 40mm Lens
Pentax's newest special edition K-5 is more than just a recolor, it also packs a special, limited edition 40mm f/2.8 lens.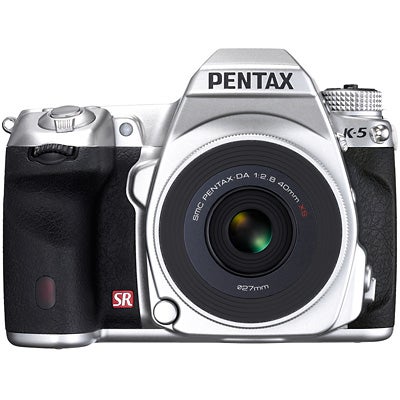 We may earn revenue from the products available on this page and participate in affiliate programs. Learn more ›
Pentax has a reputation for releasing garish variants of their SLRs, but the newest attempt is not only relatively decent looking, but also comes with a special, limited-edition lens. The Silver Pentax K-5 will only be sold through Pentax's webstore for $1,599.95, and will ship out in April, with just 1500 sets produced.
The special lens on this kit is designed by Marc Newson, and Pentax is calling it the world's thinnest fixed focal lenght lens for an SLR. It's an smc PENTAX-DA 40mm f/2.8 XS.
Unlike some of the other limited edition cameras on the market, the silver K-5 is remarkably affordable. A normal K-5 has a list price of $1,199.95 for body only, and $1,349.95 with an 18-55mm kit lens. Putting a $1,599.95 pricetag on a limited edition body with a rare lens seems pretty reasonable.