New Gear: Adobe Lightroom 4 Is Cheaper, More Powerful
The new version of Adobe's workflow software changes the way it handles images from the start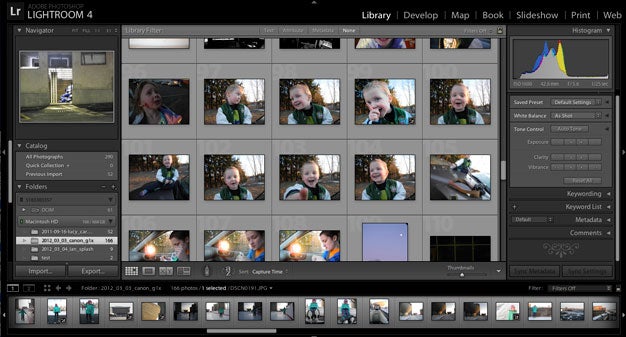 We may earn revenue from the products available on this page and participate in affiliate programs. Learn more ›
We first encountered Lightroom 4 back at CES 2012 when the beta software debuted for public consumption. Now, the official version is out and its starting retail price is $149. That's half what Lightroom 3 cost when it first hit.
Probably the biggest change in the new release is the new Process Version. It represents a fundamental change in the way the software process images. Fill light, Recovery, and Brightness have all gone away. Instead, Adobe has opted to include four main sliders, Highlights, Shadows, Whites, and Blacks. You can still achieve the same basic effects, but you now have more control of which part of the image you affect with your adjustments. It takes a little getting used to, but the extra leeway it seems to offer in terms of preserving image information makes it worth it.
The new process version has also brought some changes to the preset effects that are included in the software. Some of them have changed pretty substantially. The High-Contrast Black and White preset, for example, has been seriously toned down. It retains more information in the image, but it also makes the effect slightly less dramatic. Whether you like it or not, frequent pre-set users should definitely check out the demo or beta before making the jump. In the example below, the top image comes from Lightroom 3 and the bottom is from Lightroom 4.

On a more granular level, a few of the tools have earned some upgrades, including the Adjustment Brush, which can now be used to selectively apply thing like noise reduction and even white balance, something I have personally found pretty handy.
One of the most anticipated features by pros is the ability to Soft Proof an image. Since printers can't match the dynamic range of most monitors, it's important to get an idea what the final print will look like once it hits paper. Once you've checked out the preview, you can make a separate copy proof and make adjustments without destroying your original edits.
Another big draw for the Beta was the ability to apply basic adjustments to video, something totally absent from previous versions. You can adjust the contrast, as well as the white balance and saturation on supported video clips, which is nice if you don't want to open a full-fledged video editing suite. Lightroom presets can also be applied to video, though they take a bit of time to render.

I've gotten a chance to go through the process with the book module and the number of options offered through Blurb's printing service is impressive. Sometimes it takes a bit of tweaking before you can get exactly what you want, but that's simply a function of having tons of options. You can now go up to 240 pages in your book and the Blurb service is quick and efficient. The final products are still a bit pricey, but you get a nice finished item out of it. I recommend opting for the small Blurb logo in the back of the book as they offer a significant discount for doing so.

The map functionality is also new to Lightroom 4 and does a fine job keeping track of location information from photos with geotagging information. Since I shoot mostly with cameras that don't have GPS (I don't use Lightroom for my iPhone photos), I don't have a lot of images to plug into it. As GPS becomes more common, though, that will likely become more useful.
In adddition to the performance enhancements, Lightroom 4 also comes with support for a variety of new cameras and lenses. Canon shooters now get RAW support for the EOS 1D X and G1 X, while Nikon shooters get support for the D800 and D4. There's also a selection of Fujifilm compacts added to the mix. They have also added a bunch of new lens profiles from Leica, Tokina, Sigma, Tamron and Nikon. Those should go nicely with the improved chromatic aberration tools that can now be found in the develop module.
We'll have a full review coming up, but you can check out the demo or just buy the full version now from Adobe for $149. If you have LR3 and you want to upgrade, it will set you back $79. But, before you leap, make sure to check the system requirements. LR4 is natively 64-bit, so you'll need the appropriate hardware and OS. Sorry Windows XP users and those of you with 32-bit Macs. You'll have to upgrade or stick with what you have.