New Gear: Canon Pixma Pro-1 Inkjet Printer
This pro-level inkjet offers a new 12-ink system for more accurate skin tones and monochrome prints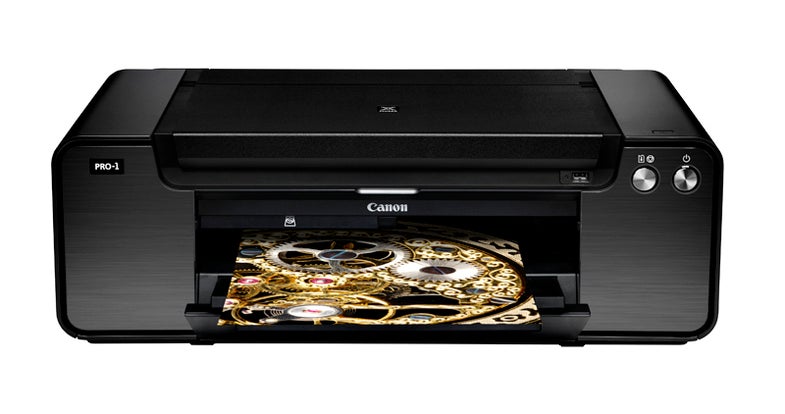 We may earn revenue from the products available on this page and participate in affiliate programs. Learn more ›
Much like the new EOS-1D X, Canon's Pixma Pro-1 is a brand new inkjet printer series aimed at the needs of professional photographers.
The focus is on the Pro-1's 12-ink system—5 of which are monochrome inks (Cyan, Magenta, Yellow, Red, Photo Cyan, Photo Magenta, Photo Black, Matte Black, Gray, Dark Gray, Light Gray and Chroma Optimizer). Canon promises the 5 dedicated monochrome inks will lead to improved skin-tones, a wider gamut of color and more accurate black and white prints, compared to the competition.
Ink is delivered via a new tubular system through a finer print head, resulting in shorter print times and smoother looking images. Canon also included a Chroma Optimizer that is applied to each image after the colors have been laid down, cutting down on the amount of ink droplet "bumps" for an overall higher-quality-looking image.
On the usability side, the Pro-1 offers two paper feed options: a traditional feed, located on the top of the printer, and a manual feed, located behind the printer. The manual feed is perfect for fine art printing, especially on non-standard types and sizes of photo paper. As of launch, 26 ICC color profiles will be available for the Pro-1, including profiles for paper companies like Hahnemuhle, Ilford and Moab.
No word just yet on when the Canon Pixma Pro-1 will be available, however we do know that it will retail for $1,000 at launch.