Samyang/Rokinon Announce New 24mm F/1.4 Lens
Korean lensmakers Samyang/Rokinon have just announced a new, manual-focus 24mm lens, available in five different mounts.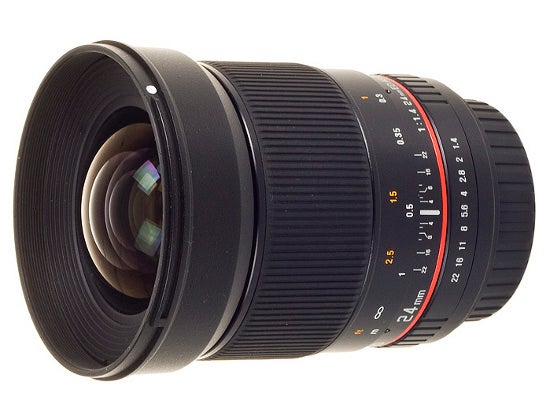 We may earn revenue from the products available on this page and participate in affiliate programs. Learn more ›
Korean lens manufacturer Samyang — often sold in the USA as Rokinon — has just announced the European release of a 24mm F/1.4 lens. Their lenses are well known for being remarkably affordable but eschewing all automatic focus for a more manual approach. Because they're manual, you'll see Rokinon lenses in all common formats, and this 24mm version will be released for Canon, Nikon, Sony Alpha, Pentax, Samsung NX and Four Thirds .
The optics are comprised of 13 lenses arranged in 12 groups, with 4 lenses has been made of the low-dispersion glass (ED), and two aspheric lenses.
Since this lens will fit on just about any mount on the planet, keep in mind your crop factors. On full frame, it's 24mm, on APS-C it's near 36mm equivalent, and with a Four Thirds mount that bumps up to almost 50mm equivalency.
If you're curious about how these lenses perform, check out our review of the 35mm F/1.4 version.
We don't have a firm price or street date for the lens yet. The press release says it'll hit stores late 2011 or early 2012, with official price to be announced later. Given that 35mm F/1.4 goes for $500, we assume that the 24mm will be similarly priced.
[via 1001NoisyCameras]