Lens Test: Rokinon 35mm f/1.4 AS UMC
A classic 35 that plays nice with many mounts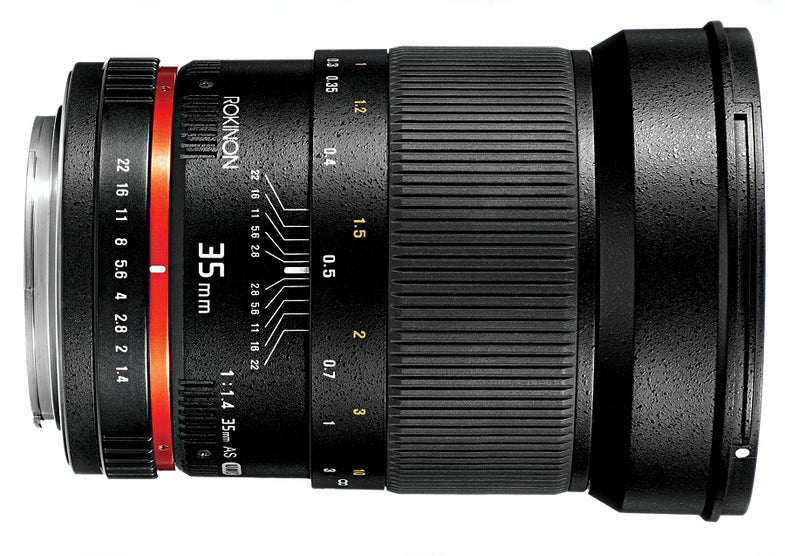 We may earn revenue from the products available on this page and participate in affiliate programs. Learn more ›
High-speed prime lenses, such as this full-frame 35mm f/1.4 Rokinon (made by the South Korean optics firm Samyang), are favorites for reasons we never tire of trotting out: Large apertures provide beautiful, soft-focus fore- and backgrounds, and they enable fast, action-stopping shutter speeds.
At $500 (street), this Rokinon is by far the least expensive 35mm f/1.4 on the market today, but it forgoes core modern-era features such as autofocus and an automatic diaphragm. If you like automated shooting, you should probably stop reading here.
The good news? Because it lacks a noisy AF motor, this lens is well-suited to video. And it should soon be available in all popular mounts: Canon, Four Thirds, Nikon, Pentax, and Sony.
While not electronically coupled to these cameras, AE modes can automatically set shutter speeds based on the lens apertures set manually. Viewfinder metering scales can also show if a manual-mode exposure is over, under, or dead-on.
But besides requiring you to dial in an aperture, the manual diaphragm means the camera doesn't open the aperture to its widest setting for viewing, composing, or focusing. As you close down the diaphragm to set a meter-assisted exposure, the viewfinder dims just as it does when you engage depth-of-field preview. As a result, you compose and focus at maximum aperture, and then close down to the shooting aperture before tripping the shutter. This gets easier over time, but for newbies and anyone shooting in dim light, that dark viewfinder is problematic at best.
Like all f/1.4 glass, this Rokinon is large and heavy. Rugged in build and attractive in appearance, it neither looks nor handles like a "bargain" lens. We like the large, rubber-clad, manual-focus ring with its sweetly damped turning action. Its long turning radius is spot-on for precision focusing and cinematically smooth focus pulls.
In the Popular Photography Test Lab, the lens produced Excellent SQF scores, even at maximum aperture, indicating first-rate sharpness and contrast. Its distortion control reined in barreling to the Slight range, also a worthy performance, especially for a wideangle lens. Vignetting and close-up performances, while not stellar, were average for the class.
For obvious reasons, this lens will have a limited audience, but it's an optic we're happy to see offered, and one we hope to get to know better. Though Rokinon isn't well known in the U.S.—Samyang makes mainly private-label brands—the marque offers a handful of speedy primes, all at competitive prices. Now that we've spotted the Rokinon 8mm f/3.5 fisheye, 85mm f/1.4, and 14mm f/2.8 ultrawide online, more tests will follow.
SPECIFICATIONS
35mm (36.45mm tested), f/1.4 (f/1.46 tested), 12 elements in 10 groups. Focus ring turns 140 degrees.
Diagonal view angle: 63 degrees. Weight: 1.64 lb. Filter size: 77mm. Mounts: Canon, Four Thirds, Nikon, Pentax, Samsung NX, Sony.
Street price: $500.
TEST RESULTS
Distortion: 0.28% (Slight) barrel.
Light falloff: Gone by f/4.
Close-focusing distance: 12.75 in.
Max. magnification ratio: 1:4.89.