New Gear: Pentax Q Is a True Interchangeable-Lens Compact
Another week, another world's smallest and lightest ILC camera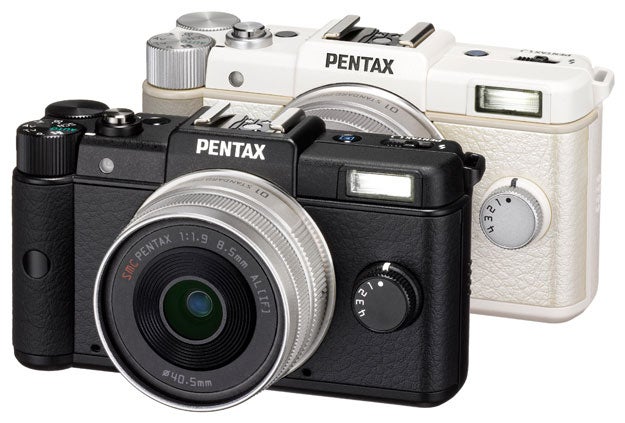 We may earn revenue from the products available on this page and participate in affiliate programs. Learn more ›
Tiny bodies with interchangeable lenses are all the rage and the latest guest to show up at the party is Pentax with their new Q system. It's the "world's smallest and lightest interchangeable lens camera," which is a phrase we're getting pretty used to hearing these days.
How did Pentax cut all the fat? They made it a true interchangeable lens compact, using a 12.4-megapixel, 1/2.3 inch CMOS image sensor, which is smaller than the APS-C or 4/3 options found in other ILCs.
The Q uses new Q-mount lenses (more on that below) and has 12-bit RAW capture, 1080p video at 30 fps and a max burst rate of 5 fps, which helps set it apart from a traditional compact. There's also a built-in flash, in-body Shake Reduction and, as you could probably guess, a whole pile of shooting modes for jazzing up images without the help of Photoshop.
The Q will start shipping in early fall of this year for $800, which seems fairly steep for a camera with a compact sensor and a lack of compatible old lenses. We're very curious to see how it performs and what the image quality looks like, because for that much money, there are a ton of other options from ILCs to full-on DSLRs.
The standard kit will ship with a brand new 47mm (equivalent) f/1.9 lens, which uses a built-in shutter (instead of the camera's electronic shutter) for quieter operation and a faster flash sync of 1/250. The lens also has a built in 2-stop ND filter for shooting in bright light. With a sensor this small, wide apertures are essential for getting shallow depth of field, so the built in ND will likely get some use.
Pentax 02 Standard Zoom
With an equivalent FoV of 27.5-83.0mm, the 02 is a standard walking around lens, which also eschews the electronic shutter for higher flash sync and also has the built-in ND filter. It will cost $300 when it's released this year
Pentax 03 Fish-Eye, Pentax 04 Toy Lens Wide and Pentax 05 Toy Lens Telephoto
If you want to apply your effects at the capture level, Pentax has a couple of options, including a 160-degree fisheye ($129). There's also a 35mm and a 100mm (equivalent FoV) toy lens that sell for $79.95 each.