New Gear: Sony NEX-C3 Is the World's Smallest APS-C Interchangeable Lens Camera
The NEX line gets more power with less chub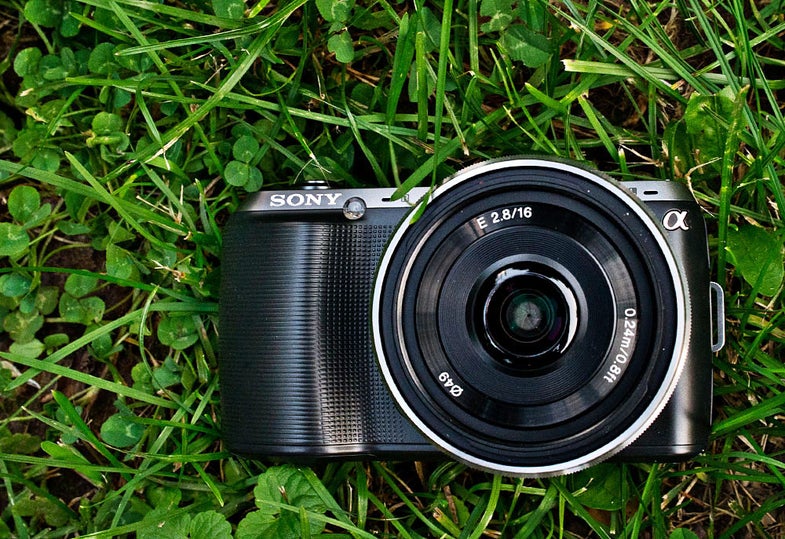 We may earn revenue from the products available on this page and participate in affiliate programs. Learn more ›
As far as we know, there weren't many people out there complaining that the existing Sony NEX interchangeable-lens compacts were too big, but Sony went and made the NEX-C3 smaller anyway. They cut so much, in fact, that they claim it's now the "world's smallest, lightest interchangeable lens camera with an APS-C sized sensor." The body now weighs just 8-ounces, which is a six-percent cut from the NEX-3, but keeps the metal-top case for durability and ergonomics.
Inside the downsized case is a 16.2-megapixel Exmore APS-C HD CMOS sensor that's capable of grabbing 720p HD video. Like with the A35 sensor that was released at the same time, the sensor in the C3 is newly-designed.
Also like the A35, it gets the Picture Effect filters (which will also be coming to the NEX-3 and NEX-5 via firmware update) that can be applied in-camera, like Pop Color, Retro Photo and Toy Camera. The tilting 3-inch LCD display has stuck around, now using Sony's TruBlack technology for better contrast. The battery capacity has also increased, pushing the total number of shots per charge up over 400, which is 20% better than the NEX-5 or NEX-3 could manage.
The NEX-C3 body will start hitting shelves in August, at which point you'll be forced to choose between silver, black or pink. The kit that comes bundled with the 18-55mm zoom lens will cost $650, while the version packed with a 16mm prime will check in at $600.
As companions for the new body, Sony has also announced a new 30mm f/3.5 E-mount macro lens, which will feature 1:1 magnification and a working distance of .95-inches. Inside, it will bring one piece of ED glass and three aspherical lens elements to cut down on distortion and aberation.
Also on the way is the HVL-F20S flash, which clips onto the NEX accessory terminal. It draws its power directly from the camera's battery and is intended mostly as a fill or bounce flash.

Bread Aisle
_Note: All photos were shot as jpg's and remain un-edited. Tech Specs: Focal Length: 16mm
Aperture: f/2.8
Shutter Speed:1/2500 sec
ISO: 6400
_Click to download full-res

Eggs
Tech Specs: Focal Length: 16mm
Aperture: f/3.2
Shutter Speed: 1/800 sec
ISO: 6400
Exposure Compensation:+1
Click to download full-res

Apartment Building
Tech Specs: Focal Length: 18mm
Aperture: f/3.5
Shutter Speed: 1/40 sec
ISO: 6400
Click to download full-res

Payphone
Tech Specs: Focal Length: 24mm
Aperture: f/5
Shutter Speed: 1/4 sec
ISO: 3200
Exposure Compensation:+.7
Click to download full-res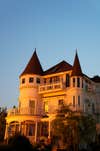 Castle
Tech Specs: Focal Length: 33mm
Aperture: f/10
Shutter Speed: 1/2 sec
ISO: 3200
Exposure Compensation:+1.3
Click to download full-res

Rock Em Sock Em
Tech Specs: Focal Length: 16mm
Aperture: f/2.8
Shutter Speed: 1/500 sec
ISO: **200
**Click to download full-res
Gas Station
Tech Specs: Focal Length: 18mm
Aperture: f/10
Shutter Speed: 1/2.5 sec
ISO: 800
Exposure Compensation:+1
Click to download full-res

High-ISO Sample
Tech Specs: Focal Length: 18mm
Aperture: f/3.5
Shutter Speed: 1/500 sec
ISO: 12800
Click to download full-res

Mid-ISO Sample
Tech Specs: Focal Length: 18mm
Aperture: f/3.5
Shutter Speed: 1/60 sec
ISO: 1600
Click to download full-res

Low-ISO Sample
Tech Specs: Focal Length: 18mm
Aperture: f/3.5
Shutter Speed: 1/10 sec
ISO: 200
Click to download full-res

Bike
Tech Specs: Focal Length: 18mm
Aperture: f/3.5
Shutter Speed: 1/40 sec
ISO: 1600
Click to download full-res

Windows
Tech Specs: Focal Length: 16mm
Aperture: f/2.8
Shutter Speed: 1/200 sec
ISO: 1600
Click to download full-res