KomodoCam: A DIY Camera Rig for Photographing Komodo Dragons
The man behind last year's BeetleCam put together an even simpler rig for getting up close and personal with some Komodo dragons!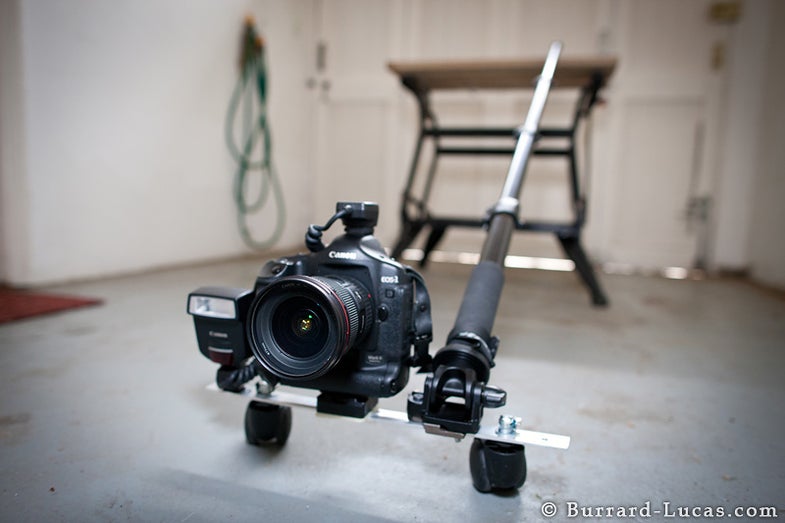 Last year we brought you an incredibly cool remote-controlled BeetleCam by the brothers Burrard-Lucas — and now one of those brothers has devised another camera rig for getting closer to animals, but this time made up of even more basic materials. Will Burrard-Lucas recently took a trip to Indonesia to photograph the famous (and notoriously foul-tempered) Komodo dragons, but he didn't have room to bring along the remote controlled BeetleCam to get up-close, wide-angle shots of the lizards. Seeing as they are notoriously dangerous (and not above taking a bite out of a nosy tourist), he devised a much simpler, but equally effective way of getting his camera near them without risking life and limb.
Burrard-Lucas scavanged a couple of wheels from an office chair, strapped them to a metal strip, and attached a two-meter monopod. Just add Canon 1Ds mkIII and strobe, et voilà, KomodoCam. Sure, it's lowtech, and looks a little like the photographic cousin to a push-popper, but he used it to score some incredible shots. With that two-meter extension, he was able to get his rig astonishingly close to the wildlife on the islands. You can see plenty more of his photographs from the trip on his blog.