Leafsnap App Uses Your iPhone Camera to Identify Trees
The iPhone camera may never replace your actual camera, but it sure is getting smart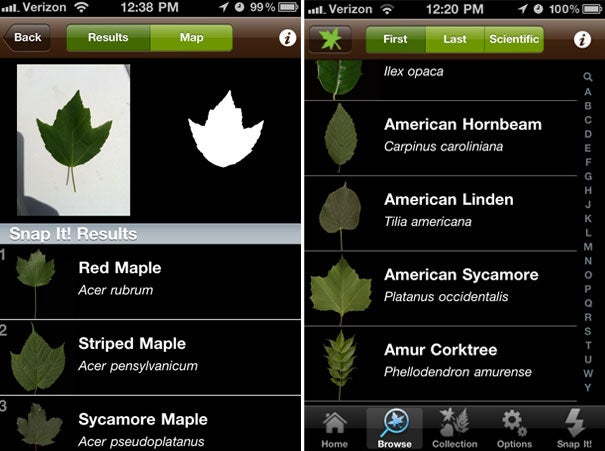 We were pretty amused when we came across Mealsnap, an iPhone app that could estimate the number of calories in a meal just by taking a photo of it. Now, the concept has expanded to identifying trees.
Leafsnap is a field guide developed by researchers from Columbia University, the University of Maryland and the Smithsonian Institution. In order to use the app, you simply take a clear picture of a leaf and it will tell you what species of tree from which it came. Right now, the database only houses specimens from the northeastern part of the United States, but they have plans to greatly expand it.
The free app is filled with beautiful, if very simple, images of leaves, fruit and flowers from a whole bunch of tree varieties. There's even a section that allows you to organize your collection of leaf images, making the whole thing a little bit like a treasure hunt. It does everything short of sending you a merit badge.
I gave the app a whirl here in upstate new york on a maple leaf from a tree outside. The app says you need a plain white background and they aren't kidding. The shot below was rejected, as were a couple others before I broke out a sheet of paper in the shade. The results give you a range of leaves to choose from, which seems pretty simple and also lets you learn a little about similar species. It's fun, but I would recommend bringing the leaves home and snapping them on a sheet of paper in a controlled setting. It takes away some of the adventurous spirit, but it'll waste a lot less of your phone's battery on failed attempts.
And even though photographing birds with the iPhone camera is often an exercise in frustration, we would love to see this kind of image recognition technology applied there. Insects would be great, too.
You can download the app from iTunes or just browse around the species listed on their site. If you're an android user, you'll have to wait a bit, but they say the app will hit the Marketplace soon.