Eye-Fi 8 GB Mobile X2 Wireless SD Card Beams Images to Your Tablet or Phone
With Eye-Fi's Direct Mode built-in, the new connected SD card plays nicer with tablets and smart phone than any other card on the market.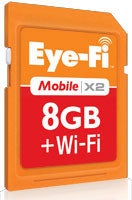 We may earn revenue from the products available on this page and participate in affiliate programs. Learn more ›
A while back, Eye-Fi announced the Direct Mode upgrade for their Wi-Fi-equipped SD cards. It effectively turns the card itself into a wireless network for transferring your image files to a phone or tablet running Android (Google) or iOS (Apple), even when there's no internet around. Now, they have a new 8 GB card called the Mobile X2 and it comes pre-loaded with Direct Mode for $79.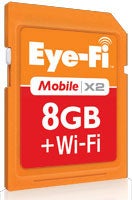 In a bit of good news for those of you who have already purchased any of the X2 cards, they're rolling out Direct Mode as a free upgrade. But, perhaps the best bit of news is that they have dropped the price of the Class 6 Eye-Fi Pro X2 from $149 all the way to $100. The $20 premium over the new X2 Mobile gets you Raw support and Geotagging, which seems like a no-brainer to us, especially if you have an advanced compact with Raw capture capabilities.
Of course, the Mobile X2 still supports all of the typical Eye-Fi features like automatic uploading of your images to the online photo sharing site of your choice.
With all of the photography-oriented tablet news happening lately, this seems like a great time for Eye-Fi to get aggressive about its post-PC strategy. while the $99 price tag on the Pro X2 is still about $75 more expensive than a typical 8 GB SD card, the added security of having your images automatically backed up could be well worth the upgrade for some users. Plus, if you're using an iPad, it saves you the $29 you'd have to spend on a Camera Connection Kit. And best of all, it will probably be the best way to take immediate advantage of all those awesome Photoshop Touch apps that are sure to start rolling out in the coming months.