Nikon D3S Camera Test
The Nikon D3S hits our lab with ISO 102,400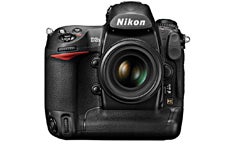 We may earn revenue from the products available on this page and participate in affiliate programs. Learn more ›

Nikon D3S
Nikon D3S camera
No question, as the first camera with ISO 102,400 to hit the market, the new Nikon D3S ($5,200, body only) is a groundbreaking achievement. Canon's announcement that its upcoming EOS-1D Mark IV ($5,000, body only) will match that sensitivity only underscores the significance of Nikon's accomplishment.
But the super-high ISO is only part of the appeal of the Nikon D3S. Its outstanding color reproduction, accurate and fast autofocus and AF tracking, fast full-frame 12.1MP CMOS sensor, and 9-frames-per-second burst shooting make it one of the most powerful imaging tools available. The results of our battery of tests in the Pop Photo Lab earn the D3S an Extremely High rating for overall image quality from ISO 100 through ISO 800. Why not Excellent? Its resolution score of 2330 lines doesn't quite make our new standard, 2500, for the top rating. But it still turned in a great result for a camera with a 12.1MP sensor.
Color accuracy earned an Excellent rating with a superb score of 6.24. The lower the number the better on this measure, as is also the case for noise and autofocus speed.
The Nikon D3S turned in similarly impressive results in AF speed. In the brightest part of our test, it focused in 0.29 sec, gradually slowing to 0.97 sec in the dimmest level of our test, EV –2.
Noise didn't reach Unacceptable until ISO 12,800. Even more impressive: It scored our top rating of Extremely Low all the way up to ISO 400.
Of course, at ISO 102,400 noise was quite heavy. But, because we test RAW files converted to uncompressed TIFFs at the manufacturer's default noisereduction settings, there's plenty of room to turn up the NR and bring noise down to acceptable levels at ISO 12,800. (This image, shot with a preproduction Nikon D3S, not our test model, was processed using more noise reduction than our test images.)
Handling And Controls
Keeping with what works, the body of the D3S is the shining result of a slow evolution. When we showed the camera to a friend who owns a Nikon D2H (introduced in 2003), he jumped right in and got some great shots. Owners of pro-level Nikon bodies should similarly feel right at home with the D3S.
Buttons for bracketing and flash sit atop a locking dial for drive modes. Metering gets its own locking dial on the right side of the prism. Buttons for ISO, image quality, and white balance are just below the 3-inch, 921,000-dot LCD.
The body is rugged and heavily weather sealed, and it has a grip that's a work of ergonomic art. Elegantly sculpted, it feels like a natural extension of your arm. The inside of the grip has a perfect divot that accepts your fingertips, and your thumb lands on the camera back in a perfect home position between the main command dial and the multi selector joystick.
The menus are extensive, but they're also easy to navigate with the multi selector. On the left side of the body you'll find connections such as Hi-Speed USB, a minijack stereo microphone input, and, to play high-definition video directly from the camera, a mini HDMI jack. Speaking of HD video, the D3S can shoot at up to 1280×720 pixels at 24 frames per second, the same as all other Nikons that shoot video. By now, we'd have expected Nikon to go up to 1920x1080p and at least 30 fps, as Canon has in the EOS 7D and will in the 1D Mark IV.
Real-World Results
In the field, this Nikon performed flawlessly. The Matrix metering did a great job of choosing the right exposure, being fooled only by the toughest scenarios. The 51-point Multi-CAM 3500FX autofocus system worked wonderfully with the 3D Color Matrix Metering II system to track subjects by shape and color.
Shooting with a preproduction sample at the Big Apple Circus in New York, the AF nearly perfectly tracked a trapeze artist as he flipped through the air as we panned the camera along with him, capturing full-sized Fine JPEGs at 9 frames per second. Our test sample didn't make it to the circus, but it did a similarly exemplary job tracking the various subjects we shot.
While we still have to wait to make serious comparisons with the Canon's EOS-1D Mark IV, as long as you're fine with a 12.1MP sensor, the Nikon D3S should satisfy your imaging needs. Nikon shooters can feel safe with this camera.
IMAGING: 12.1MP effective, full-frame FX-format CMOS sensor captures images at 4256×2832 pixels with up to 14 bits/ color in RAW mode.
STORAGE: CompactFlash stores JPEG, TIFF, NEF RAW, and RAW + JPEG files.
BURST RATE: full-sized JPEGs (fine mode), up to 82 shots at 9 fps using a SanDisk extreme IV card; uncompressed NEF RAW (14-bit), up to 35 shots at 9 fps. DX crop mode: JPEG (fine mode), up to 130 shots at 11 fps using same card; uncompressed NEF RAW (14-bit), up to 52 shots at 11 fps.
AF SYSTEM: TTL phase detection with 51 illuminated focus points (15 cross-type); single-shot and continuous AF with 3-D focus tracking. Tested sensitivity down to EV –2 (at ISO 100, f/1.4).
LIVE VIEW: TTL phase-detection or contrast-detection autofocus.
SHUTTER SPEEDS: 1/8000 to 30 sec, plus b (1/3-, 1/2-, or 1-EV increments); 300,000-cycle rating.
METERING: TTL metering using 1005-pixel RGB sensor, 3D Color matrix ii, centerweighted, and spot (approx. 1.5% of viewfinder). EV 0–20 (ISO 100).
ISO RANGE: normal, ISO 200–12,800 (in 1/3-EV increments); expanded, ISO 100–102,400.
VIDEO: Records up to 1280×720 pixels at 24 fps in AVI motion JPEG format; built-in mono microphone; stereo minijack input.
FLASH: Dedicated Nikon hot-shoe with i-TTL autoflash; flash sync to 1/250 sec; wireless flash control of optional Nikon Speedlights using wireless commander or Sb-900 or Sb-800 as commander.
VIEWFINDER: fixed eye-level pentaprism. LCD: 3-in. TFT with 921,000-dot resolution.
OUTPUT: Hi-Speed USB 2.0, mini HDMI video, composite video and analog audio, GPS, 10-pin remote-control terminal.
BATTERY: Rechargeable EN-EL4a Li-ion, CIPA rating 4,200 shots.
SIZE/WEIGHT: 6.3×6.2×3.4 in., 3.3 lb with a card and battery.
STREET PRICE: $5,200, body only.
Info: www.nikonusa.com