Camera Test: Leica M9
This 18MP digital rangefinder is truly worthy of the legendary brand.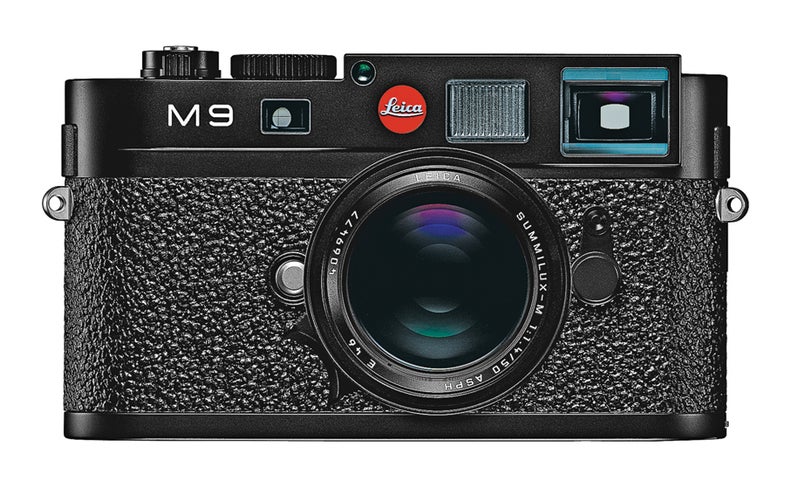 We may earn revenue from the products available on this page and participate in affiliate programs. Learn more ›
Leica had a hard time switching to digital. Focus issues delayed the digital back for R-series SLRs, the infrared filter in the M8 rangefinder had to be augmented with special filters for lenses, and Leicaphiles had to wait years for an M-series camera with a sensor as big as a frame of 35mm film.
Now the wait is over. With its new M9 ($6,995, street, body only), Leica has delivered its first digital rangefinder truly worthy of the legendary brand. Its 18MP CCD sensor provides resolving power that should satisfy film lovers. And our other tests in the Pop Photo Lab produced admirable results for color accuracy, noise, and overall image quality.
But if you haven't used a Leica M before, there are a few things you should know. The M9 is not a DSLR, so framing works quite differently. And you will forego nearly all of the familiar automatic features, from autofocus to program autoexposure, in favor of manual control.
Going on safari? Bring another camera, because the longest tele you can use on the M9 is 135mm. Want to shoot in low light? Buy a fast lens (such as Leica's extraordinary 50mm f/0.95 Noctilux- $9,995, street), since ISO is capped at 2500. Evaluative metering? Forget it. Video? Dream on. The watchword is simplicity.
Focus And Framing
While the M9 uses a through-the-lens (TTL) metering system, you don't actually look through the lens when framing as you do (albeit indirectly, using mirrors) with a DSLR. Instead, you look through the rangefinder.
The Leica gathers two images through small windows next to the lens. One image is overlaid atop the other in the center of the finder. Then, as you focus the camera (manually), the overlaid portion in the center moves from side to side-align the images, and you're focused. It's an ingenious solution that can make focusing in dim light easier than with many DSLRs.
But it's not without drawbacks. Manual focusing doesn't come close to the speed of today's AF systems. And you have to pay attention to the framing lines in the finder, which change automatically based on a 6-bit code on the lens, which tells the camera the focal length. (With older optics, you can input the focal length in a menu or send the lens to Leica to add the code.)
The M9 has framing lines for 28 and 90mm, 35 and 135mm, or 50 and 75mm. Showing them in pairs doesn't get confusing, though, because it's easy enough to discern the differences. But since your view through the finder doesn't zoom in, you use only a small portion of it when framing a shot at 135mm.
Also, since you can visually confirm focus only in the center of the finder, it can be tricky to focus on an off-center subject while trying to frame a scene quickly.
All Leica rangefinder lenses, however, have clearly marked distance and depth-of-field scales printed on them. That means that if you know how far away you are from your subject, you can set the distance and worry only about framing the scene. With a little careful practice, you'd be surprised at how good a judge of distance you can become.
Focusing in advance this way can be quite useful, especially for street photography. The depth-of-field scales are near-indispensable for this kind of shooting, as they give you a sense of how much is in focus. And with a wide-angle lens, which also tends to give you more depth of field, you can grab amazingly candid images by shooting without looking through the finder at all.
Very Simple Control
In fact, Leica's rangefinders are made for discreet shooting. The all-metal body, though quite heavy for its size, is tough and extremely well damped against noise and vibration. The metalbladed shutter, designed to be quiet, becomes nothing more than a subtle click. And if you have the Quiet Shutter feature enabled, the M9 won't recock the shutter until you release the button-since that's the noisiest part of the process, you can shoot surreptitiously.
Furthermore, the rest of the camera's operation is as simple as it can be. There's only one metering option: heavily centerweighted. You must change the aperture manually by using the aperture ring on the lens- and you'll already have a hand there for focusing.
You can set the shutter speed using a dial atop the camera, next to the shutter release, or let the camera do it, in aperture-priority autoexposure mode.
The info button on the camera back displays remaining battery power as percentages and remaining memory card capacity as a horizontal bar and in number of pictures remaining.
The Set button lets you change white balance, image size and quality, and exposure compensation and bracketing. ISO has a dedicated button that must be held down while you turn the rear scroll wheel to set it.
Likewise, you have to press the Set button to enter the basic-settings menu, then again to access the setting you want to change, and then a third time to lock in your change-slightly cumbersome, but not too bad once you get used to it. We had no trouble changing our settings quickly after an hour of familiarizing ourselves with the camera.
Winning Numbers
Field testing is one thing, but the real proof of the pudding is in our test results in the Pop Photo Lab. And there the M9 fully outstripped its 2006 predecessor, the M8. Resolution, color accuracy, overall image quality-all Excellent.
Testing for noise levels proved tricky because Leica doesn't have a proprietary RAW format. Instead, it uses Adobe's DNG format and ships a copy of Lightroom with each M9, so you can use Adobe Camera RAW (ACR) to convert your images if you shoot RAW instead of, or in addition to, JPEGs.
That means there's no default level of noise reduction-as with the Pentax K-7, you choose your own. In our lab test, the M9 reached Unacceptable noise levels at its top sensitivity of ISO 2500 because we left ACR's noise reduction at its default of 0 luminance and 25 chrominance reduction. But when we set it to 50 for luminance and 75 for chrominance, noise dropped to 2.3 at ISO 2500, a Moderate rating on our scale.
With that noise reduction applied, the M9's resolution score dropped to 2560 lines per picture height from 2590 lines with ACR's default settings. Even measured against the M9's best resolution score of 2675 at ISO 80 with ACR's default settings, that's not a whole lot of resolution lost, though Leica owners are just the people to notice even the slightest decline in sharpness.
Out There On Its Own
How does the M9 compare with its competitors? It doesn't really have any. Epson hasn't expressed any interest in continuing to develop its RD line of digital rangefinders, and we've yet to see a digital Voigtländer.
If you're debating between the M9 and a full-frame DSLR, such as the Sony Alpha 850 or a pro model closer to the Leica's price range, such as the new Nikon D3S, there's really no comparison. They're completely different tools for completely different styles of photographer. We don't categorize the M9 as a pro model-think of it as the ultimate (deep-pocketed) enthusiast's camera.
Suffice it to say, Leica finally has a digital rangefinder that should please most of its loyalists. And finally offers them a painless alternative to film.
| | |
| --- | --- |
| Test Results Leica M9****Imaging: 18MP (effective) CCD sensor captures 5270×3516-pixel images at 3:2 aspect ratio with 14 bits/color in RAW DNG mode.Storage: SD cards up to 2GB or SDHC cards up to 32GB. Stores JPEG, DNG, or JPEG + DNG.Burst Rate: Up to 8 fine-quality JPEGs or DNG files at 2 fps.Focus System: Manual only.Shutter Speeds: 32 sec to 1/4000 sec in aperture-priority, 8 sec to 1/4000 sec, plus Bulb in manual.Metering: TTL center-biased metering with preset working aperture. 1/3-stop exposure increments. Aperture-priority or full manual. EV 0 to EV 20 at ISO 160.ISO Range: 80-2500 in 1/3-EV increments.Flash: M-TTL for Metz SCA 3502 and Leica SF 24D flash units. Flash sync at 1/180 sec, and adjustable in 1/3-EV stages.Viewfinder: Bright-line frame type with automatic parallax compensation. Indicators simulate FOV for 35/135mm, 28/90mm, and 50/75mm lenses. LCD: 2.5-inch TFT with 230,000 pixels.Output: USB 2.0.Batteries: Proprietary Li-ion rechargeable CIPA battery life rating, 350 shots per charge.Size/weight: 5.5×3.1×1.5 in; 1.2 lb, body only. 1.4 lb with battery and card.Street Price: $6,995, body only.For Info: www.us.leica-camera.com | |