Lens Test: Pentax-DA* 60–250MM F/4 ED SDM AF
The reach and durability of this lens makes it worth a look.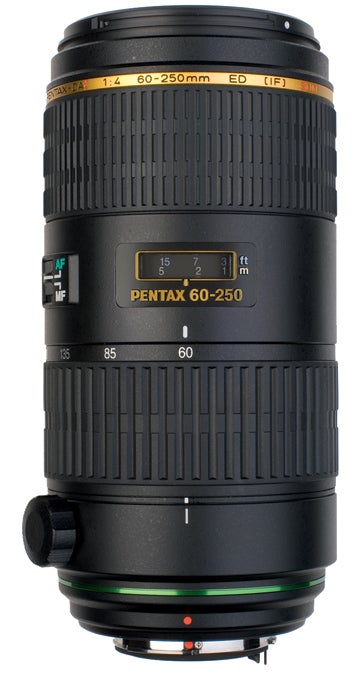 We may earn revenue from the products available on this page and participate in affiliate programs. Learn more ›
One of Pentax's top-grade lenses, this $1,300 (street) lens is the longest DA* zoom and also has the biggest zoom range (4.2X), a 92-383mm equivalent in full-frame terms.
A constant-aperture f/4, digital-only optic, it has a solid build, pro-worthy weather resistance and special glass for controlling chromatic aberration. It comes with a tripod collar and a lenshood that has a finger window to let you turn a mounted filter without having to remove the hood.
The lens is big . It's a pound heavier than Canon's comparable 70-300mm f/4-5.6 (a fullframe image-stabilized lens, so you'd expect it to outweigh the Pentax) and about the same weight as the faster Olympus 50-200mm f/2.8-3.5 (a 100- 400mm equivalent on DSLRs with Four Thirds sensors).
Despite its size, though, it casts no shadow when using the built-in flash on the new Pentax K-7.
Internal focusing and zooming, with a nonrotating front element (great for lens-mounted filters), the lens is also wellsuited to barrel-mounted accessories. Like most internally focusing lenses, it lets you touch up focus manually, even when shooting in autofocus mode.
Zoom and focusing rings turn smoothly. But the autofocus action, while silent, wasn't lightning-fast-in fact, it was a little sluggish at the far telephoto end.
Optically, we found no detectable vignetting, and distortion control was top-notch, hovering close to the Imperceptible range at all three tested focal lengths.
The only letdown was a clear dip into the Very Good range (from Excellent) for the SQF numbers at 250mm. While this was once the norm, these days most telezooms in this price range hold on to Excellent-range SQF performance at 11×14 out to 250mm and beyond.
Still, if you need reach, speed, and durability, this lens deserves a look.
TEST RESULTS
DISTORTION: At 60mm, 0.13% (Slight) barrel; at 135mm, 0.08% (Imperceptible) pincushion; at 250mm, 0.10% (Imperceptible) pincushion
LIGHT FALLOFF: None detected at the three tested focal lengths