Lens Test: Sony 50mm f/1.8 DT SAM AF
An inexpensive way to increase shutter speed.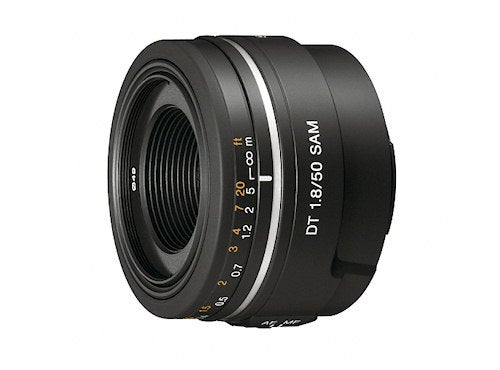 We may earn revenue from the products available on this page and participate in affiliate programs. Learn more ›
Sony shooters committed to the APS-C-sized sensor have a new fast 50 to consider. Launched alongside Sony's latest entry-level DSLRs (including the Alpha 380), it gives everyday shooters the benefits of limited depth of field without breaking the bank.
At $150 (street), it's a little pricier than Canon's EF 50mm f/1.8 II ($115, street) and Nikon's AF 50mm f/1.8D Nikkor ($135, street). Although these others cover a full-frame sensor, the Sony is made for APS-C sensors (sorry, A900 owners). In practical use, it scales up to a 75mm field of view.
The barrel and mount are plastic, making for a very light, though not so sturdy-feeling, lens. Its silver ring indicates Sony's Smooth Autofocus Motor (SAM)- while it focused relatively quickly and without much hunting on our A380, it was far from quiet. Manual focusing is aided by a nifty rubber edge on the front of the focus ring, as well as a very legible distance scale, but there's no aperture scale, and the action feels loose and scratchy.
On our lens bench, it had Excellent SQF results, particularly from f/8 through f/22. Distortion, measured with DxO Analyzer 3.0.2, was kept well under control. Since the lens is tailored to APS-C, not full-frame, it's no surprise that light falloff was gone by f/2.5. Close focusing was conveniently tight. Even more satisfying was its high magnification of 1:4.6, compared with 1:6.3 and 1:6.0, respectively, for the comparable Canon and Nikon.
If you're an Alpha shooter who's been stymied by too-slow shutter speeds, this lens is a very inexpensive way to boost them. And it'll let you blur out your backgrounds or shoot in low light like never before.
Certified Test Results
– Distortion: 0.13% (Slight) barrel.
– Light falloff: Gone by f/2.5.
– Close-Focusing Distance: 13.25 inches.
– Maximum Magnification Ratio: 1:4.56.