Camera Test: Sony Alpha 380
The new entry-level DSLR from Sony faces tough competition from similar models in its class.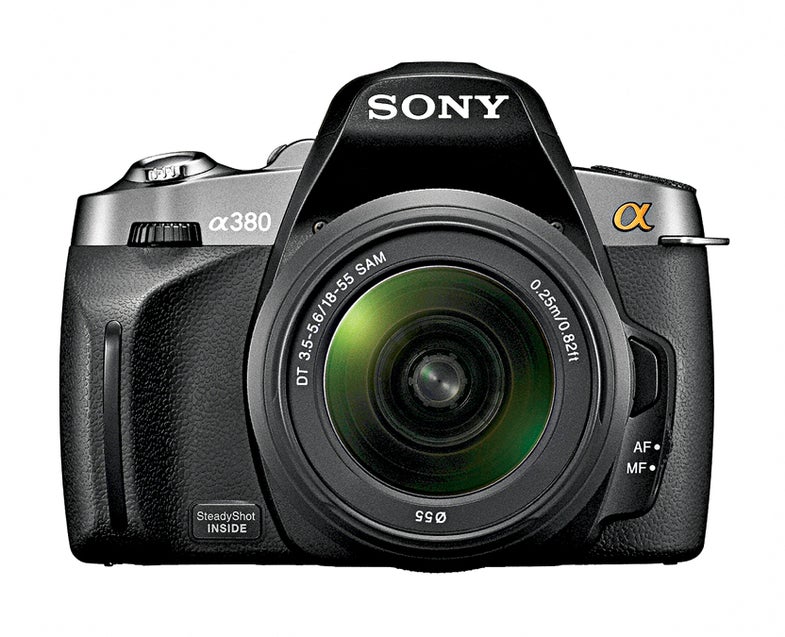 We may earn revenue from the products available on this page and participate in affiliate programs. Learn more ›
Facing tough competition from 12- to 15-megapixel DSLRs from Canon and Nikon, Sony's new 14.2MP Alpha 380 ($850, street, with 18-55mm f/3.5-5.6 SAM lens) comes up somewhat short.
It has a couple of big strengths. Live-view shooting is the best we've used on any DSLR to date. It offers built-in wireless flash control-all too rare in consumer-level cameras. And its controls, from the placement of buttons to the made-for-beginners display interface, are very well designed.
But, unlike its chief rivals, Canon's 15.1MP EOS Rebel T1i ($810, street, with 18-55mm f/3.55.6 IS lens) and Nikon's 12.3MP D5000 ($850, street, with 18-55mm f/3.55.6 VR lens), the Alpha 380 doesn't offer video capture. And, in our tests in the Pop Photo Lab, it ran neck-and-neck with the Nikon, but behind the Canon.
Test Performance
With an APS-C-sized CCD sensor, the Alpha 380 earned an Extremely High rating in our resolution test, barely ahead of the Nikon. Given the Sony's extra pixels, we'd have expected a little more. Color accuracy earned an Excellent rating, though its score trailed those of both the others.
Noise is also a mixed bag. On the one hand, the A380 scored a Moderate rating at its highest sensitivity setting of ISO 3200, never reaching Unacceptable in our rating scale. Even at ISO 1600 noise is Low, though that comes at the expense of some resolving power. But at ISO 800, it produces more noise than its rivals. We think this is because Sony steps up the noise reduction at ISO 1600 and ISO 3200. (We run our tests at the default settings using the manufacturer's RAW conversion software.)
At the brightest part of our autofocus speed test, the Sony proved extremely fast for this class. Once the light reached the rough equivalent of a well-lit living room, though, the A380 fell behind the Canon. And in the dimmest levels in our test, it fell behind both of the others.
Sony rates the AF system for use down to a light level of 0 EV, a little brighter than full moonlight-in our test, it focuses down to -1 EV, same as the Nikon. But the Canon's AF worked in the truly dim conditions of -2 EV, the lowest we test. Diehard low-light shooter? You may be happier with the Canon.
Sony's sensor-shifting image stabilization is a real boon, however. In our tests, we averaged between 2 and 3 stops of leeway when shooting handheld. So, if you'd normally shoot at 1/400 sec, you should be able to get a sharp version of the same shot at 1/100 sec or even as slow as 1/50 sec, depending on how steadily you hold the camera.
Plus, since the stabilization is in the camera body, it will work with any lens you can mount, including old Konica Minoltas. (We used one of these for the photo at right.)
Live View
The A380, like all Sony Alphas, has the best live-view system we've seen. Other DSLRs expose the imaging sensor to let you frame your picture in live view, then flip down the mirror to autofocus, and flip it back out of the way to fire. This causes a significant lag between your pressing the shutter button and the picture being taken.
But, thanks to a second sensor placed near its pentamirror, the A380 doesn't need to expose the main sensor to let you compose in live view. You can autofocus conventionally, using the TTL phase-detection AF module, and there's no delay.
You can tilt the A380's 2.7-inch LCD monitor up and down. Although we prefer the full range of motion offered by the LCDs on the Nikon D5000 and Olympus E-620 ($700, street, with 14-42mm f/3.5-5.6 lens), we used it quite a lot in our field testing.
Handling and Controls
One reason we stuck with live view: To avoid holding the redesigned grip.
The A380 feels unbalanced, even with the light new 50mm f/1.8 DT SAM lens (tested on page 78). The shape gives you nothing substantial for your fingers to wrap around, and any righthand finger action, such as turning the command wheel to change a setting, made the camera feel as if it would slip and fall. Too bad-we loved the steady grips of earlier Alphas.
Still, Sony's designers got many other things right. It sounds like a small detail, but we appreciated the switch on the top of the camera that lets you move easily between live view and the optical viewfinder.
We also liked the placement of the exposure compensation button-on an angled part of the camera back, where you can reach it with your thumb but won't press it accidentally. (Alas, it also controls the playback zoom, and several times we zoomed in on the instant review of our last shot when we'd meant to set exposure comp for the next.)
Other double-duty controls were far more helpful. The menu-control pad also lets you set commonly used functions, such as flash, ISO, drive mode, and AF. Other settings, such as white balance, can be found quickly using the function button.
We're also fans of the standard mini-HDMI output and the dual SD and Memory Stick card slots, though it would be better if you could automatically go back and forth between them instead of having to use a physical switch.
Since the A380 is intended for lessexperienced photographers, it's no surprise that it has a handful of scene modes on the top dial. When you turn it, the LCD displays a brief description of the selected shooting mode.
And the A380 has Sony's new graphical interface for people who are just learning photographic concepts. It shows a scale for aperture and another for shutter speed. This has a running figure at the faster end and a standing one at the slow end, implying that you need faster speeds for moving objects. It's a nice touch for beginners-and if you don't like it, you can easily switch to an alternate display mode.
Bottom Line
The Alpha 380 has a lot to offer DSLR newcomers, particularly those who are already used to shooting in live view, or who have inherited Grandpa's Minolta lenses and want to keep using them. But anyone choosing among this Sony and the comparable Canon and Nikon models faces a tougher decision.
Canon EOS Rebel T1i $810, street, with 18-55mm f/3.5-5.6 IS lens
Though it only has one more megapixel, in our lab tests this Canon showed significantly more resolving power than the Alpha 380. It also focused faster in dim and very low light, and produced slightly more accurate colors. Then there's noise: The Rebel T1i earned a Low or better rating all the way up to ISO 3200, and its Moderate rating at ISO 6400 matched the A380's result at ISO 3200. Plus, the Rebel captures at the ultra-sensitive ISO 12,800-that's 2 stops more than the A380's top sensitivity of ISO 3200. Oh, and the Canon costs a little less. Sure, the Sony's image stabilization works with nearly any lens you mount on the camera, but we still have to hand this one to Canon.
Nikon D5000 $850, street, with 18-55mm f/3.5-5.6 VR lens
This and the Sony posted nearly identical results in our resolution tests, and they share the same basic kit price. But the similarities end there. The Nikon was slower to focus in bright light, yet faster in very low light. The Sony served up less noise at ISO 1600 and 3200, while the Nikon produced less from ISO 200 through 800. We preferred the Nikon's fully articulated flip-down LCD to the Sony's tilting screen. But we like the economics of Sony's in-body image stabilization, and its live-view experience is tops. Could this be a tie? We give a slight edge to the D5000 because it feels better in the hand-on a long day of shooting, we'd rather hold the Nikon's grip than the Sony's. But if you're a committed live-view shooter, you might prefer the A380.
Vital Statistics
IMAGING: 14.2MP effective, APS-C-sized CCD sensor captures images at 4592×3056 pixels with 12 bits/color in RAW mode.
STORAGE: Memory Stick PRO Duo, SD, and SDHC. Stores JPEG, ARW RAW, and RAW + JPEG files.
BURST RATE: Full-sized JPEGs (Fine mode): 2.5 frames per second up to card capacity. RAW (12-bit): Up to 6 shots at 2.5 fps.
AF SYSTEM: TT L phase detection with 9 illuminated focus points (1 center crosstype). Single-shot and continuous with tracking. Tested sensitivity down to -1 EV (manufacturer rated to 0 EV) at ISO 100, f/1.4.
LIVE VIEW: TTL phase detection.
SHUTER SPEEDS: 1/4000 to 30 sec plus B (1/3-EV increments).
METERING: TTL metering using 40-segment honeycombpattern evaluative, centerweighted, partial and spotmetering. 2-20 EV (at ISO 100).
ISO RANGE: ISO 100-3200 (in 1-EV increments).
FLASH: Built-in pop-up with TTL autoflash with +/-2-EV exposure compensation (1/3 EV increments), GN 33 (ISO 100, feet), covers 18mm lens field of view. Flash sync to 1/160 sec. Dedicated Sony/ Minolta hot-shoe and wireless control of optional flash.
VIEWFINDER: Fixed eye-level pentamirror.
LCD: 2.7-in. TFT with 230,400-dot resolution.
OUTPUT: Hi-Speed USB 2.0, mini HDMI video.
BATTERY: Rechargeable NP-FH50 Li-ion, CIPA rating, 510 shots.
SIZE/WEIGHT: 5.1×3.8×2.4 in., 1.1 lb with card and battery.
STRET PRICE: $850 with 18-55mm f/3.5-5.6 Sony DT SAM lens; $1,050 with 18-55mm f/3.5-5.6 and 55-200mm f/4-5.6 SONY DT SAM lenses.
FOR INFO: www.sonystyle.com