Field Test: Tamrac Adventure 9
For photographers looking to carry everything they need in a single, durable, economical backpack, Tamrac's Adventure 9 provides plenty of storage in a simple design.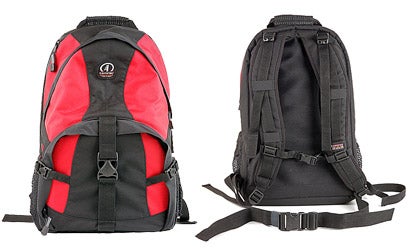 I like to keep things simple when I travel — cutting back on gear and seldom carrying more than one or two bags. For the past year or so I've been doing most of my travel shooting with a pocket-sized digicam, leaving the DSLR kit at home. But on a recent trip to the Midwest, I carried all my gear in a Tamrac Adventure 9 backpack ($125 street), filling every compartment of the bag to capacity to test weight and usability.
At first glance the Adventure 9 looks like your standard medium sized backpack, but opening one of three zippered compartments makes clear that this is one serious camera bag. The largest of Tamrac's three-bag Adventure series, the Adventure 9 has an empty weight of 4lbs, 3 oz, and comes in red/black, gray/black or camouflage styles.
Of interest to photographers is the bag's large, easily accessible camera compartment. With enough room for a large DSLR, multiple lenses and accessories, the compartment comes loaded with sturdy adjustable foam dividers, making it easy to accommodate gear of many shapes and sizes. A Velcro strap helps secure your camera body — helpful for when you forget to zip the compartment before attempting to place the bag on your back!
It's easy to secure small accessories as well. The main camera compartment's transparent zippered accessory pouch is great for holding battery chargers, a multi-function tool, cell phone and cables. Four smaller compartments can store batteries and memory cards and each compartment features Tamrac's patented Memory & Battery Management System, which includes a movable red flag allowing the photographer to easily track which batteries and memory cards have already been used. The main compartment can be secured with a zipper as well as three buckle straps, though the straps are not adjustable.
What's Hot • Great bag for the money • Plenty of compartments to keep things tidy • Weather flaps keep the elements out What's Not • Backpack design makes access difficult • Laptop compartment doesn't always provide a snug fit Tamrac Adventure 9 Product Gallery
Directly above the main camera compartment is a smaller open compartment with plenty of storage for snacks, additional gear, or a change of clothes. The compartment includes Tamrac's large zippered Pop-Off Pocket, perfect for storing accessories or even toiletry items. For professional shooters or serious hobbyists, the Adventure 9 sports a large Velcro divider, which when removed merges both front compartments, allowing the photographer to carry larger lenses and equipment. With the middle divider removed, both front compartments combined are large enough to hold lenses up to 400mm f/2.8 size. Both front compartments have water resistant zipper flaps, and though the bag is not completely submersible, a little drizzle isn't cause for panic.
Looking towards the rear of the bag reveals a roomy laptop compartment, large enough to hold laptops with screens up to 17″. Thick padding keeps your computer well-protected and a plastic covered zipper keeps the weather out. One feature this compartment lacks is an adjustable strap allowing you to change the depth of the compartment, which would offer a more snug fit for smaller laptops. This isn't much of an issue though, as third party laptop sleeves are readily available and will offer additional protection.
The Adventure 9 offers two mesh side compartments, perfect for holding your beverages. Each compartment is large enough for holding a 20-oz. water bottle, but tight enough to hold smaller items snugly. Elastic keeps the compartment closed, so you can easily store your smaller items without fear of losing them. I walked around with a USB thumb drive in one of the side compartments for a few weeks and felt confident that the device would still be there when I needed it.
The bag is very comfortable and feels tough enough to handle years of abuse. Large rear straps help distribute weight when on your back, and waist and chest straps are provided as well for added comfort when carrying heavy equipment over long distances. The bag is also compatible with Tamrac's Strap Accessory System (S.A.S.), allowing you to add accessories such as a cell phone case or memory card wallet. Though small enough to fit easily beneath an airline seat, the Adventure 9 provided plenty of storage for everything needed to keep you going for a few days. Multiple large compartments make it easy to keep your expensive camera gear away from your shower gel and toothpaste, and the large upper compartment can easily hold two days of clothes, snacks and toiletries. Throw in the laptop compartment, and you're all set for that weekend football assignment a few states over.
Unlike over-the-shoulder bags, wearing a backpack like the Adventure 9 won't draw much attention. To the untrained eye, your camera bag carrying thousands of dollars of equipment is not easily distinguishable from a daypack carrying food, clothing and books. Despite this obvious security advantage, using a backpack as your main camera bag may prove to be awkward, as gear is not easily accessible as with over-the-shoulder sling bags and waist packs. Switching lenses often means removing the bag and setting it down on a flat surface before opening compartments. One issue is that it's easy to forget to zipper the front compartment before picking up the bag, sending several thousand dollars of glass toppling to the ground. (In this case, my carelessness may be more to blame than the bag's design!)
For shooters needing hyper-quick access to gear, the backpack's fundamental design makes it difficult to swap gear on the fly, but for the photographer looking for a well-designed camera backpack with plenty of versatile storage, the Adventure 9 is a great economical choice.
Also see our Think Tank Urban Disguise 50 field test .