| | | | | | |
| --- | --- | --- | --- | --- | --- |
| Best for business | | Dell P2418HT 24IN IPS | | SEE IT | Great features and good media delivery across the board. |
| Best Budget | | ASUS VT168HR | | SEE IT | Stripped down TN touchscreen for controls and business applications. |
| Best overall | | Wacom Cintiq Pro 16 | | SEE IT | Immaculate screen, and excellent drawing and design tools in a pen / touch tablet. |
Updated Jul 13, 2022 12:32 PM
We may earn revenue from the products available on this page and participate in affiliate programs. Learn more ›
Touch screen monitors add an entirely different dynamic to your computer usage. Most of us are fairly adept with a mouse and keyboard, but screens with touch capability add a different dimension and new functionality beyond the typical input devices. Today's touchscreen monitors deliver a type of tactile control that has been honed for technological generations. They allow users to scroll with a finger swipe, resize with a pinch, and sign your signature with a pen. They often deliver high resolution, precise color gamuts, and impressive refresh rates, all while supplying a simple intuitive interface. Whether you're a photographer looking for great computer screens to help you with photo editing and collage, a business professional who's looking for large computer monitors for presentations, or simply a touch oriented person who wants a new way to play, read on for the best touchscreen monitors of 2023.
Things to consider when shopping for a touchscreen computer monitor
Before you dive into the touch screen market, there are some features and terms you should understand. Doing so ensures that you find the right touchscreen monitor that's right for your needs.
Screen Type
There are three main groups of LCD screen type used in touch screen monitors. IPS monitors (in plane switching) have great color reproduction and clarity at all viewing angles, they use LCD crystals positioned horizontally to the viewing plane. TN or twisted nematic monitors on the other hand, are less consistent across the whole screen surface, but are cheaper to produce and refresh faster. TN monitors are only really a thing to seek out if you're looking for an affordable high-speed gaming monitor, or a monitor for a POS or business setting. VA, or vertical alignment monitors, use a technology that's more often used in television, which involves LCD crystals that are perpendicular to the viewing plane, rather than parallel — as is found in IPS. Vertical alignment monitors are a decent choice in a touch screen monitor, even if IPS is generally the gold standard.
Touch tech in your PC monitor
For the purpose of this list we highlighted premium capacitive touch monitors with ten finger touch. This is the same type of touch response used in a smartphone, and doesn't require you to apply pressure to the screen. The other type of touch technology, called resistive touch, is used in screens aimed at the public, such as ATM machines, but doesn't allow multiple points of touch. 
Color gamut and precision in monitors for computers
IPS panels are capable of quite impressive color displays with wide gamuts and good sensitivity, and touch screen monitors should be no different. Monitors designed for photographers and designers will generally cover a wide color gamut that covers most or all of the standard web color space, titled sRGB, and deliver some coverage of other color spaces, including AdobeRGB, and DCI-P3. 
Color accuracy is slightly more complicated. Manufacturers sometimes offer a Delta-E value, often written ΔE <X. This indicates how closely the display recreates the colors indicated by the graphics card. A Delta-E value of around 2 is outstanding, and a Delta-E of less than 1 is superb. Because not all touch screen monitors are made for designers and creative purposes, these values aren't always obviously advertised. 
Computer screens and resolution
Gone are the days where 1080p HD ruled the space. However, touchscreens generally prioritize other technologies rather than high resolution. Most touchscreen monitors are 1080p HD. None on this list stray toward 4K or even WQHD. Some larger HD touchscreen monitors actually use a 1080p design with larger pixels, keeping the same pixel count on a 27 inch screen rather than a 22 inch. When researching your future touchscreen monitor, consider the resolution and sharpness you need.
Refresh rate
Designers might care about Delta-E, but for the competitive gamers it's all about Hz and response time. Refresh rate determines how fast a screen refreshes. This is notated with Hz. A high refresh rate ensures that competitive gamers get that high frame rate they need to keep ahead of the action. 60 Hz is standard and totally fine for most common tasks. Hight-end and  dedicated gaming screens usually start at 120 Hz. Premium gaming screens can hit 360 Hz. Response time dictates how fast pixels change from black to white, or one gray to another. 5 milliseconds (ms) is a good rate for a gaming monitor, though premium gaming monitors can hit sub 1 ms. 
How we chose the best touch screen monitors
Methodology
We wanted our list of the best touch screen monitors to be as authoritative as possible. As a digital artist and tech reviewer, I use and review many screens. Currently I own multiple touch screen devices. It's an important part of my workflow, whether I'm editing in Google Docs with my fingers and a pen, drawing in photoshop, or piecing together collages with my fingers in Procreate. To assemble this list, we researched numerous touch screens from leading manufacturers, perusing the spec sheets, and stacking them up against the competition, and compared them to the monitors and screens we know and use daily. We evaluated a few criteria to make our final choices:
Image quality doesn't need to be stifled with touch screen tech. Theoretically touch screen IPS displays are capable of much the same image quality, resolution, and color quality as regular IPS screens. In practice this isn't always the case. Touch technology takes money, and this means that touch screen monitors often don't also put the premium on image quality. There aren't many 4K touch screen monitors on the market. Because of this we highlighted the instances where touch screen monitors do achieve really good screen quality.
Form factor is always important, but when a product is designed to be used for tactile manipulation, this is more important than ever. We noted how each product worked as a touchable, tactile device. For a device to be reliable as touch-tech it needs to be sturdy, responsive, and positionable. We prioritized monitors that fold, sit flat, and can be positioned on angles.
Connectivity is ever important in the modern era, and yet many touch screen monitors suffer here. Don't expect lots of thunderbolt ports, or necessarily more generic USB-C hubs. Still wherever we found it we highlighted monitors with versatile connectivity.
Budget varies when it comes to touch screen monitors. As touch screen tech is pricey in itself, touch screen monitors are often somewhat pricier than other monitors with equivalent feature sets. We looked for monitors that don't skimp on features and cost significantly more, while highlighting a few that make sure to put the premium on a value price point.
Size is a bit more limited in the touch screen market. If you're looking for large computer monitors, the largest touch screens designed for standard home use are about 27 inches.
The best touch screen monitors: Reviews & Recommendations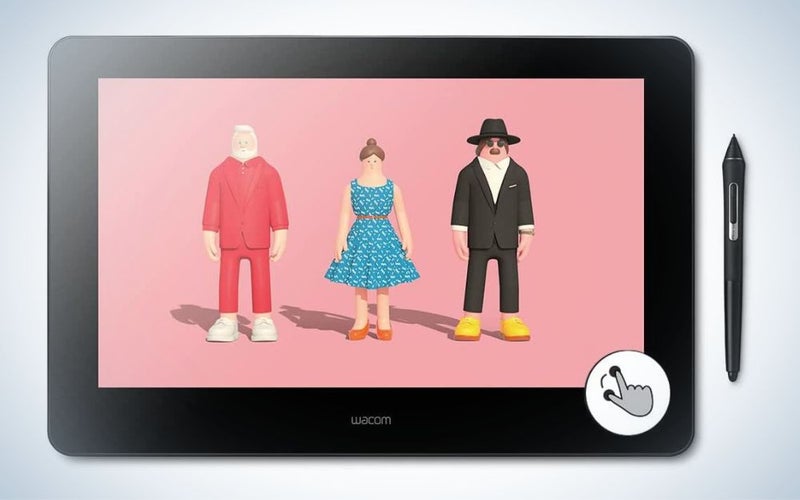 Why It Made The Cut: With top-grade wide-gamut color and a powerful stylus, the Wacom Cintiq Pro drawing tablet easily has the best color and screen quality on the touch-screen market.
Specs:
Screen type: IPS
Size: 16
Native resolution: 4K (3840 x 2160 pixels)
Pros:
Exceptional 98% AdobeRGB with 8-bit color
Decent 300 nit brightness with 1000:1 contrast
Excellent pen response with smooth control and buttons
4K screen
Cons:
Expensive
Slow response and refresh for gaming
Wacom has been the industry leader in stylus and touchscreen art-tablets for years, and the Wacom Cintiq Pro 16 represents one of their biggest achievements yet. It delivers a vibrant, 4K screen with exceptional stylus support. The Cintiq Pro 16 is fully responsive to touch and pen, and … very beautiful. While monitors and drawing tablets have traditionally been classified as different categories of tech, they have slowly been inching closer and closer together over the years, until now, when crossover products such as the touch screen computer Microsoft Surface Pro havely largely rendered the category-differences moot.
There are only two functions that the Cintiq Pro 16 doesn't perform well that the other monitor's on this list do a good job with. Unlike other monitors, the Wacom is designed to be manipulated on your desk surface, either at an angle or flat, this helps with touch functionality, as well as giving you a natural surface for its electromagnetic pen. Those who want traditional mounted touch screen monitors should stay away. Its screen refresh time and pixel response is also slower than gamers will want. These differences make the Wacom good at what it is, a drawing-tablet with an immaculate touch-display built right in. 
The Cintiq Pro has one of the best screens on the market. It delivers 98% AdobeRGB, which is a significantly larger color gamut than sRGB, meaning you'll see colors that not even a Macbook Pro can display. Its 4K resolution is beautiful and crisp, delivering extremely detailed images. It isn't all that fast, with a 30 ms response, but unless you're gaming, this shouldn't be a problem. 
Because Wacom comes from a line of drawing tablets, rather than monitors, the Cintiq Pro 16 is an unconventional choice for a list of the best touch screen monitors. However, it's hard to argue with the specs, especially when they handily beat out all of the competition. If you work in photo-editing, graphic design, or illustration, the Cintiq Pro is the best for work, even if it's expensive, plus it works with Apple computers, unlike many traditional touch screen monitors. It should be noted that because it doesn't achieve a vertical position, it is probably best as a second monitor, particularly when paired with a great graphic design or photo editing monitor. For more on the Cintiq Pro, read my review here.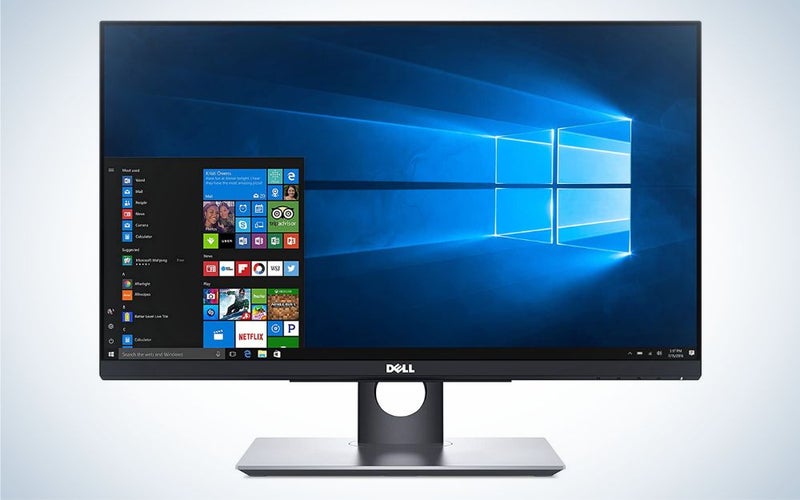 Why It Made The Cut: Great image quality, easy touch controls, a solid anti glare coating, and an intuitive repositionable stand all work together to make this IPS Dell screen an easy pick. 
Specs:
Screen type: IPS
Size: 24 inch
Native resolution: 1200 x 1080p, 60 Hz
Pros:
Decent brightness
Anti glare screen
Stand folds nicely from traditional desktop to angled touch
Decent color for a business class monitor after calibration
Cons:
Plastic monitor surface doesn't feel as sturdy as it could and gets smudges
A solid business-class monitor, the Dell P2418HT 24IN IPS delivers well on all fronts, offering impressive touch controls, as well as decent color and brightness. Perhaps the most immediate appeal to this monitor is its impressive folding stand, which intuitively transitions from a classic monitor position to an angled tabletop touch screen surface. 
The monitor's plastic screen uses an anti-glare coating, and pumps out about 250 nits of brightness. It's responsive to touch, and intuitive. The plastic coating is both a perk and a detractor, and will appeal to some more than others. While the anti-glare coating is a nice feature, the screen smudges easily, and feels less sturdy than glass. 
Across the rest of the specs, the Dell P2418HT does a good enough job to be the best 24 inch touch monitor out there. It has decent color that exceeds many business class monitors, even if it falls short of what's on offer with most design or photo-focused monitors. Its HD resolution does a good job on the IPS screen, and its refresh rate makes it a viable choice for gamers who still want touch. All in all, the Dell does almost all of it right, in a way that makes it the most widely appealing touch-screen around, even if it doesn't excel at the particulars to secure specific niches.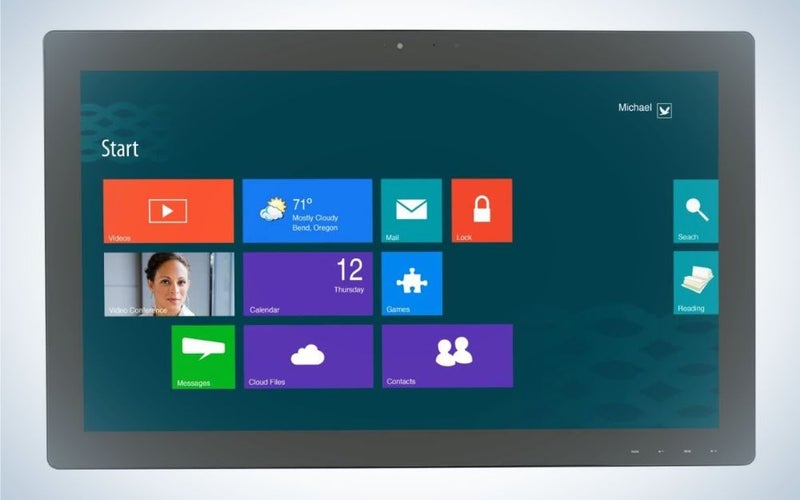 Why It Made The Cut: With a large screen, decent color, a webcam, and more, this is a great touch screen monitor for home offices that easily converts between flat and vertical alignments.
Specs:
Screen type: IPS
Size: 27 inches diagonal, 23.54 x 13.24 (H x V) inches
Native resolution: 1200 x 1080p
Pros:
Large size screen
Decent brightness about 300 nits with touch screen
Webcam
Cons:
Middling color
Pixel count is small for the size
As monitors go, the Planar Helium PCT2785 27″ is the best for productivity for most people. It's also a great choice for a second touch screen monitor for school. With a big bright screen that pumps out about 300 nits, its HD IPS screen is big enough to wow.
The monitor uses capacitive touch with ten points of manipulation.It also comes with a 720p webcam, speakers, and an audio in/out, plus two USB-A 3.0 jacks. Best of all, its stand easily transitions between vertical and flat positions, so you can use touch how you like to.
It has to be noted that this monitor is a bit tricky with its sizing, it is 27 inches diagonal, rather than horizontal. Factor that into your decision before you buy, still 23.54 inches is large — large enough in fact that the HD resolution looks a little pixelated. All in all, it's a decent large touch screen monitor that does a good job at whatever you throw at it.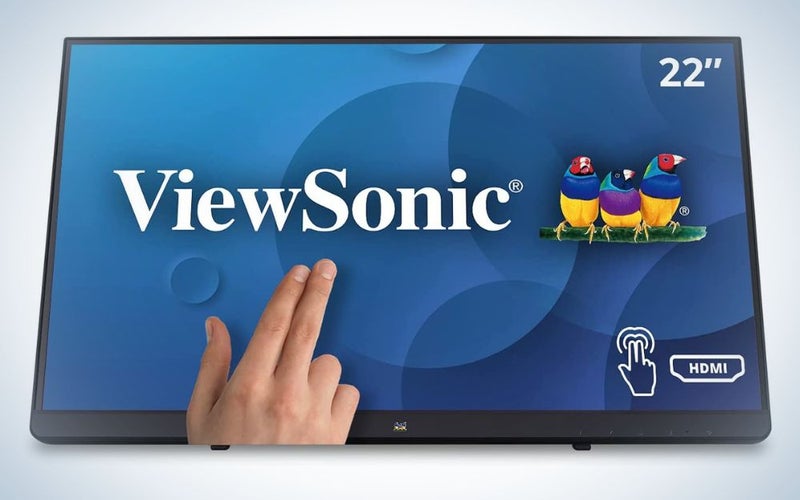 Why It Made The Cut: A rugged, mobile design accompanies super-hard glass, a better than average refresh rate, and a simple-to-use folding screen.
Specs:
Screen type: IPS
Size: 22 inches
Native resolution: 1200 x 1080p
Pros:
Rugged enough to trust with portability
76 Hz refresh rate
Good connectivity with DisplayPort
Cons:
Billed for use in retail environments and setting up in the field, the ViewSonic TD2230 is a great choice for those who move around a lot. It sports an extra-hard 7H glass screen and solid overall ruggedness. Its stand offers easy conversions between vertical alignments and flat. 
While the screen isn't the most vibrant out there, it does have some decent features. It offers a 76 hertz refresh rate that's better than average among touch screens. Its IPS panel sports an HD resolution, that looks a little pixelated on the monitor's larger size, but won't bug most users. It's also easy to connect on, with a DisplayPort connection, two USB-A ports, a USB-B, HDMI, and audio In & Out. 
All in all, the ViewSonic is a good choice if you're looking for a moderately large touch screen monitor you can take on the go for presentations, or set up as a workstation at a retail establishment, it's also the best as a second monitor.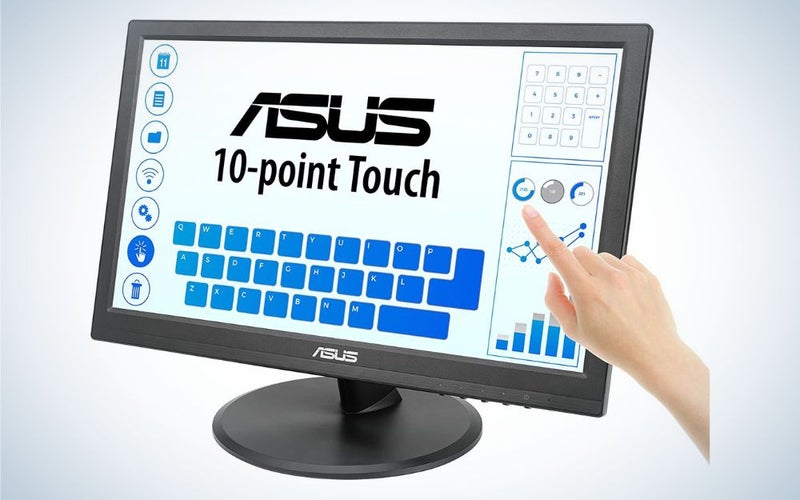 Why It Made The Cut: Great for use as a POS machine, as a monitor for multiple cameras, or as an easy touch control station, this twisted nematic monitor crams a lot of great features into a highly affordable touchscreen body.
Specs:
Screen type: TN
Size: 15.6 inches
Native resolution: 1366 x 768 p, 60 Hz
Pros:
Affordable price point
Flicker free, with low blue light
Wall mountable
Cons:
Low resolution
TN screen doesn't have reliable color across it
No speakers
Sometimes a utilitarian, budget monitor is just what you need. The ASUS VT168HR doesn't come with frills, but if you're looking for the basics delivered with reliable touch, then this ASUS TN monitor might be just right for your business.
Make no mistake, the VT168HR's screen isn't going to wow you with media. With a resolution of only 1366 x 768, it doesn't hit HD definition, and you'll notice. It doesn't have speakers, and its color is also nothing impressive. Instead of great visuals and sound, the VT168HR focuses on utilitarian function. It's one of the cheapest monitors out there, but its TN screen still comes with flicker-free tech that reduces eye strain, and a filter that cancels out blue light. Its touch screen is responsive, and it connects via HDMI and VGA. This monitor is a good choice for businesses that need a reliable basic monitor for security cameras, POS, spreadsheets, or a second touch-screen monitor to supplement a main monitor. It's not a monitor to brag about, but it could be the best small display for specific touch applications.
FAQs
Q: How much do touch screen monitors cost?
Touch screen monitors vary in cost substantially. The cheapest touch screen monitor on this list is under $200, while the most expensive is closer to $1500. This price jump reflects great variability in the feature set and the technologies that are included.
Q: How do I connect a touch screen monitor to my computer?
Most of the time, all one needs to do to connect a touch screen monitor to your computer is plug it into the correct jacks. Usually the monitor will then prompt you to download the appropriate drivers. 
Q: What are the advantages of touch screen monitors?
Touch screen monitors have the advantage of touch. While not everyone needs touch functionality on their monitor it can be a boon for many settings: POS systems usually use touch, graphic designers and photographers can find the control handy, and some people simply like it for the intuitive control it affords. 
Final Thoughts
If you're looking to add a whole new dimension to the control of your computer, consider a touch screen monitor. Touch screen monitors provide tactile control over your digital world, making for a great desktop monitor or a great portable controller. If you're after the best 27-inch monitor, the Planar Helium PCT2785 27″ is about as good at touch as 27 inch monitors get. If you're a creative, the pricey Wacom Cintiq Pro 16 is the top choice, and does about everything you need from a touch computer monitor, even if it comes from a family of drawing tablets (It also has the best screen quality out there). If it's a desktop monitor for less, the ASUS VT168HR is a stripped down display that is rugged and affordable enough for business applications, like POS, and security monitoring. Finally, the Dell P2418HT 24IN IPS is the best touch screen monitor for most users, with its solid media delivery and good response.