The best picture frames of 2023
Your photos deserve to be printed and on the wall, and these frames will help them look even better.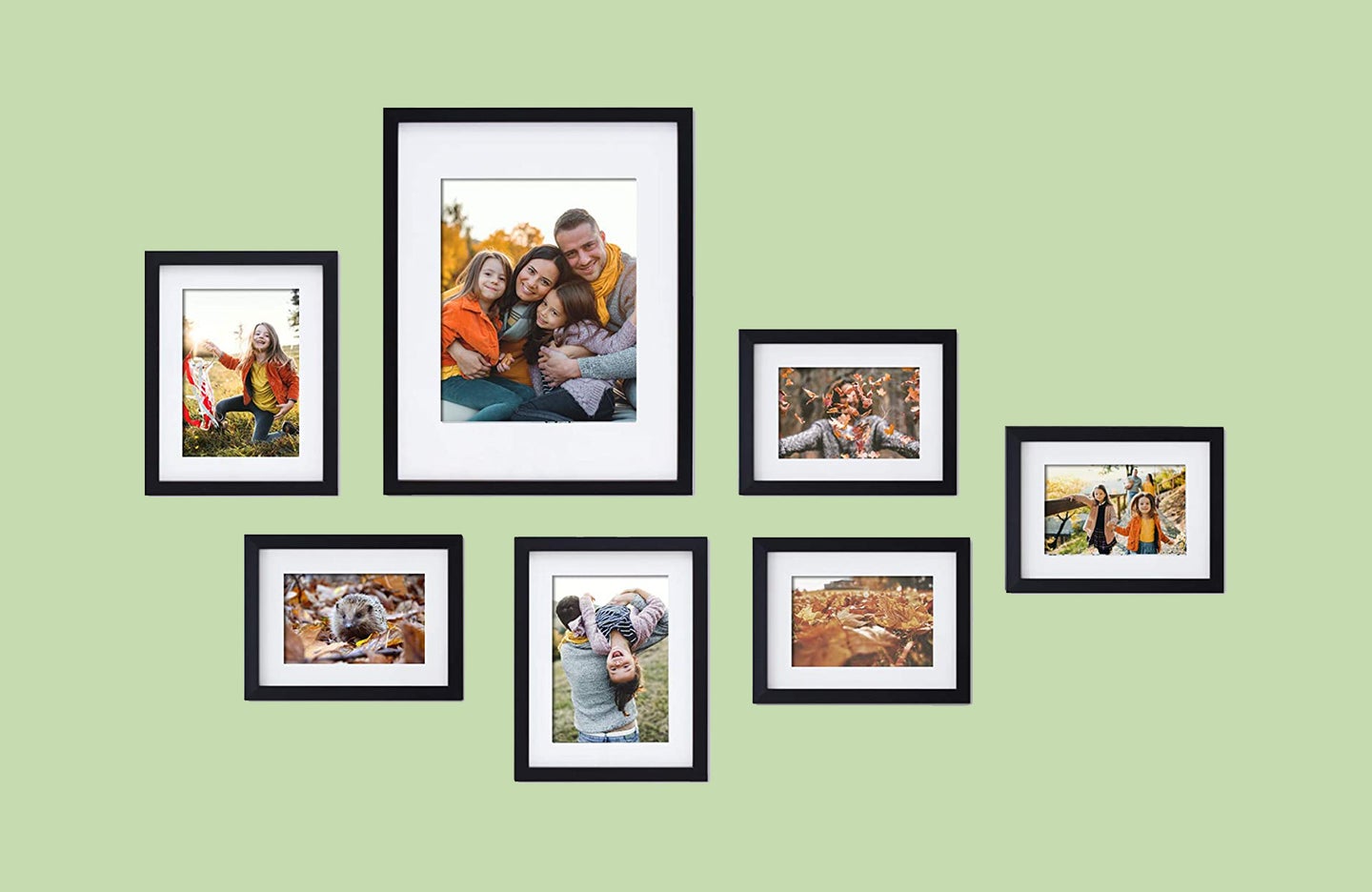 We may earn revenue from the products available on this page and participate in affiliate programs. Learn more ›
Photographs capture memories or tell stories, and picture frames commemorate them. Displaying your favorite pieces, whether family photos or bold art prints, can enrich the beauty of your home. And choosing the right mat and molding can transform any work into a piece of art. A quality frame will not only elevate a photograph, but it can protect it, too.
The almost endless options on the market may be overwhelming. There's no shortage of frame and mat styles, sizes, or material options. Not all frames are created equally, however, so it's important to consider your options carefully. A shoddy frame may not hold up, can cheapen the look of your images, and can even damage your photographs. Whether you're looking for a classic wood frame or a modern metal one, we've found the best picture frames available to highlight your prints.
How we chose the best picture frames
Before researching the best picture frames, I read guides and reviews from interior designers, framing and hanging experts, and art curators. I evaluated more than fifty products based on experts' insights, reviewers' feedback, and the provided description. As a commerce writer for home goods, I regularly vet and review products. I utilized my expertise and research to determine essential criteria for finding the best picture frames, including style, materials, and value.
The best picture frames: Reviews and recommendations
Why it made the cut: MCS's archival picture frame will protect, preserve, and enhance any image and room with its high-quality construction and simple but elegant design.
Specs
Frame dimensions: 11×14 inches
Mat opening: 8×10 inches
Materials: Wood frame, UV-protective glass 
Pros 
Includes an acid-free and lignin-free mat
Wood construction
UV protective glass layer
Classic style
Cons
Somewhat pricey for a single frame
Nothing screams classic like a wide, black wooden frame. MCS's Archival Matted Frame can tastefully display a host of images, from family photos to art prints. It consists of a black 11-by-14-inch solid wood frame and a white 8-by-10-inch mat. The wide edges of the frame help make a statement on your wall, though the simple design keeps the focus on the work inside.
MCS prides itself on offering high-quality construction at a low price compared to other retailers. The archival picture frame proves them right. This wooden molding is well-crafted and heavy-duty. The acid-free and lignin-free mat and the UV-protective glass prevent discoloration and damage over time, making it a safe place to keep important photographs.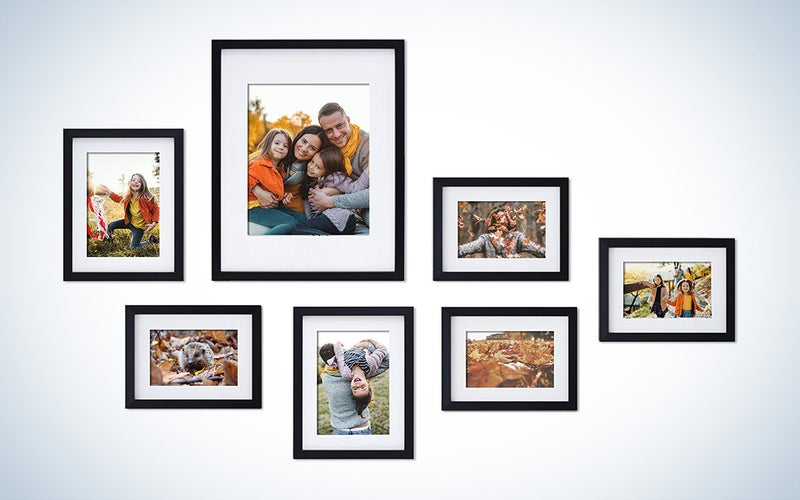 Why it made the cut: Mimosa's gallery set is an affordable option for people who want to display a mix of their favorite photos and artwork.
Specs
Frame dimensions: One 11×14, two 7×9, and four 6×8-inch frames
Mat opening: One 8×10, two 5×7, and four 4×6
Materials: Recycled Polystyrene, glass
Pros
Affordable
Comes in 4 colors
Frames can hang horizontally or vertically
Will look good in almost any home
Cons
Build the gallery wall of your dreams with Mimosa's affordable and versatile frame set. The seven-piece set is available in four colors and includes one matted 11-by-14 picture frame, two matted 7-by-9 picture frames, and four matted 6-by-8 picture frames. 
Interior decorators advise using picture frames of various sizes to create a gallery wall to create visual interest, and this set allows you to do just that. In addition, you can mount all of the included frames vertically or horizontally, perfect for arranging an eye-catching and eclectic gallery wall.
The frames are surprisingly sturdy and stylish, especially given the price. However, the picture frame's molding consists of lower-quality, recycled polystyrene, which is less durable than wood or metal. The glass layer will offer your images some protection, though. Mimosa Moments Gallery Wall Frame Set is an excellent option if you're looking for an affordable, appealing, and simple gallery set.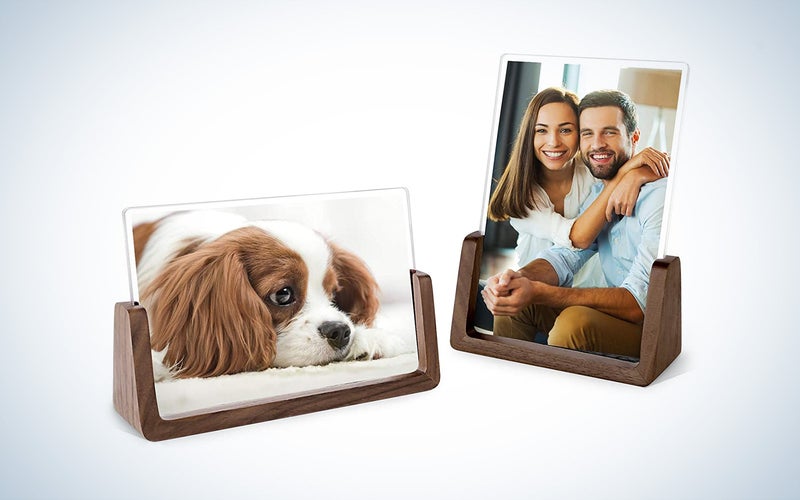 Why it made the cut: Mixoo offers a unique yet sleek and elegant design compared to other wooden tabletop picture frames, making it our top choice for a tabletop frame.
Specs
Frame dimensions: Horizontal: 6.5 x 1.8 x 2.4, vertical: 4.4 x 1.9 x 2.4 inches
Mat opening: No mat included, but holds 4 x 6-inch photos
Materials: Wooden base, acrylic covers
Pros
Appealing design
Natural wood molding
Available in 3 sizes
Looks great with either traditional and modern decor
Cons
Some may dislike the acrylic plate
For anyone who wants to display a cherished photo on their desk, bookshelf, or nightstand, Mixoo Rustic Wooden Picture Frame is a great option to consider. Depending on which set you decide to purchase, this two-pack of frames can fit 4-by-6, 5-by-7, or 6-by-8-inch photographs. You can also select a set that accommodates one vertical and one horizontal image or two vertical.
No assembly is required for installation. All you need to do is remove the protective film on the acrylic plate, insert your photo between the two acrylic covers, and place the covers into the wooden base. And the wooden base style is much sturdier than traditional easel back frames, which can fall over if the surface they are on gets bumped.
Why it made the cut: We chose MCS Master & Co. Foundry Metal Gallery Wall Frame because it offers a sleek, sophisticated style that will preserve and showcase a gorgeous piece of art.
Specs
Frame dimensions: 16.375 x 20.375 inches
Mat opening: 11 x 14 inches
Materials: Metal, tempered glass
Pros
Comes in 10 sizes and three colors
Metal molding
Vertical and horizontal hanging options
Acid-free mat
Cons
The pre-attached sawtooth hangers can be a pain
Art curators, framing experts, and interior decorators will tell you that a well-designed combination of frame and mat adds value and visual weight to an image. However, it's important to exercise restraint when selecting a frame's molding and mat. You want to choose a combination that doesn't detract from or compete with the art itself.
MCS Master & Co. Foundry Metal Gallery Wall Frame encapsulates everything an entry art collector would like in a frame. The aluminum molding, tempered glass layer, and acid-free mat will protect the print from damage and discoloration.
The sleek black finish and white mat can add dimension and heightened sophistication to your art. Unfortunately, the flat style of attached sawtooth hangers are a bit annoying to deal with. But they do allow you to hang the frame either vertically or horizontally. And at this price, you won't find a better quality frame for displaying and preserving your favorite artwork.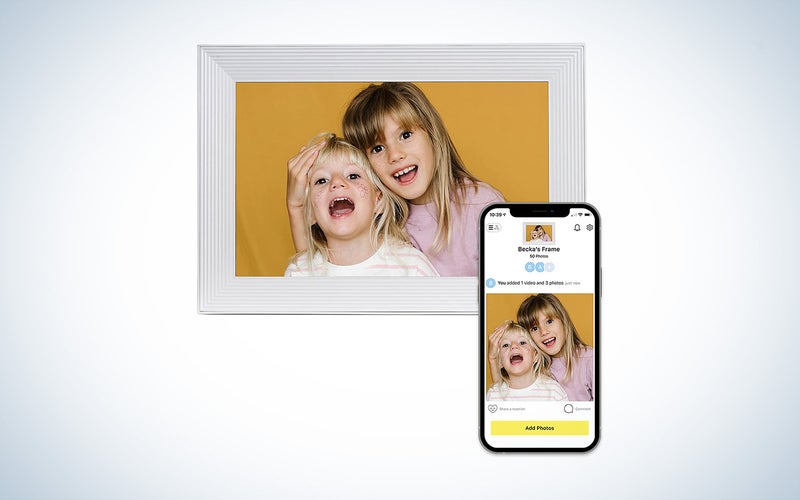 Why it made the cut: Out of all the digital frames we looked at, Aura's Carver Smart Digital Frame is the easiest to install, upload photos, and display on the tabletop of your choosing.
Specs
Frame dimensions: 10.5 x 7.3 x 2.1 inches
Storage: 10,000 +, unlimited cloud storage
Resolution: 1920 x 1200
Pros
High-quality image
Sleek minimalist design
Easy photo sharing
Free unlimited cloud storage
Cons
Aura's Carver Smart Digital Picture Frame is truly excellent. Almost anyone can set up this digital frame. Simply plug the cord into an electrical outlet and connect the device to WiFi to get started. From there, you can add upwards of 10,000 photos using their easy-to-use mobile app. 
We love that you don't need to physically connect to or plug anything into the device like lots of other digital frames. Instead, you'll need to use an Android or iPhone device to transfer the pictures. And friends and family can even send photos remotely to Aura's Carver frame using the mobile app.
The high-quality design features a stunning display with its 1900 x 1200 resolution. Your photos will look crisp and clear. Guests won't notice it's a digital frame because it doesn't give off a computer-like glare. The only downside to this frame is that it only offers a landscape orientation, but the device will automatically pair two portrait photos side-by-side.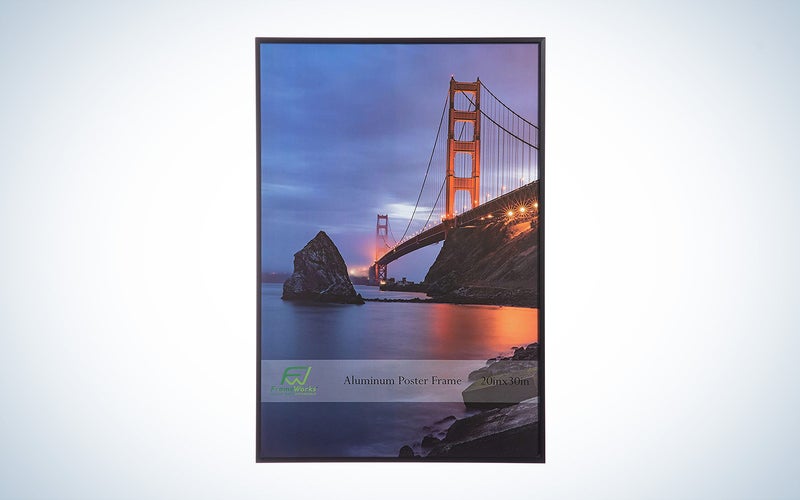 Why it made the cut: This FrameWorks poster frame offers modern metal styling to keep the focus on your poster instead of the frame. 
Specs
Frame dimensions: 30 x 20 inches
Mat opening: Not applicable (no mat included)
Materials: Aluminum, plexiglass
Pros
Comes in 8 sizes and 3 colors
Affordable
Can hang vertically or horizontally
Cons
Included plexiglass isn't very high quality
Posters require larger frames. And while there are plenty of cheap large frames, they can frequently be flimsy due to the longer sides. However, the FrameWorks poster frame—thanks to the aluminum design—maintains a sturdy structure despite its 30-by-20-inch size. Should that not be the right size for you, it also comes in eight additional sizes for a range of poster formats. 
This black frame works well with just about any poster and decor type. But you can also select a gold or silver frame if that is more your style. It comes with sawtooth hangers already attached to two sides. It even uses two per side to prevent the frame from swinging when hung on the wall. Unfortunately, it comes with rather thin plexiglass. It makes the entire setup lighter, but you will want to take care when cleaning so that you don't scratch it.
Things to consider before buying picture frames
A picture frame may seem like a small purchase, but the right frame will preserve your memories and add to the appeal of your home. Before you buy, think about the following:
Style
First and foremost, consider where you are going to hang your piece. You don't want the frame to look out of place in your room. Is your room more traditional, modern, or a mix? Keep that in mind when searching for a picture frame. On the other hand, it's important to choose a picture frame that will enhance the beauty of your photo. Art curators advise people to choose a frame that will compliment the overall tone of a piece rather than a dominant color that will compete for attention.
Matting
Framing experts and art collectors maintain that most pieces look better with a mat. A mat can make a framed photograph look much more polished than one without. They prefer a contrasting-colored mat and molding because it draws the eyes toward the subject and casts out the frame, allowing viewers to connect easily with the image. White is the safest bet as it won't compete with the colors in a photograph and offers a classic, sophisticated style.
Size
Of course, you should always look for a picture frame that will fit your image. But measuring the wall space you have for the frame is also essential. You want a bit of wall space around the frame for it to look the best. On the flip side, a tiny frame on a large wall may look out of place. Beyond frame size, if you're looking for a matted frame, you'll want to ensure the mat's window size matches your image's size.
Material
A high-quality molding and matboard can protect your image for decades. Wood and metal are the most popular choices for moldings due to their durability. They tend to look more polished as well. Fiberboard, plastic, or polystyrene frames tend to be flimsy and prone to getting dented or chipped, so you'll need to take more care with them.  
The material that covers the art, called glazing, also impacts how your artwork will appear and how well it is protected. There are two glazing materials: Glass and acrylic—also called plexiglass. Glass glazing is common because it doesn't scratch easily. However, glass can break and is quite heavy. Glass is also more expensive. Plexiglass, on the other hand, is shatterproof, lightweight, and more affordable. Plexi scratches easily, though, so you'll want to be careful when cleaning them. 
You don't necessarily need to spend a fortune framing photographs and posters. A plaster molding and layer is fine for displaying a piece, though it won't offer the same protection and may not last as long as other materials.
FAQs
Q: Which photo frame material is best? 
Framing and hanging experts, interior decorators, and art curators prefer wood and metal moldings. These materials are more durable and tend to look more polished. For glazing (the protective layer that goes in front of your photos), choose glass if you want to avoid scratches or a quality plexiglass layer if weight and shatterproof qualities are more important. 
Q: What is the best picture frame size? 
There's no such thing as the best picture frame size. It depends entirely on the individual image and the space you will hang it. Some photographs are best printed large, while others are more suited to small sizes. However, 4-by-6, 5-by-7, 8-by-10, and 11-by-14 are some of the most common sizes.
Q: Is a picture frame a good wedding gift? 
It depends. Many newlyweds are likely to regift an empty frame. But if you know their style well, and better yet, you have a thoughtful photo to place in the frame, it could be a cherished gift.
Q: How much does a picture frame cost?
The cost of a picture frame will vary wildly depending on the materials used, if a mat is included, and the size of the frame. You can find frames as cheap as $1 all the way up to $300 and more for large or custom-sized frames.
Final thoughts on the best picture frames
With so many picture frame options on the market, it can be challenging to determine what's worth buying. Your best bet is to choose a metal or wood frame with UV-protective glass glazing, especially if you want it to hold up and protect your photographs for the long run.