Updated Jul 17, 2023 1:18 PM
We may earn revenue from the products available on this page and participate in affiliate programs. Learn more ›
Photo sticks expand your phone's memory for photos and videos, saving you from the dreaded "low storage" notifications. Unfortunately, most phones don't have enough storage to keep up with our constant content creation, so we need handy storage devices to offload our photos, videos, documents, and other media files.
Whether you're a professional photographer or just love taking photos, a photo stick is worth adding to your kit. Once connected to a phone or smart device, it searches through the folders for photos and videos and saves a backup. It cuts down the time you would have spent organizing everything and backs it all up to keep your files safe.
If it's your first time buying a photo stick, you may not know what features to look for. The device is very similar to a flash drive, so you may end up getting the wrong thing. This roundup of the best photo sticks in 2023 will help you make an informed decision.
How we picked the best photo sticks
To create this roundup of the best photo sticks, we researched and evaluated the best-selling photo sticks on the market. We compared devices by different manufacturers and looked at their storage capacity, read/write speed, compatibility with smart devices, and connector types. We also used publicly available information and reviews to choose the best devices.
The best photo sticks: Reviews & Recommendations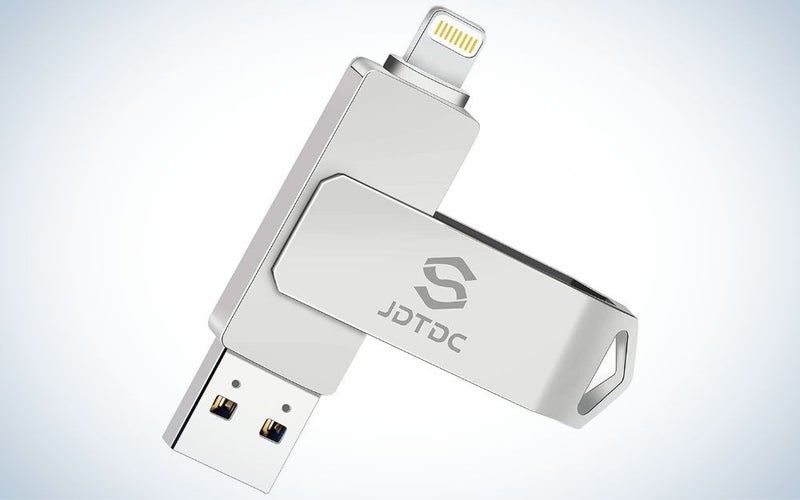 Why it made the cut: It easily backs up photos and videos and offers high-speed transfers thanks to USB 3.0 technology. It's a great device for traveling photographers.
Specs:
Storage capacity: 128 GB or 512 GB
Hardware interface: USB, USB 3.0
Read/write speed: 80/40 Megabytes per second
Color: Silver
Pros:
High transfer speeds 
Sturdy design makes it very durable
Has an easy-to-manage folder hierarchy
Cons:
Only compatible with Apple devices 
Poor proprietary app rating 
Thousands of verified photo stick reviews make this the best-rated photo stick on the market. With 2-in-1 functionality, it features a USB 3.0 connector and an L port and is compatible with any Apple device with a Lightning port. The USB 3.0 port offers transfer speeds of up to 80 Mbps, while the Lightning port has a speed of 10 to 15 Mbps. Thanks to those quick transfer speeds, you'll be able to back up your files or move them to a computer quickly.
The JDTDC 128GB Photo Stick works with all iOS devices with L Port and iOS 9 or above. You can play videos and store files in different formats, so you won't need to worry about only selecting file formats. MFi-certification makes the photo stick safe to use because it means it's approved by Apple. The manufacturer also gives an 18-month warranty for it and offers great after-sales service.
You will need to download the app to use this photo stick. But once you've done so, you can take photos and record videos directly from the app, backing up your content as you go.
Why it made the cut: Automatic backup and speedy transfers make it perfect for iPhone owners. Encrypted protection ensures the privacy of your media files.
Specs:
Storage capacity: 128 GB, 256 GB, or 512 GB
Hardware interface: USB 3.0
Read/write speed: 80/40 Megabytes per second
Color: Silver
Pros:
High storage capacity
Supports many file formats
Auto backup
Cons:
The iDiskk app sometimes has issues
This external storage device has excellent features designed to make it easier to save your data. It's one of the best photo sticks for iPhones and features a 2-in-1 connection comprising Type-C and USB port connectors. With a capacity options of 128 GB, 256 GB, or 512 GB, it can accommodate tons of videos, photos, audio files, and documents. It also safeguards your data with encrypted protection. You can easily encrypt folders with a password or touch ID. 
To start using the device, install the iDiskk app, then connect it to your phone and start transferring files. Its plug-and-play function lets you watch movies or listen to music directly from it. The USB photo stick supports a wide array of formats and can backup videos and photos automatically. It is speedy and can transfer up to 1GB of data in 20 seconds. Unfortunately, some users have complained that its app easily crashes during video transfers. Like our top pick, it comes in a silver color and has MFi-certification.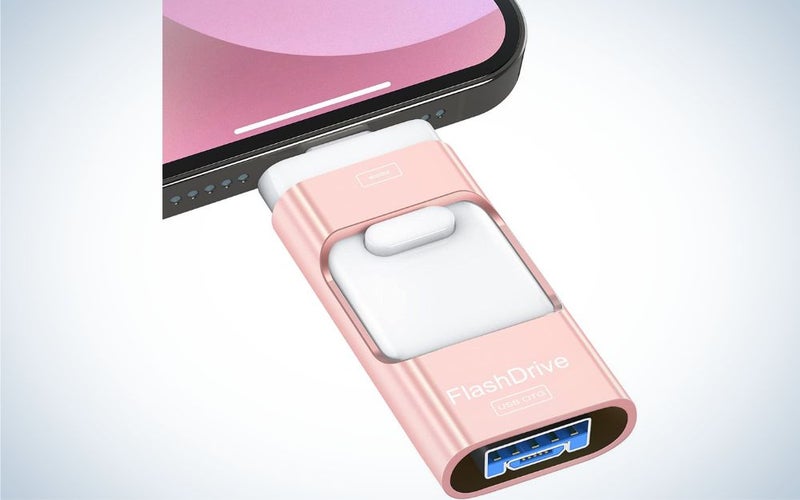 Why it made the cut: It's compatible with phones, tablets, PCs, and other android devices. You can encrypt file information with a password and touch ID.
Specs:
Storage capacity: 128 GB or 256 GB
Hardware interface: USB 3.0
Read/write speed: 80/40 Megabytes per second
Color: pink
Pros:
Password and Touch ID encryption
One-click backup
Plug and play
Compatible with four different port styles
Cons:
You need to remove your phone's case to use it
This photo stick for Android phones allows for easy sharing of data and is capable of saving images and videos using its proprietary one-click backup software. Enjoy quick transfers and free up your phone's memory without using a data cable or cloud service. With a single click, it scans, transfers, and backs up your photos and videos. And it is sturdy enough to withstand the inevitable drops on the ground. 
Password and Touch ID encryptions keep your private files safe. You can encrypt the entire photo stick or specific files. All encrypted files are invisible on a computer, so there's no need to worry about people stealing or deleting your information. The manufacturer says it's a plug-and-play device, but you do need to download the LUV-Share app for Apple devices or turn on Android's OTG function to start using it. 
You can take photos or videos and store them directly on this photo stick. You can also share them on social media without saving them on your phone, keeping your device free of clutter. High transfer speeds and excellent heat dissipation make it one of the best photo sticks for Android phones. However, its connectors are shorter than standard, so you'll need to remove your phone's case to use it.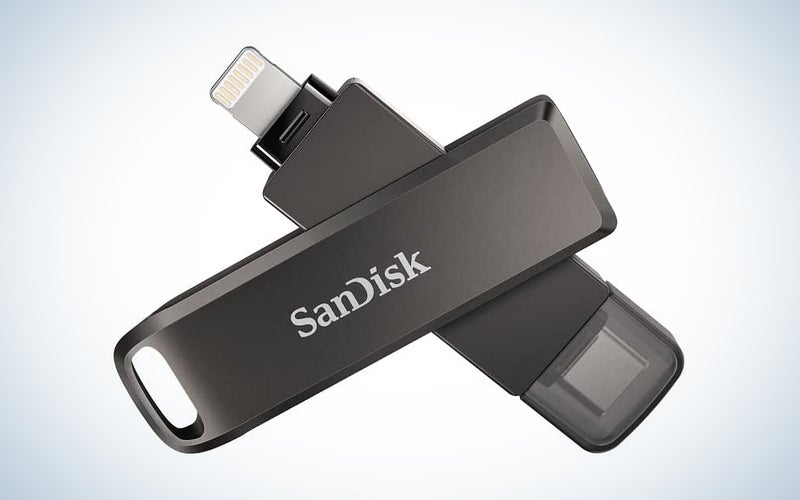 Why it made the cut: It works fast, keeps your files secure, and stores thousands of photos at once. The photo stick is designed for convenient storage and mobility.
Specs:
Storage capacity: 64 GB, 128 GB, or 256 GB
Hardware interface: USB 3.0
Read/write speed: 90 Megabytes per second
Color: Black
Pros:
Compatible with iPhones
Two flash drives in one
Cons:
Not a dual-ended USB flash drive
We previously reviewed USB flash drives. SanDisk drives have fast read and write speeds and can save you quite a bit of time, especially when you need to copy large files. So if you're looking for a durable photo stick and speed is a top priority for you, this 256GB Flash Drive is worth getting. It has a blazing-fast write speed (90 Mbps) and lots of space to free up your smartphone's or computer's storage.
You'll find it super easy to transfer files. Read speeds can reach 90MB/s. The iXpand Flash Drive Luxe is a USB Type-C drive with a lighting adapter that works with iPhones. But because it's not a dual-ended USB flash drive, you'll have to get a Samsung USB-C cable for speedy data transfers. The stick is backward compatible and can seamlessly transfer files from USB 3.0 and 2.0 devices.
This reliable photo memory stick will securely keep your photos and other files safe in the all-metal casing.
Why it made the cut: This 4-in-1 photo stick makes storing and transferring files easy. You'll be able to move files between iPhones, iPads, and Macs seamlessly.
Specs:
Storage capacity: 128 GB, 256 GB, or 512 GB
Hardware interface: Flash connector (for iOS devices), Micro USB (for Android phones), USB 3.0 (for Mac), and Type-C (for Macbook Pro) 
Read/write speed: 80/40 Megabytes per second (for Mac)
Color: Silver
Pros:
4 connector types
Plug and play
Supports most video formats
Automatic backups
Cons:
Tends to run hot while in use
Undeniably one of the best photo sticks for Mac, this device is super easy to use.  Simply connect it to your Mac, and it will automatically play any videos you've saved, making your long trips more enjoyable. It automatically backs up photos and videos, but you have to remember to shoot them using the in-app camera.
Many users love its all-metal design, but a few have complained that it runs hot while in use. Its swivel design makes switching the connectors effortless. And a keyring hole allows you to carry it everywhere you go. If security is important to you, you can use its Touch ID or Passcode encryption to keep your files safe. Four hardware interfaces make it ideal for Macs and other Apple devices. We like its impressive read/write speed of 80/40MB/s, but it can vary slightly, depending on the host device and available capacity. 
Things to consider before buying the best photo sticks
Storage capacity
Photo sticks have a finite amount of hard storage inside, and how much you need depends on how much data you need to keep on it. An 8GB photo stick can hold up to 3500 photos, while a 128GB photo stick can save up to 60,000 photos. Get a photo stick with a bigger capacity if you're a professional photographer or love taking lots of photos. If you're only looking to save photos temporarily, an 8GB photo stick may be enough. It's worth mentioning that the device's built-in backup application will consume space as well, so make sure you get one with enough storage.
Read and write speed
Photo sticks will vary in how quickly they can open (read speed) or save files to the device (write speeds). Speed may not matter for some, but if you plan on working directly off the photo stick or need to copy lots of large files, you'll want a fast device. For example, some feature USB 3.0 with a speed rate of 4.8Gbps, while slower ones with USB 2.0 have a speed of 490MBps. Most reputable photo stick manufacturers advertise the read and write speeds on the packaging or website, though some will only display the faster of the two.
Compatibility and connector types
Some photo sticks offer two connectors (USB-A and USB-C), while others only have one (USB-C). It's rare to find a photo stick with four connectors. Think about the devices you often use to choose the best photo backup stick. It's also important to check the stick's compatibility. Get a photo stick that works with almost every device or the connectors you often use.
Usability
Professional photographers use photo sticks differently from casual photographers. Consider the device's purpose before getting one. Will you be using it daily or weekly? For daily use, you need a photo stick with a large capacity that's also sturdy on the outside. Photo memory sticks can store data without the internet. However, if you want one that lets you stream and save files on your phone or computer in real-time, you'll need access to the internet.
FAQs
Q: What is the difference between a photo stick and a flash drive?
The biggest difference between a photo stick and a flash drive is the data transfer port. USB flash drives only have one USB-A port for connecting to computers, while photo sticks have at least two ports. One connects the device to a mobile phone, while the other connects it to a computer.
Q: How many photos will a 128GB photo stick hold?
A 128GB photo stick can hold about 4,300 photographs. That will vary depending on the file size of your photos, however. Besides capacity, be sure to look at the device's read/write speed and its compatibility with your phone and computer. 
Q: Can you use a photo stick on your phone?
Yes, you can use a photo stick on your phone. But choose one that's specifically designed to work with phones. For example, the iDiskk 128GB MFi Certified Photo Stick is the best photo stick for iPhones, while the Sunany 256GB Photo Stick is the best photo stick for Android phones. 
Q: Is a photo stick better than an external hard drive?
A photo stick is better than an external hard drive for image transfers. It is also portable and more affordable. While an external hard drive may be better for bulk data transfer and storage, a photo stick is faster at transferring small bits of data.
Q: What is the best photo stick on the market?
According to a considerable number of reviews, the best photo stick on the market is the JDTDC MFi Certified 128GB Photo-Stick. It offers 128 GB of storage and comes with Lightning and USB connectors for easy and quick data transfers. 
Q: How long do USB photo sticks last?
USB photo sticks last approximately 10 years. Most photo stick manufacturers estimate that their devices will last 10 years, but they can last longer if used sparingly and kept safe. The life expectancy of a photo stick is measured by the number of write or erase cycles. Photo sticks can withstand 10,000 to 100,000 write/erase cycles, depending on the memory technology used.
Final thoughts on the best photo sticks
We're constantly receiving new data on our smart devices—photos, videos, and important documents. Losing this data can be stressful. So get the best photo stick and keep your files secure. Whether you are a photography enthusiast who needs convenient storage or a photophile, the JDTDC MFi Certified 128GB Photo-Stick will suit your needs.
Why trust us
PopPhoto has a long history of delivering the opinions of some of the sharpest and most prolific camera dorks the world has to offer. Since 1937, we've been reviewing cameras, providing wisdom from well-known photographers, and generally just nerding out about all that goes into making great pictures. Our current crop of writers and editors have decades of professional photography and camera writing experience among them. Collectively, we've probably shot with just about every camera and lens combo you can imagine—as well as some obscure stuff you may not even know about. Remember the Casio Tryx folding camera? PopPhoto does.
We also get that buying a camera is a big decision, which is why we're dedicated to helping folks choose the right one (or, in our case "ones") for their needs. Case in point: Handing over top dollar for an expensive rig may leave you unsatisfied if it doesn't fit your preferred shooting style. Sure, a $6,000 sports-oriented DSLR can capture landscapes, but do you really need to do it at 30 frames-per-second? No, you don't.