We may earn revenue from the products available on this page and participate in affiliate programs. Learn more ›
Updated Mar 29, 2023 12:10 PM
External hard drives are essential pieces of equipment for photographers and videographers looking to store, back up, or transfer their catalog of images. Unlike the internal hard drive that sits inside your computer or laptop, external hard drives are separate devices that connect to a computer or network via a specific interface.
External hard drives are typically classified as either a Hard Disk Drive (HDD) or a Solid State Drive (SSD). Despite having the same overall objective, HDDs and SSDs handle data in different ways. These differences create unique advantages and disadvantages for both types of drives, making the choice about which one is right for you more difficult.
In this article, we'll provide some clarity on what to look for when shopping for external hard drives, including which features should be prioritized. We'll also give specific examples of the best external hard drives for certain applications or uses.
How we picked the best external drives
Having spent the last ten years reviewing computers, laptops, and other consumer tech, I've become very familiar with external hard drives, both HDDs and SSDs. When considering which external hard drive was best for a type of application or user setup, I used specific criteria.
Storage: Whether it's for personal use or professional review, the first thing I always look at is the total amount of storage a particular external hard drive has. That number tells me what applications this drive is good for, as well as providing a baseline value of how the cost per gigabyte of storage.
Speed: Almost as important as storage capacity is how quickly an external drive can read and write files. Unlike storage, though, which is a fairly straightforward metric, the maximum rated speed of an external hard drive is dependent on several factors. You have to consider not only the underlying technology in the hard drive, including the drive type, but also the interface standard used to connect the drive to a computer and whether or not that computer supports the same technology. Rated speed is not always real-world speed, and that's something you have to think about when evaluating an external drive.
Value: To determine the value of an external hard drive, I like to first start at a very basic level and see how much you're paying per gigabyte of storage. Once I have that dollar amount, I then look at the other specs and supplemental features to see how they might increase the overall value.
Footprint: Although it's not a test of performance, the size of an external drive does matter—especially when you're considering applications. Many hard drive users, myself included, are very mobile and rely heavily on portable SSDs. Size tells me whether or not a drive can be easily transported. Likewise, a hulking desktop RAID array tells me that the drive isn't meant for a smaller workspace.
The best external hard drives: Reviews & recommendations
Specs
Storage: 2TB
Speed: 2,000 MB/s read, 2,000 MB/s write
Interface: USB, USB-C 3.2 Gen 2X2
Pros
Extremely fast read and write speeds
Grippy texture prevents drops and slips
Very durable
Five-year warranty
Cons
Full speeds aren't available on most devices
The SanDisk 2TB Extreme PRO Portable SSD is that rare external drive that balances speed, size, storage, security, and aesthetics in a single device. Of its many positive traits, the standout is its transfer speed, which is rated up to 2,000MB/s. It's fast enough that you can even edit photo and video files directly from the drive itself. 
Breakneck transfer speeds aside, the Extreme PRO's compact design and plug-and-play interface make it both a breeze to transport and use. It's also a standout in terms of security. It's password protected with 256-bit AES hardware-based encryption. And coupled with the non-moving, non-volatile components inherent to all SSDs, your data will be safe from unwanted eyes and accidental falls.
For added protection, this SSD features IP55 dust and water resistance and drop-proofing up to six feet. And it has a silicone coating that offers a nice grip. It will keep your drive from sliding off an airplane tray table during turbulence. It's also a tiny drive. It measures just 4.3 x 2.3 x 0.4 inches, so it's easy to keep with you even when traveling.
Specs
Storage: 500GB
Speed: 1050 MB/s read, 1050 MB/s MB/s write
Interface: USB 3.2 Gen 2 Type-C
Pros
Fast transfer speeds up to 1050 MB/s
Rugged build stands up to virtually anything
Self-encrypting technology safeguards all your private data
USB cables included
Cons
On the pricier side
Not everyone loves bright orange
With fast transfer speeds and an indomitable design, the LaCie Rugged 500GB SSD is an excellent choice for on-the-go users who need the fastest transfer times in any environment. Thanks to its IP67-rated, bright-orange encasement, the Rugged SSD is resistant to water, dust, drops up to 9.8 feet, and has two tons of crush resistance. True story: I once tested the durability claims of the Rugged SSD by running it over with an SUV. It survived without so much as a dent.
Of course, the Rugged has a lot more going for it than sheer durability. Its remarkably fast transfer speeds are rated up to 1050 MB/s. These speeds make it ideal for working with large data files, such as 4K video. The Rugged's 500GB of storage isn't as large as some of the other SSDs on our list. But there are additional storage options available, all the way up to 2TB or 5TB in HDD format. Regardless of what storage capacity you choose, all your files will be secured using patented self-encrypting technology and a password system.
Specs
Storage: 8TB
Speed: 550MB/s or 7,200rpm
Interface: USB 3.1 (USB-C), Thunderbolt 3 (USB-C), USB 3.1 (USB-A), DisplayPort 1.2 (DisplayPort)
Pros
Two hot-swappable 4TB drives deliver 8TB of total storage
Supports RAID 0, 1, and JBODDual 7,200rpm platters
Comes with five years of Rescue Data Recovery Services
Cons
Fairly costly, even for a RAID
For anyone regularly working with massive data files and libraries, including videographers, photographers, and other content creators, the LaCie 2big RAID 8TB External Hard Drive is an ideal solution. With two hot-swappable 4TB drives spinning at 7,200rpm, the 2big RAID offers both the volume and potential transfer speeds professional workflows often require. 
Speaking of speed: The 2big RAID supports RAID 0 and 1 settings, allowing you to prioritize data redundancy (RAID 1) or high-speed transfers (RAID 0). When using RAID 0, both drives in the array are striped together, allowing each to work simultaneously, effectively doubling your transfer speeds.
Other standout features include the 2big RAID's numerous connectivity options. These allow it to seamlessly interface with USB-C and USB 3.0 (USB-A) computers. Also included with the 2big RAID are five years of data recovery services. That can deliver tremendous peace of mind, especially if you're someone working with voluminous amounts of data wanting to keep your catalog safe.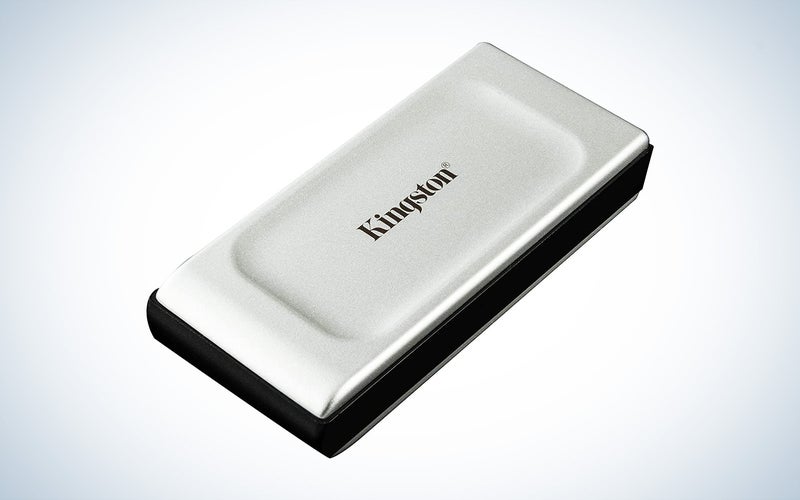 Specs
Storage: 1TB
Speed: 2,000 MB/s read, 2,000 MB/s write
Interface: 20 Gb/s USB 3.2 Gen 2×2 Type-C 
Pros
Fast read and write speeds
Extremely tiny form factor
IP55 rating
Also available in 2 and 4TB capacities
Cons
Though all portable SSDs are pretty small, this Kingston drive takes things to the next level. It measures just 2.7 x 1.3 x 0.5 inches. The compact size makes it exceptionally easy to keep with you for backing up or accessing your files. And despite the tiny size, it is available in capacities up to 4TB.
The XS2000 is also a highly durable drive. It includes a separate rubber sleeve that you can put on, providing an IP55 rating as well as shock absorbance. Unfortunately, there is no encryption, so you won't be able to secure your files on the device.
The USB 3.2 Gen 2×2 interface results in speeds up to 2,000MB/s. It is fast enough to work directly off of and allows you to quickly back up your files and move on. And it's more affordable than the other SSDs on our list. You'll bget lots of storage for relatively little.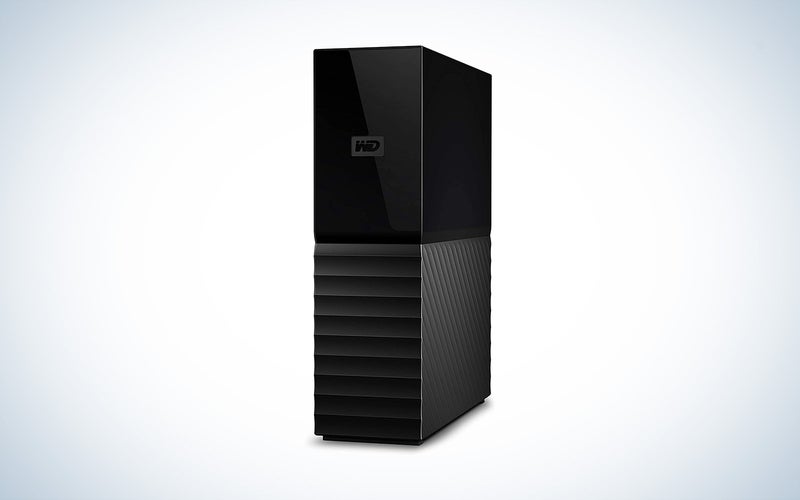 Specs
Storage: 6TB
Speed: 5,400 rpm
Interface: USB 3.0 / 3.1/3.2 Gen 1 (USB Micro-B)
Pros
Massive storage equals unbeatable value
Automatic backup software ensures your files never get lost
256-bit AES encryption keeps your private data private
Made by Western Digital, one of the most trusted brands in the world
Cons
Transfer speeds not as fast as an SSD
Not portable
For those looking for an affordable way to back up all of their work, the WD My Book External Hard Drive offers a ton of storage and the best overall value. Though we've picked the 6TB version, you can also get up to 18TB of storage with the My Book. Or, you can get a RAID setup with up to a whopping 36TB of capacity.
The My Book is definitely a desktop drive. It needs to be plugged into a power outlet to function, so it's not meant to be portable. Instead, think of it as a near-endless digital library that automatically backs up and stores all your files regardless of whether you're working on a Windows or Mac computer.
All data stored on the WD 6TB My Book is password-protected using the drive's 256-bit AES hardware encryption. This high level of security, combined with the renowned reliability of the WD brand, should give users peace of mind that their files are safe and secure.
Even more external hard drives to consider
If you need serious storage capacity and backup options, this SanDisk RAID array is the way to go. It offers eight 20-terabyte hard drives for a total of 160 terabytes. It supports RAID 0, 1, 5, 6, 10, 50, and 60 configurations and can daisy chain to up to five additional devices. The G-RAID Shuttle promises 1690MB/s read and 1490MB/s write speeds, so you won't be stuck waiting around on transfers. It's expensive, but it allows for a customizable setup that fits your needs.
Another fantastic on-the-go option is Samsung's T7 portable SSD. It features an IP65 rating, so you can worry less if you take this drive on adventures. The rubberized exterior helps to protect the devices from falls as high as 9.8 feet. And it's fast 1,050 read and 1,000 MB/s write speeds mean that you can edit directly from the drive.
If you need massive storage in a more portable body, you can't get any bigger than the Sabrent Rocket XTRM-Q. It offers up to 16 terabytes of storage in a paltry 4.5 x 2.56 x 0.68-inch body. It requires a power source, but the small size makes it much easier to keep on you when traveling, even with needing that power adapter. It also offers RAID functionality with four setup options, so you can customize the drive to your needs.
Things to consider before buying an external hard drive
When deciding which external hard drive is best for you, be sure to consider the following:
Storage
Storage capacity should be one of your top concerns when thinking about what you'll be using this drive for. If, for example, you're a videographer who regularly works with gigantic files, you need to find a drive that can support that amount of data. Likewise, if you're just transferring a couple of projects to and from the office, something smaller, such as in the 500GB range, should do just fine.
Speed
Like storage, you should consider what your needs are in terms of speed. High transfer speeds can shave hours off workflows and projects, allowing you to do more in less time. And, if you need to work off of the drive directly, you'll need fast speeds to ensure you aren't stuck waiting for things to load.
Compatibility
One thing you want to make certain of is that the computer you plan on connecting the hard drive to supports the same underlying technologies. Your new drive might feature the latest and greatest tech in the world, but if the computer you plug it into doesn't, then you won't get the best performance possible.
Work environment
Is this external hard drive something you plan to take with you or something you're going to set up in your home office? Knowing where you intend to use your new hard drive can help you narrow down the list between desktop and portable drives.
Type of drive
There are two primary drive types: Hard disk drive (HDD) or solid state drive (SSD). HDDs are the older technology and feature spinning platters that read and write data. These are more affordable, especially as you get into larger capacities. But, they are larger and are best not moved around much do to the moving parts inside. SSDs, on the other hand, store data to accessible memory chips. They are smaller, faster, quieter, and more stable. But, they are also more expensive. Because of the cost savings, we'd suggest an HDD for backing up your files and leaving on your desk, as you can get large capacities for relatively cheap. But, a portable SSD is an ideal choice for keeping your files backed up on the go or even for working directly from the drive when needed.
FAQs
Q: What is an external hard drive used for?
External hard drives are used to store digital files and data from other sources, such as a computer, laptop, or even another external drive. They can be used as a method of backing up files, or of transferring files between devices.
Q: Is an external hard drive good for storing photos?
Yes. External hard drives are excellent storage solutions for digital photographs. With an external hard drive, you can back up all your photographs, transfer them from workstation to workstation, or just quickly access them.
Q: How long do external hard drives last? 
There is no exact number, but the current consensus is that a hard disk drive will likely last three to five years, while an SSD, which doesn't have the same moving parts, will likely last up to about 10 years.
Q: How much does an external hard drive cost?
The price of an external hard drive will vary significantly depending on storage, whether it is an SSD or HDD, if it is portable, and any additional features like security and speed. However, broadly speaking, you can find an external hard drive as low as $100 all the way up to $7,000 for high capacity devices.
Final thoughts on the best external hard drives
The best external drive somewhat depends on how you intend to use it. But, in general, a good drive offers plenty of storage, fast speeds, and reliability. Portable SSDs are the best option for photographers on the go, while a more affordable desktop HDD is the way to go for library backups. One of each is usually the best method for keeping your files secure and easily accessible.
Why trust us
PopPhoto has a long history of delivering the opinions of some of the sharpest and most prolific camera dorks the world has to offer. Since 1937, we've been reviewing cameras, providing wisdom from well-known photographers, and generally just nerding out about all that goes into making great pictures. Our current crop of writers and editors have decades of professional photography and camera writing experience among them. Collectively, we've probably shot with just about every camera and lens combo you can imagine—as well as some obscure stuff you may not even know about. Remember the Casio Tryx folding camera? PopPhoto does.
We also get that buying a camera is a big decision, which is why we're dedicated to helping folks choose the right one (or, in our case "ones") for their needs. Case in point: Handing over top dollar for an expensive rig may leave you unsatisfied if it doesn't fit your preferred shooting style. Sure, a $6,000 sports-oriented DSLR can capture landscapes, but do you really need to do it at 30 frames-per-second? No, you don't.