DJI Mavic Pro Drone Is Super Compact, Flies For 27 Minutes On A Single Charge
It's tiny, smart, and looks very impressive.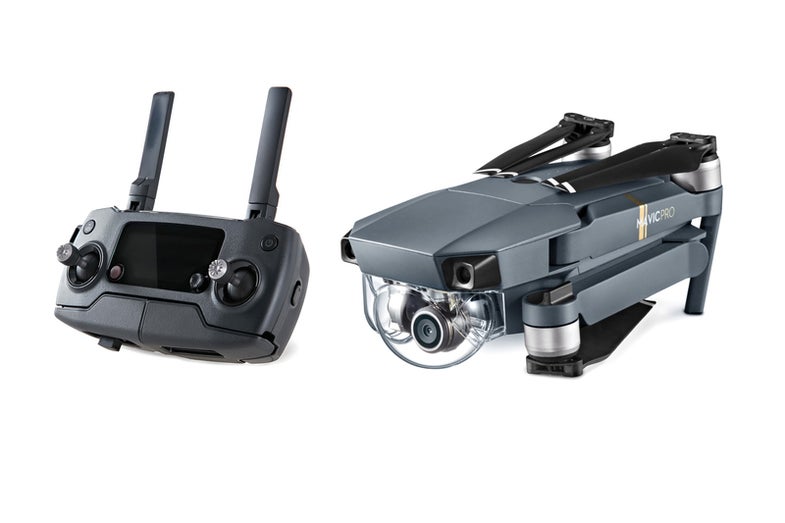 We may earn revenue from the products available on this page and participate in affiliate programs. Learn more ›

Last week, we got our first look at GoPro's long-awaited Karma drone. Today, DJI unleashed its own big drone news in the form of the Mavic Pro, and it looks really impressive.
The Mavic Pro is meant to be extremely portable, so its propeller arms fold up into its body for easy transport. As the press release says, it gets down to "practically the size of a water bottle." But, despite its compact size, it has a rather formidable resume full of specs.
It has a total rate of up to 4.3-miles (7 km if you prefer), and uses a rather impressive-sounding navigation system to keep track of its location. The FlightAutonomy system has five cameras, GPS, and GLONASS navigation systems, ultrasonic range finders, and 24 computing cores.
The Mavic Pro has a maximum flight time of up to 27 minutes on a single charge, or you can switch it over to sport mode and it will go up to 40 mph.
The camera on the Mavic Pro is no slouch either, at least in terms of drone cameras. It has 4K video capture up to 30 fps, or 1080p slow-motion at 96 fps. It can take 12-megapixel raw photos and it's mounted onto the smallest three-axis gimbal that DJI makes. The company claims you can shoot 2-second long exposures because it's so stable, which sounds pretty awesome.
The whole thing can be up and ready to fly in a matter of a single minute if you're controlling it with a smartphone app. The other option is to use the dedicated controller, which has a built-in LCD display to show you exactly what the drone sees.

It has almost all of the bells and whistles, you'd expect, including ActiveTrack for following objects, and the ability to navigate complex, 3D environments.
The cost will be $999, which still isn't cheap, but this thing does have a seriously pro-grade spec-sheet. It will be very interesting to watch this thing battle it out with the new GoPro Karma.