The DJI M600 Drone Is Built to Carry Heavy Cinema Camera Rigs
Meet DJI's biggest, baddest new UAV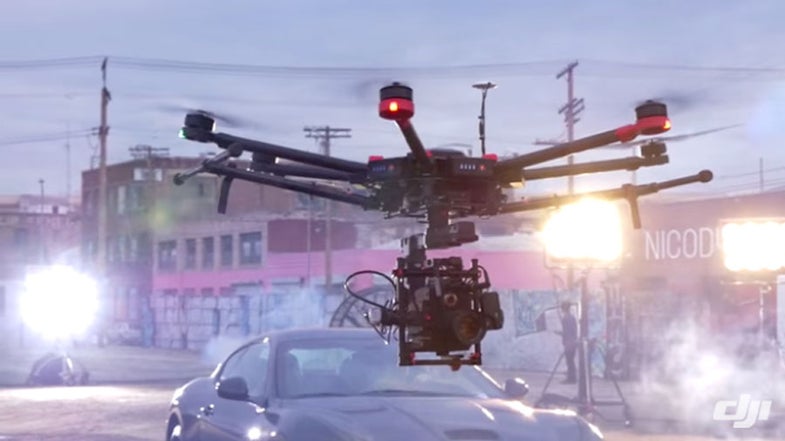 We may earn revenue from the products available on this page and participate in affiliate programs. Learn more ›
Most of us casual shooters are mostly familiar with consumer-grade drones that carry a GoPro or some other kind of small video camera. For a Hollywood movie, however, creators sometimes need more firepower, which is where the latest drone from DJI comes in. The Matrice 600 can carry up to 13.2 pounds of camera gear using its six powerful rotors.
The M600 is powered by an array of six batteries, which gives it a total maximum flight time of 15 minutes with a full payload. That may sound short, but in drone flight terms, it's quite long. If you're using one of DJI's own Zenmuse cameras, the flight time jumps up over 30 minutes.
The flight controller is DJI's A3 system, which can be upgraded to an even higher-end module with more GPS radios. The video link system has also been upgraded and now it can transmit full HD video in real time for up to three miles when shooting.
DJI also announced the new Ronin-MX camera stabilization system (gimbal) that's compatible with most of the popular large camera systems from the likes of RED, Canon, and Sony.
These are pro-grade tools, so you can expect to pay pro prices for them. The M600 starts at $4,599 before you start adding the fancy options. The Ronin-MX costs $1,599.
While these may not be geared toward us enthusiasts, it's always interesting to see what's going on at the cutting edge of the tech, because it will likely start trickling down into the consumer models before long.