Wyoming Law May Cause Legal Problems For Photographers Shooting on Public Land, Including National Parks
A new state law takes aim at citizen scientists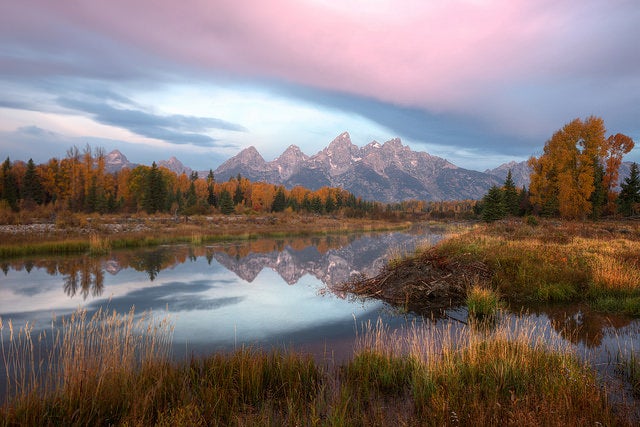 Wyoming has long been a favored destination for nature and wildlife photographers. This expansive western landscape is where Ansel Adams made beautiful images of the Snake River and the Grand Tetons and every year photographers flock to the state to capture its rugged beauty. Unfortunately under a newly passed Wyoming statute, which was signed into law this spring, taking a photograph on any land outside of an "incorporated city, town, or subdivision" without written or verbal permission from the owner is now illegal—well, sort of.
Senate Bill 12, also known as the Data Trespass Bill, isn't actually concerned with nailing photographers making pictures of the state's pristine landscapes, but if you are photographing something for the sake of science, you may be in trouble. The bill's broad language reads as a catch-all for citizen scientists collecting "resource data" from private, public, or federal land—such as evidence of a visibly polluted stream. Under the new law, "collect" is defined as "to take a sample of material, acquire, gather, photograph or otherwise preserve information in any form from open land which is submitted or intended to be submitted to any agency of the state or federal government." Doing so could result in up to $5,000 in fines and a year in prison.
According to Justin Pidot, an assistant professor at the University of Denver Sturm College of Law, the law is a way for state to conceal the high levels of E. coli bacteria present in it's waterways, levels that are so high that they violate federal quality standards set by the Clean Water Act.
In a piece written for Slate about SB 12, Pidot explains that these levels are likely so high because cows spend so much time grazing near the state's streams. "Acknowledging that fact could result in rules requiring ranchers who graze their cows on public lands to better manage their herds," Pidot writes. "The ranching community in Wyoming wields considerable political power and has no interest in such obligations, so the state is trying to stop the flow of information rather than forthrightly address the problem."
The broad and vague language of SB 12 are what make it particularly troubling. "There is no need for this new bill, and we can only conclude that it is an attempt by private landowners to scare people away from valid research efforts on public land," Connie Wilbert of the Sierra Club's Wyoming chapter told ThinkProgress.
According to Pidot, this law is all about protecting the powerful interests of Wyoming's ranching industry and is unconstitutional in a variety of ways. "Wyoming is the first state to enact a law so expansive that it criminalizes taking a picture on public land," he writes.
Read the full text of SB 12 here.