Canon's New Photo Printer: 17-Inch imagePROGRAF PRO-1000
The new Canon photo printer gives Epson a run for their money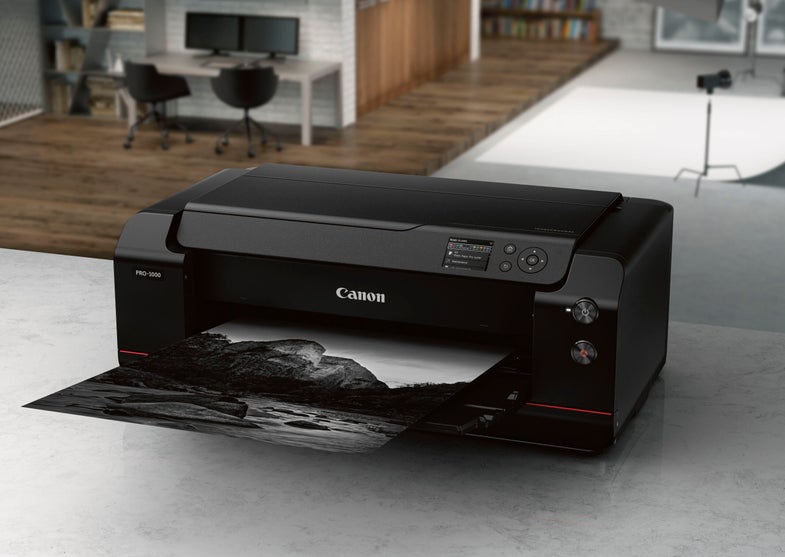 We may earn revenue from the products available on this page and participate in affiliate programs. Learn more ›
The imagePROGRAF PRO-1000
The imagePROGRAF PRO-1000
The imagePROGRAF PRO-1000
The imagePROGRAF PRO-1000
The imagePROGRAF PRO-1000
The imagePROGRAF PRO-1000
Canon ups their inkjet ante with the release of the first printer in their new imagePROGRAF line. Notably, a bold red line runs the width of Canon photo printer housing and is meant to draw an association with the brand's well-known L series glass. The 17-inch wide imagePROGRAF PRO-1000 seems aimed at the educational market and is designed to quickly produce high-quality prints big enough for small exhibitions or classroom critiques. In many ways it is a beefier, higher-performing version of its little cousin, the 13-inch wide PIXMA PRO-1, having a printhead which is 50% larger. The new head packs a whopping 18,423 nozzles into 1.28 inches of space and is capable of laying down 32 million droplets of ink per second.
Canon has even rolled out a new 12-cartridge inkset for the line, the LUCIA PRO. Notably, the pigment configuration includes a Chroma Optimizer that reduces metamerism in among the usual suspects (cyan, photo cyan, magenta photo magenta, yellow, red, blue, gray, photo gray, photo black and matte black). The imagePROGRAF PRO-1000 photo printer thankfully has dedicated nozzles for each of their black inks, saving you time and ink by cutting out the switching process.
In fact, there are a number of features on this newly released photo printer that are designed to ultimately conserve ink as well as media. Taking some time off from the studio? Just put the imagePROGRAF PRO-1000 into standby mode and it will periodically agitate the ink tanks and even warm up its print head, keeping the precious ink from drying up inside and clogging nozzles. In the event that some nozzles do (and they inevitably will) get clogged, Canon has devised a clog-detection system that kicks on back-up nozzles to prevent drop-outs during a print.
The prints that the imagePROGRAF PRO-1000 delivers have a better "L" value than earlier imagePROGRAF models and what's more, the imagePROGRAF PRO-1000 packs a built-in color density sensor and calibration function to keep those colors consistent over time. It's L-COA PRO image processing engine works with a 1GB internal memory core to chew through large image queues – another tip-off that Canon is pitching this photo printer at the academic market.
Although the imagePROGRAF PRO-100 sadly lacks the ability to accept roll paper, its firmware allows for a maximum print length of 129 inches; good news for those interested in jerry-rigging a work-around for panoramic prints. Two paper feeds give you the option of using thicker papers, and a vacuum feed and skew sensor ensure those papers will travel through the photo printer without damage.
Working with Canon recently, I had the opportunity to make several prints on the imagePROGRAF PRO-1000 and was taken aback by the speed and silence with which it printed. That's right, you read it correctly – it's actually quiet! On several occasions I had to check that the photo printer was in operation by placing my hand on it to check for vibrations. Considering the quality of the images that it churns out, the imagePROGRAF PRO-1000 is remarkably fast as well, delivering a 17×22-inch print in just 6 minutes. According to Epson, their comparable photo printer, the 17-inch wide Stylus Pro 4900, takes longer than that to produce a top-quality 16×20 inch print.
The imagePROGRAF PRO-1000 can be had at the end of the month for $1,299.99. The 12-ink cartridges will set you back $59.99 excluding the Chroma Optimizer which retails for $54.99.