Camera Bag Review: ONA Nylon Camps Bay Backpack
Almost everything about this ONA bag is just right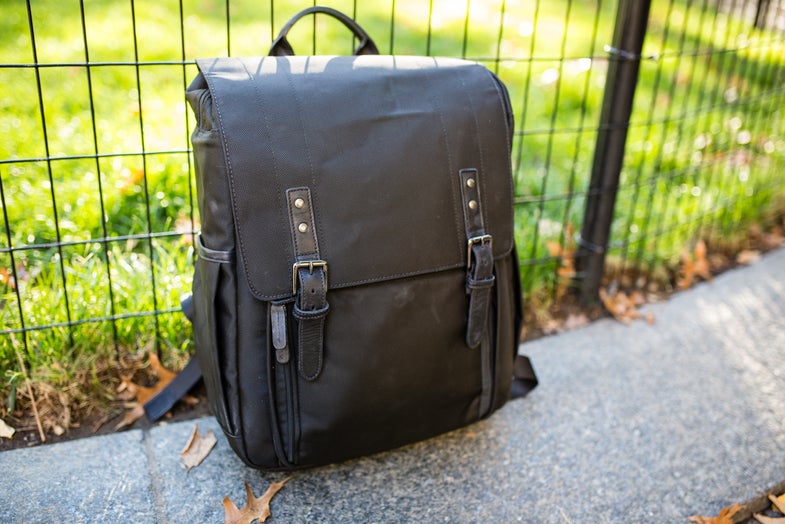 We may earn revenue from the products available on this page and participate in affiliate programs. Learn more ›
Finding a camera backpack with a low-key look that can comfortably fit all of my gear and not make me look like I am about to topple over has been an ongoing struggle. Although there are tons of camera backpacks on the market, I've found many of them to be excessively large and heavy or impractically small. This new all-black Camps Bay backpack from ONA is nearly perfect though.
What is it?
ONA's Nylon Camps Bay camera backpack seems to have been built with traveling photographers in mind. The all black nylon backpack has a low-key design that doesn't scream "camera bag" but also has the ability to pack in a fair amount of gear including a 17" laptop, a DSLR with attached 70-200mm lens, and up to seven more lenses. Because it is made of 1050D ballistic nylon, rather than ONA's signature handcrafted leather, so the bag remains relatively lightweight even when it is filled with equipment. The Nylon material also makes the Camps Bay less of a target for theft for photographers who are on the go.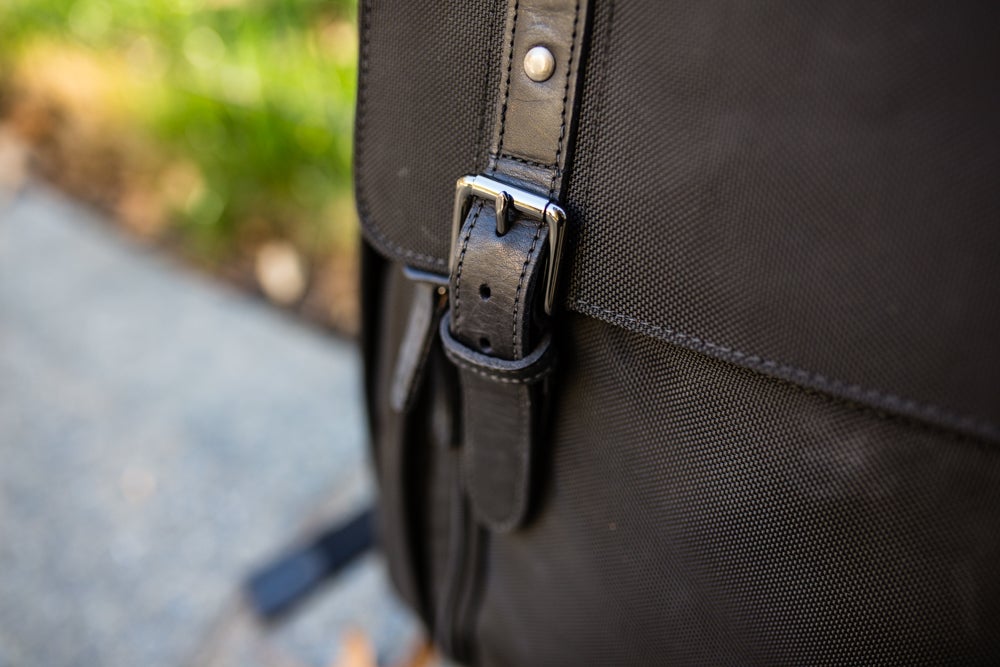 Protection:
The padding inside the Camps Bay is exceptional. The modular padding on the interior is thick and fully customizable. While testing this bag out I used it to haul around equipment for video shoots and photo shoots—and I found having the option to alter the size of compartments depending on what gear I had packed inside to be very useful.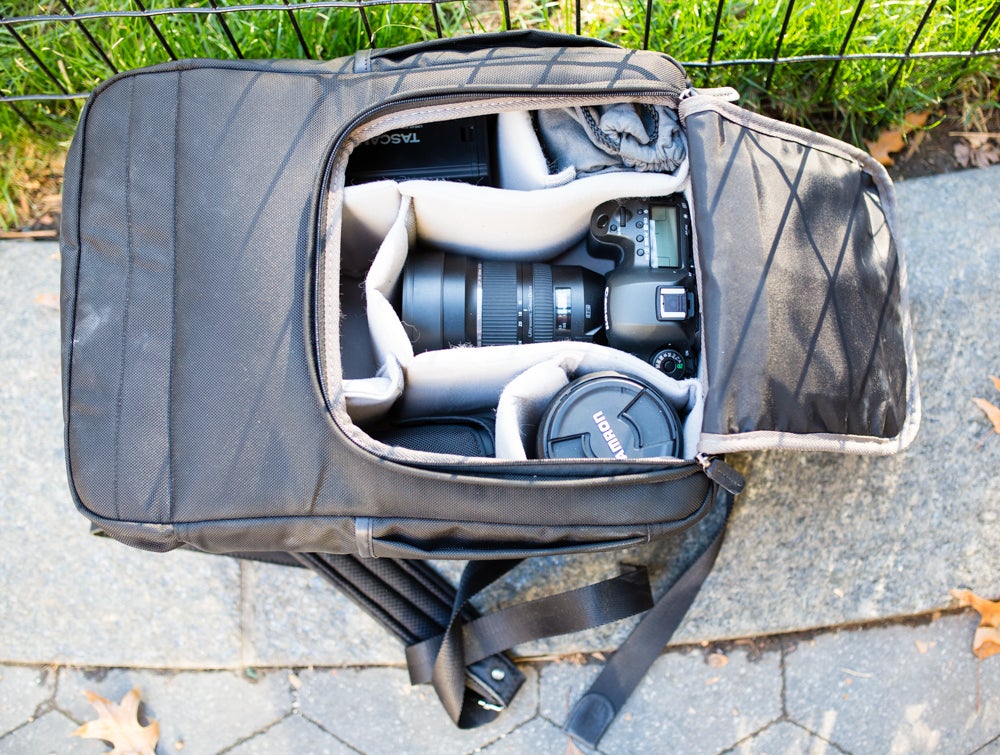 The backpack's laptop sleeve also has ample padding on both sides.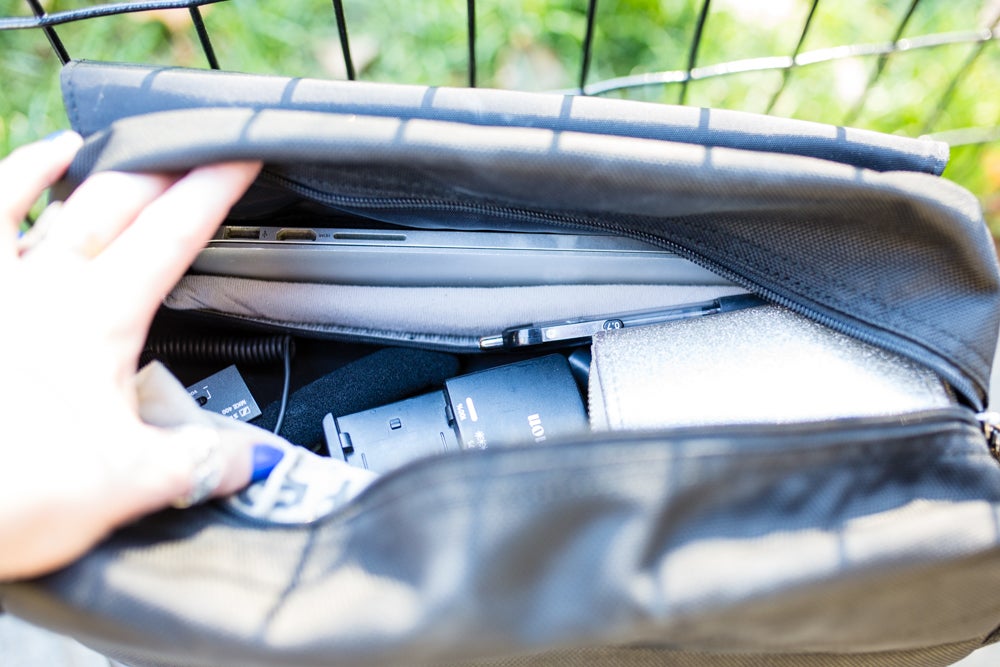 The front pocket of the backpack has two unpadded slim organizers for holding things like a phone or wallet. I found the pockets to be a little tight for my items and had trouble removing them once I had placed them in there, but it's typical for bags to require a little breaking in before they're accommodating. There is also an unpadded and adjustable top compartment for additional personal items.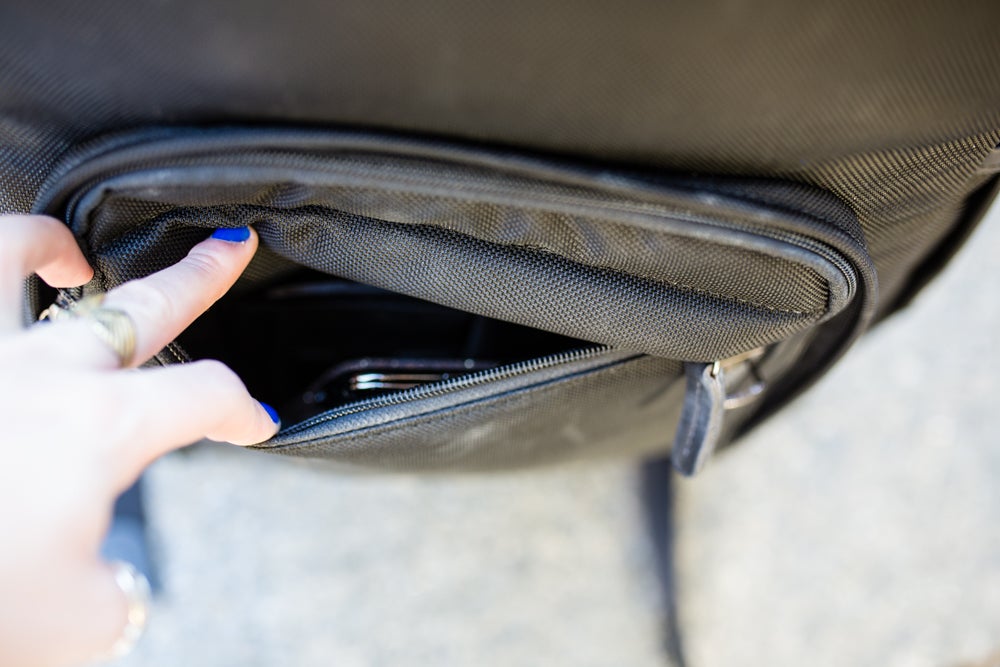 Capacity:
The Camps Bay backpack can hold a ton of gear without feeling overstuffed. The attached to the front are adjustable to accommodate different amounts of gear comfortably. The large interior of the bag can hold a DSLR with a 70-200 lens attached, up to seven additional lenses and a 17" laptop. Although I almost never carry that much gear to a photography shoot, having all of that room made this bag great for my video equipment.
The Camps Bay held a 5D Mark III, a 24-70 lens, a 85 prime, a 35 prime, a Tascam DR-60D, a shotgun mic and a set of wireless lav microphones with room to spare.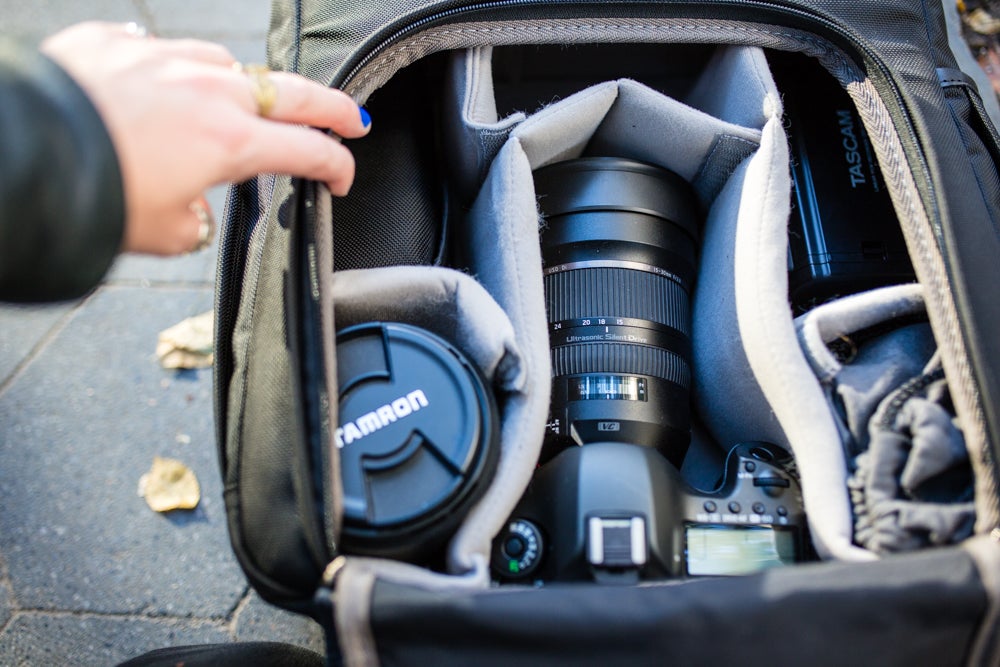 The backpack's capacity impressive me again as I loaded it up to head to shoot a music festival on the other side of the country. I rolled through airport security with the Camps Bay neatly organized with the 5D Mark III, four lenses (the 24-70, 85, 35 and a 50), a flash, two film cameras, a portable hard drive, a 13" laptop, various cords and batteries and a handful of personal odds and ends. Although the bag felt full, it was still comfortable to carry.
There are also two deep pockets on either side of the bag—I didn't use these much, but it seems like a great place to store a water bottle or a small tripod.
The one feature the bag seemed to be missing was a dedicated place to attach a tripod. Although it seems like you could slide a small one into the side pocket, trying to attach my full size monopod to the bag wasn't happening.
Durability:
This thing feel like it is built to last in urban environments. The nylon is water resistant so you don't need to be worried about getting caught in a rainstorm and everything about the backpack feels super durable. After a month of hauling the Camps Bay around on the subway and through the airport it still looks pristine. The straps also have a good bit of padding and the leather and brass hardware that clicks the bag together feels like they will be able to withstand a beating.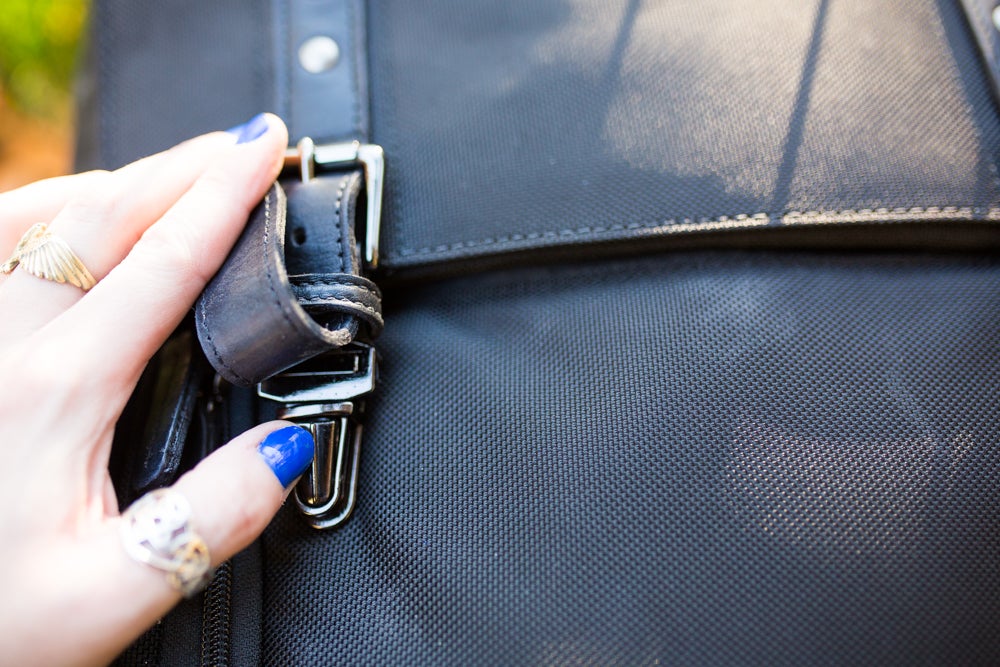 Fit:
Most of the time if a backpack can fit this much gear the thing will end up being uncomfortable to carry and insanely large. I am happy to say that this is not the case with the Camps Bay bag. The backpack has a nice rectangular shape that fit my gear and, more importantly, my body—a hard thing to find for many photographers of small stature. The padded straps made it comfortable to carry around for a few hours at a time and the mesh back made it breathable.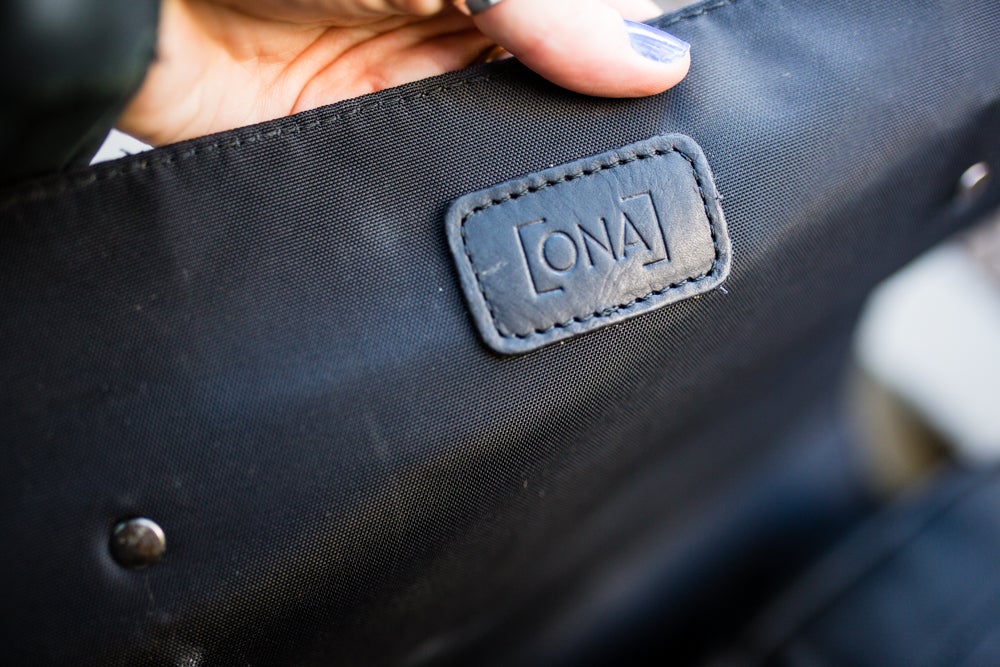 What's Good:
-The low-profile design and nylon construction makes it look like you aren't hauling around a bunch of pricy gear
-It is a comfortable bag with a great fit
-Modular and customizable padding inside make the backpack good for a variety of shooting situations
-Ability to hold a ton of equipment without feeling bulky or overstuffed
-Sturdy construction and padding made be feel like my gear was safe and secure
What's Not So Good:
-Tightness of the front pockets for personal items
-ONA gear isn't cheap, and although the Camps Bay is less expensive than the all-leather options made by the company, $409 for a backpack is still quite high
-No dedicated place to attach a tripod
-A bit large if you are just going out for a casual day of city shooting
Verdict:
I've tried a lot of camera backpacks over the years and I've never found one that has been quite right for me. They end up being to large and bulky or so small that they can't practically hold my necessary gear. The ONA Camps Bay backpack is nearly perfect though—especially when it comes to hauling video gear. I found this bag to be comfortable, well organized and even when it was filled with my gear there was plenty of space for my personal items. Although it is a bit large for daily use, its size and shape are incredibly practical for being on the road.