The best things to see at Photoville 2019
The free annual photography festival returns to Brooklyn Bridge Park this weekend.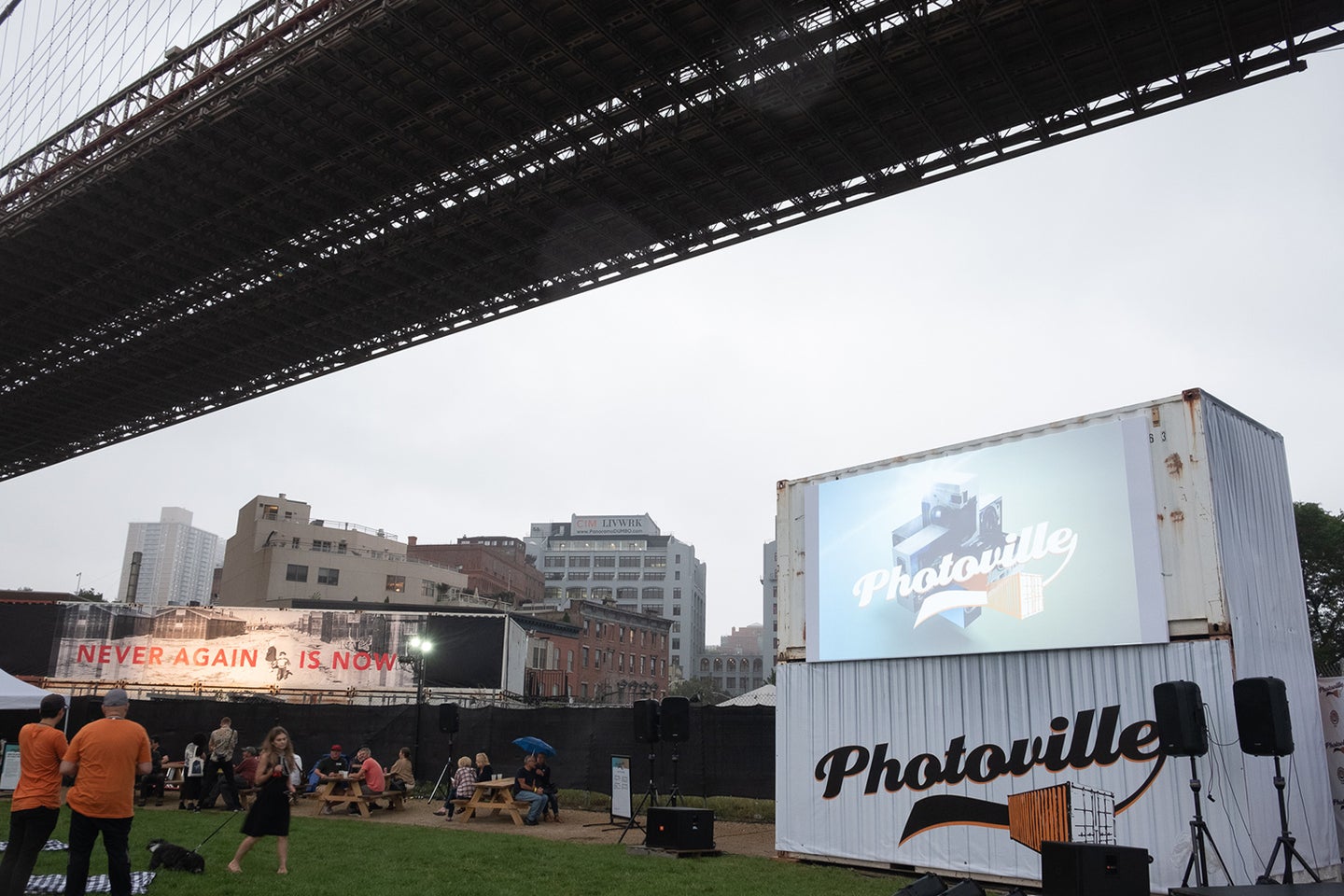 The annual Brooklyn pop-up outdoor photo festival known as Photoville returns to Brooklyn Bridge Park for its second weekend with over 80 photo exhibitions installed in shipping containers. Now in its eighth year, Photoville is a unique opportunity for photographers to show work to nearly 90,000 visitors and for viewers to connect with under the radar documentary stories. In addition to the exhibitions there are talks, workshops, activities and tours. The festival runs through September 22. These are some of our favorite projects currently on view at Photoville.
Bronx Activists
The Bronx Documentary Center presents stunning black and white portraits of neighborhood activists captured by students in the Bronx Junior Photo League, the after school documentary photo program for kids 12-18. The students spent the 2017-2018 school year documenting social justice issues within their communities on topics like housing access, gun violence, public housing conditions, and public safety.
One Day, I Will
Vincent Tremeau is an independent photographer who has been documenting humanitarian crises since 2014. In his portrait series, One Day, I Will, he asks young women and girls whose lives have been affected by these humanitarian crises about their hopes for the future. He then poses them with costumes and props to illustrate the dreams. The captivating portraits offer a unique glimpse into what it means to be a child caught in the chaos of this world.
Journalists Under Fire
Produced and curated in conjunction with The Committee to Protect Journalists, this special exhibition resides inside of Saint Ann's Warehouse, which is adjacent to the containers in Brooklyn Bridge Park. The exhibition highlights the work of a handful of the 1,350 journalists that have been killed or imprisoned on the job since 1992. The large-scale exhibition was inspired by CPR's book The Last Column which features the final photographs and articles created by these journalists. The subject matter is heavy, but given our 24-hour news cycle and a political climate that's hostile toward journalists, it's never been more important.
Of Love and War
Breathtaking images from Lynsey Addario's photo book Of Love and War are a must see shipping container exhibition at Photoville. Her portrait of seven-year-old Khalid, a child she encountered at a medical tent on a US military base, holds court at the back of the container. It lures passerbys inside with the terror in his eyes. The exhibition contains more than two decades of Addario's work from Afghanistan, Darfur, Libya, and Syria and is presented alongside the written stories that the images were originally published with.
Looking Inside: Portraits of Women Serving Life Sentences
Sara Bennett's solo exhibition features intimate portraits of women who have been sentenced to life in prison. The women, all convicted of homicide, were often photographed inside their cells or in their places of work within the prison. Many of them began their incarceration when they were only 15 or 16 years old. The portraits include hand-written messages from the women to the viewer. "Since the time I was a public defender, I've believed that if judges, prosecutors, and legislators could see people who have been convicted of serious crimes as individual human beings, they would rethink the policies that lock them away forever." Visitors to the Photoville exhibition are encouraged to leave a note for many of the incarcerated women featured in the portraits.
Scars of Racism
Travis Fox's exhibition at Photoville is an aerial document of the ways in which racism has shaped American cities. The drone photographs reside alongside city ordinances which often explicitly banned people of color from owning property in certain neighborhoods. The abstract perspective created by shooting from hundreds of feet in the air challenges viewers to reconsider what they think they know.
Covering Crisis: Media Representation of Overdose in America
This group photo exhibition examines the role that photojournalism plays in the overdose crisis—the leading cause of death in the United States from people under the age of 50. The show takes aim at the tropes typically found in sensational coverage surrounding drug use and overdose. Do we really need to see another photo of a person with a needle hanging from someone's arm to understand the dire situation? Or do images like this just perpetuate dangerous stereotypes about addiction?
The New Amsterdam Koffiehuis
Amsterdam has grown as a tourist destination in recent years and it has taken a toll. Traditional shops and cafes have given way to international chains. The local coffee shops that once dotted the city have been quickly disappearing. Dutch photographer Gijs van den Berg set out to document these remaining authentically Dutch hangouts. He captured the shops using black and white film and printed the images in a darkroom using coffee from each of the shops where he stopped to document a disappearing way of life.