Drobo 5D Review
A pricy backup solution that's optimized for both speed and security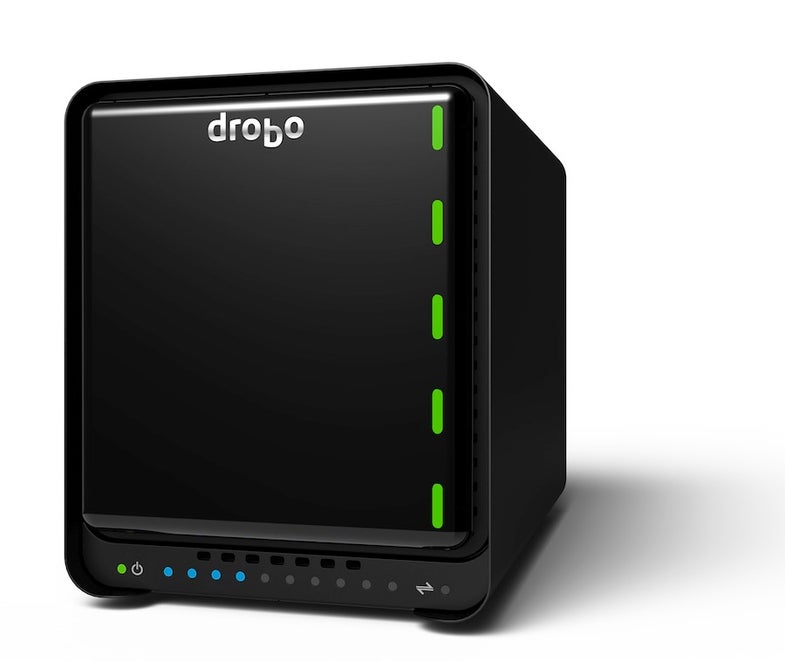 We may earn revenue from the products available on this page and participate in affiliate programs. Learn more ›
**What is it?
Drobo 5D is a 5-bay RAID enclosure for 3.5″ hard drives that uses a solid state mSATA NAND flash drive to manage storage. RAID enclosures are a great way to store massive amounts of data (like, say, thousands of digital photos) with speed and/or redundancy.
Compatible with SATA I/II/III connections internally, the Drobo 5D's external connections are the fastest commercially available—Thunderbolt and USB 3.0. With dual Thunderbolt ports, the Drobo 5D can daisy-chain a maximum of 6 Thunderbolt devices with a 7th monitor at the end of the chain.**
Drobo includes a Thunderbolt cable, which is great, because they are expensive to license and manufacture and don't cheap. You would be hard pressed to find one cheaper than $45.
**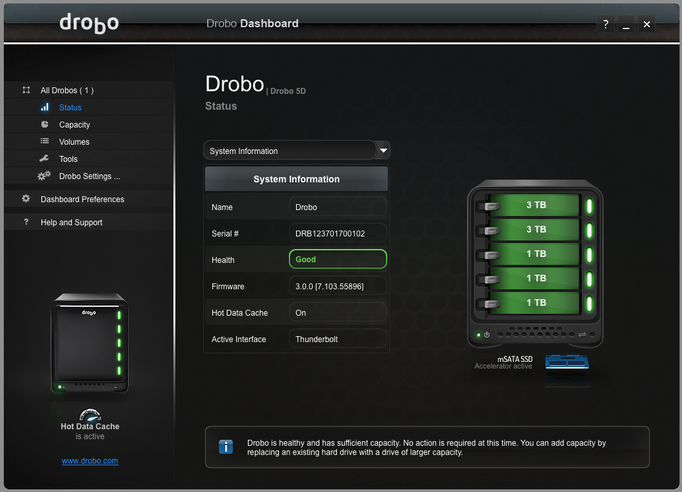 RAID controllers themselves aren't uncommon; your operating system can likely even create one in software. What sets this particular Drobo apart is the hidden 6th drive bay that accepts only potato-chip-sized mSATA SSDs, accessed through a panel on the bottom of the enclosure. Drobo says their Data-Aware Tiering technology uses the mSATA drive solely to manage data so catalog-based media applications like Apple's Aperture and Adobe Premiere can access data quickly.
The Drobo 5D has a battery backup for all data stored in its cache, so anything on its way to the drives when the power fails will make it to the drives. The 5D uses battery power to write to non-volatile memory before shutting down. Crucial for a primary backup solution.
Using it
Drobo's BeyondRAID tech uses proprietary algorithms to manage your data. Unlike a traditional RAID setup, where your drives are typically striped for speed or mirrored for redundancy, Drobo is designed to be the best of both worlds. It also allows on-the-fly expansion—something impossible with traditional RAID setups. Because the drives are hot-swappable, you can quickly and easily replace failed drives without skipping a beat.
The 5D also has single or dual-drive redundancy. You'll need at least three drives to take advantage of the dual-drive redundancy, but to really take advantage of the Drobo 5D's speed and security at the same time, you'll want to fill all five of those drive bays. With dual redundancy enabled, we only got 2.7 TB of usable space out of 9 TB worth of drives. But, it's a safe 2.7 TB.**
**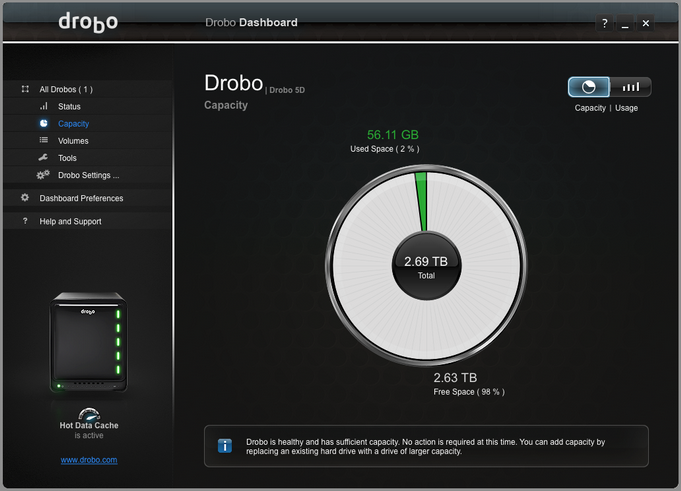 HDDs in the 5D can be configured to spin down at user-set idle times to save power and reduce noise. Like any hard disk, expect a slight lag when accessing the drives again—the disks still have to physically spin up. And when it's full, the 5D has more spinning disks than most. If you need instant access at all times, you can always turn this feature off, or use more expensive solid-state drives.
You'll need at least Mac OS 10.7 to run the Drobo Dashboard software (and therefore, setup the Drobo, which is not storage-ready out of the box). Drobo has a version of their Dashboard software for Windows, but you'll be limited to USB 3.0 on a PC—Drobo does not yet support Thunderbolt for Windows. We had some trouble getting the Dashboard to recognize our review unit after a Time Machine-related crash, but when working properly, the software responds quickly and has an intuitive feature set.
Pluses
The 5D is fast. Even with dual redundancy enabled, it took less than 11 minutes to transfer 58 GB of photos to the 5D via Thunderbolt. It's simple to setup; the intuitive Dashboard software does most of the heavy lifting behind the scenes.
The dual Thunderbolt ports allow the 5D to pass through Thunderbolt traffic, which means it doesn't have to be on to maintain the daisy chain of Thunderbolt devices, so you can use your additional displays and backup devices even when the 5D is powered down. The carrierless drive-bay design facilitates fast, easy drive swaps. Drives can be of any brand, speed, or capacity, but know that you will be limited by the slowest drive in your array.
The 5D is designed to make upgrading easy—when the drobo is full, you simply replace a smaller drive with a larger one. Drobo automatically integrates it into the array, with all of your data just as you left it.
Minuses
It's expensive, and it doesn't come with any drives. This likely won't matter to you if you're using it in an enterprise setting, but for a photographer with a small business, or a serious hobbyist on a budget, it sure will. And even though Drobo says a new fan makes the 5D quieter than older models, it still moves a lot of air and can be loud enough to notice.
Drobo's high-powered proprietary RAID system is also not without caveats. While as many as two drives can fail without losing data, you can only get it back by putting more drives into the Drobo. If the box fails, you need to use another Drobo box to retrieve your data.
And that same carrierless drive-bay design that's so great for swapping out 3.5″ drives means you'll likely need an adapter if you want to use SSDs. Most are 2.5″, and since the 5D only accepts 3.5″ drives, you'll need something like this to make it work. if you're looking for a Drobo to use with SSDs, the Mini might be a better bet.**
**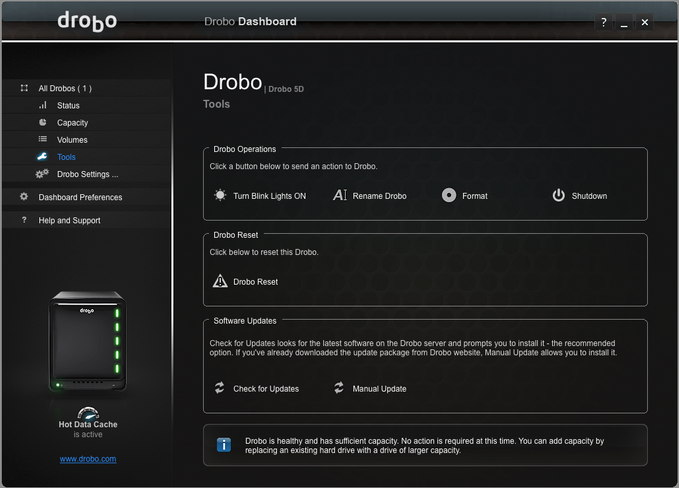 Should you buy it?
The 5D is ultimately an expensive tool that does what it is designed to do—provide fast access to mission-critical, redundant data, and lots of it—extremely well. But it's not a one-stop backup solution; Drobo's proprietary tech makes salvaging your data without Drobo hardware an impossible task. Drobo representatives even recommend backing up the data on the 5D on a separate external drive for added security. We would go so far as to recommend additional backup off-site, using a cloud service like Amazon Glacier or Mozy. But, you should really have something like that anyway.
If you're a photographer with an editing station, and you can afford it, you're unlikely to find a simpler, more effective tool to store your photos. **