New Gear: Drobo 5D and Mini RAID Storage Solutions With Thunderbolt
That lonely little Thunderbolt port on your computer gets a little love
We may earn revenue from the products available on this page and participate in affiliate programs. Learn more ›
For more than a year now, the Thunderbolt port on my MacBook Pro has been acting as little more than a glorified display adapter, so I'm always interested when companies release products that can actually, you know, make use of it. The latest maker get on the Thunderbolt train is Drobo and their two new RAID storage products sound pretty promising.
The new 5D (they're not biting Canon's naming structure; the 5 is for the number of bays and the D stands for "direct attached" since it doesn't have networking capabilities) doesn't look much different than the Drobo products that came before it. It has five 3.5-inch hard drive bays, but now they've also added a new SATA-powered SSD slot for a solid state drive that can be used to boost performance. All of the regular drive bays will also now accept SSD drives alongside the traditional hard drives, so as prices go down and capacities go up, you can switch them out.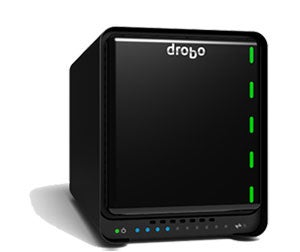 The back of the 5D has two Thunderbolt jacks so you can daisy chain right through it as well as a USB 3.0 (that's backwards compatible) so you have a couple speedy backup options. To match up the faster connections, they have also reworked the hardware and software, which they claim will bump the performance by up to 5x from the original.
The other new product is the Drobo Mini, which has space for four 2.5-inch drives as well as the extra SSD slot in the bottom. With all that, it checks in at 7″ square by 2″ high, which makes it about the same size as a Mac Mini. Like the 5D it requires external power, which is a little disappointing for a drive that's so small and fast, but it's understandable. There are certain concessions you make when running off Bus power and Drobo still seems fairly focused on performance. And even though you need to find a place to plug in, the ability to backup files at between 200-300 MB/s is still nice to have on the road. It even comes with its own carrying case.
There's no official pricing information yet, but you can expect prices to start around $650 depending on configuration. The units will ship with Thunderbolt cables, though, which is nice because they're still pretty expensive.
Does your computer have a Thunderbolt drive? If so, are you excited for access to more super-fast storage?