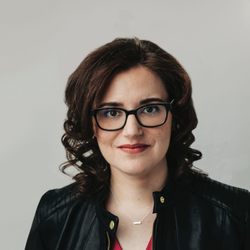 Corinne Iozzio is the Editor-in-Chief of Popular Science and PopPhoto. She oversees an award-winning crew of journalists—both editors and writers—who are obsessed with helping readers explore our world, either through a deeper understanding of science or the ability to capture their experiences through images. She lives in Washington Heights in New York City (or, as she affectionately refers to it, "Upstate Manhattan") with her partner, an ever-expanding collection of vintage hand-blown glass, and a talkative tuxedo cat hellbent on knocking it all to pieces. 
Highlights
Omnivorous science and tech editor, with a particular obsession with peeling back the engineering underpinning everyday life

Black-and-white photography beginner

Past byliner for: PCMag,

Fortune

,

mental_floss

,

The Atlantic

,

Smithsonian

,

Scientific American, Playboy
Experience
Corinne's been covering consumer technology since 2006, mere months before Steve Jobs showed off the first iPhone. She joined PopSci in 2009 as Associate Technology Editor. Since then, she's held more titles than she'd care to rattle off, but highlights include Technology Editor, Executive Editor, and hired gun managing the annual Best of What's New franchise. Though she cut her teeth covering tech and gadgets, she's always worked closely alongside the editors of PopPhoto, digging deeply into the innovations that empower images. She's been overseeing the relaunch of PopPhoto since early 2021.
In her tenure at PopSci, the brand has won a National Magazine Award and recognition from the Society of Publication Designers, and the Webby Awards, among others. She's made TV and radio appearances translating science and tech into accessible layspeak for outlets like Cheddar, The Weather Channel, and The Daily Dive. Corinne sits on the advisory board of the Knight Science Journalism Fact-Checking project, has appeared on the Folio 100, and is an experienced moderator for live events like the World Government Summit.
Education
Corinne graduated from Fordham University (to be specific: Fordham College at Lincoln Center) with a bachelor's degree in communications/journalism and English. She was the Editor-in-Chief of the campus newspaper, The Observer, where investigations she penned earned her the David W. Miller award for student journalists from The Chronicle of Higher Education.
Favorite photography subject
I dig shapes, patterns, and shadows. You can blame my unique visual acuity—I sure do—which majorly over-indexes on light and contrast and almost completely under-indexes on color.
Get latest from Corinne Iozzio