Wanderlust-Inspiring Views From Swampy's Year Riding the Rails
The fine art of hopping trains in North America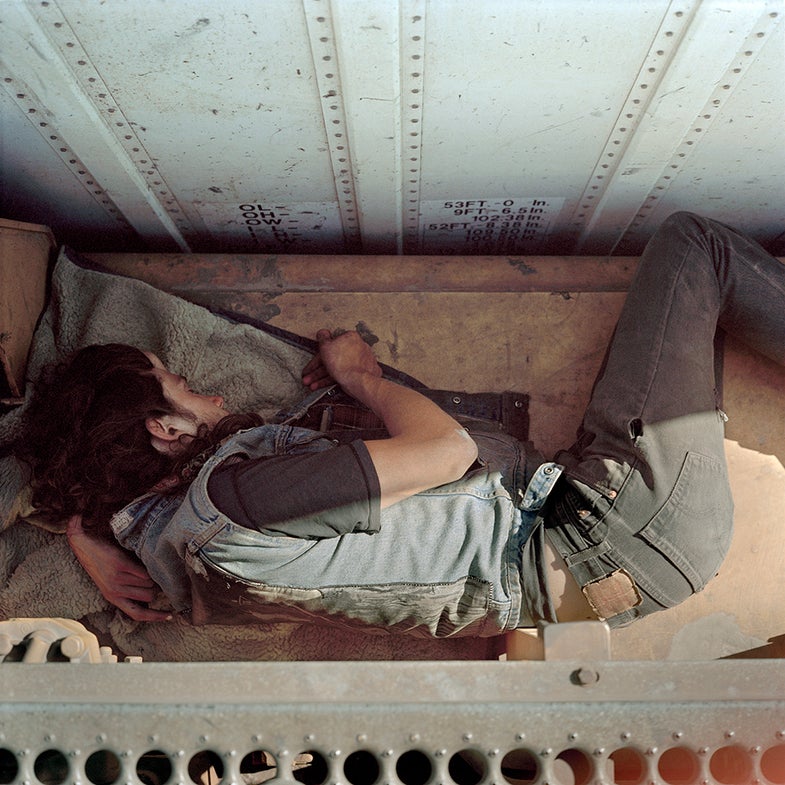 It was the "absence of a price tag" that initially sparked Swampy's interest in hopping trains as a teenager, but a decade later the elusive artist says he continues to travel by rail because of the solitude. "There is a calm to the environment surrounding the tracks," he writes in the intro of his recently released photobook, NBD. "It lacks the stress of being corralled by commerce and advertisements, like on the streets and highways where capitalism anticipates people will accumulate."
NBD documents a year long journey that started in Mexico in the fall of 2010 and ended in Alaska the following summer. Armed with a Pentacon Six and a pile of Kodak Portra 220 film, the artist photographed his journey as he snaked along North America's western coast.
It takes a specific type of person to find beauty while being hunkered down in a the dirty belly of a freight train, but that is exactly what Swampy's photos capture—the intense sense of tranquility that can come with living life off-the-grid.
American Photo spoke with the enigmatic artist about the fine art of train hopping.
Tell me about your first time hopping trains—when did you start and how did you learn about it?
I met these two girls in Minneapolis who were about to ride trains across the country, out to the west coast. I was thinking about going out that way with them, but it just didn't work out. I ended up running into them again in Portland—I think I was 18, and one of them asked me if I wanted to ride a short line down to Eugene. I went ahead with her and it was really amazing. It started pouring when we were waiting for the train under the bridge and the train wasn't stopping. She said, "this train is not going to stop for us. We're going to have to hop on the fly." It was pouring and all the cars were soaking wet. Everything was really slippery. There's no ladder to hop onto when you're hopping a boxcar—you just have to beach yourself like a whale into the open boxcar door. We just ran for it and hopped right through, slid into the wet boxcar and rode through one of the craziest storms. It was amazing. It just blew my mind.
Why was it important to start documenting your trips?
From the start I was pretty interested in photography. I've always been inspired by witnessing different perspectives, just Intimate moments of life. It is kind of hard today—everyone's obsessed with social media. You're pretty much inundated with tons of the same kind of content from the same kinds of people leading similar lives from similar backgrounds. I've always tried to create photos from my own perspective—not like mine's unique. People have been riding trains for over a century, photographing and writing about it for just as long.
There have been a number of other photographers who have documented train hoppers, were you inspired by the work of people like Mike Brodie to start photographing your trips?
Brodie is a good friend of mine. I like his stuff. The older books are really interesting to me though. I have this book by Michael Mathers called Riding the Rails, it's from the 1970s, it's photos of older guys in the yards and riding wooden boxcars in the wintertime. The older books are really interesting to me. I feel like today there's not a lot of older people out there riding trains. It's a lot of kids looking for thrills—which is really good, everyone should be thrilled to be alive, but I'm not as interested in documenting those kids for some reason. Maybe I just see myself in them too much or something. I feel like they're playing dress up or something. You know? My photos, they're not so much of other riders. It's kind of self-serving. It's photos of my life and experience. I don't really try to represent anyone else's experience riding trains.
Right. The book includes a lot of landscapes, and even when train riders are included in the frame their faces are typically obscured—why is that?
I take my anonymity kind of seriously. I grew up in punk and political circles and security culture has been deeply ingrained in me. I don't really take sharing people's faces and identities to the public lightly. I do have photos of people's faces. I just choose not to show them. Usually they are not my favorites.