Sultans of Swagger: Neal Preston's Led Zeppelin Photos
During much of their heyday, Led Zeppelin skirted the star-maker media machine and conquered the planet via word-of-mouth and mystique....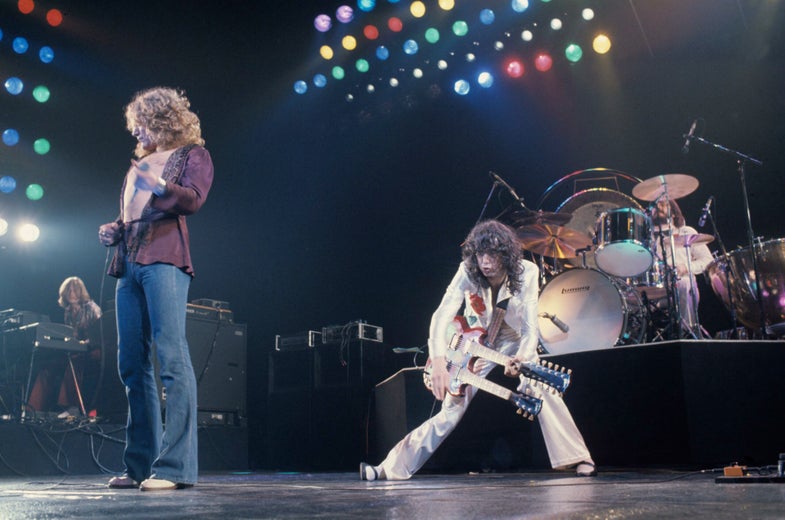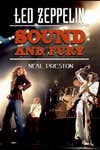 During much of their heyday, Led Zeppelin skirted the star-maker media machine and conquered the planet via word-of-mouth and mystique. Stung by harsh reviews of their early records, Zep famously shunned press interviews and photo sessions, reaching many fans mainly through bold albums with cryptic cover art; their most popular LP even omitted any title, artist name, band shots or text on its gatefold sleeve. Meanwhile they split the rock world into love-em-or-hate-em camps with the wildly diverse music on those discs — and with their marathon concerts, including sellout stadium shows running upwards of three hours.
For the live gigs, at least, the band conceded that some publicity photos might be in order. In the early 1970s Zeppelin allowed a select cadre of photographers to shoot their shows on a tight leash, controlled by their outsized bodyguard of a manager, Peter Grant. One of these lensman was Neal Preston, who was building a career as a concert and celebrity shooter. Possessing a deft eye, street cred and a simpatico backstage manner, Preston befriended the band. Beginning with Zeppelin's monstrous US tour in 1975, Grant hired Preston as the sole "inside photographer" to document the proceedings.
The resulting trove of images lies behind Preston's new iBook, Led Zeppelin: Sound and Fury (Rhino, $9.99). With many unseen photos along with familiar ones, this 300-page eBook tome is a model of the form: a feast for fans and dabblers alike, a well-designed photo showcase, and an interactive tour without too many bells and whistles. No, it doesn't include Zep tunes (those copyright lawyers are sharp as ever); yes, it has cool video interviews — not with band members but with Preston and other tour insiders. Expanding on Preston's 2009 coffee-table book Led Zeppelin, this iPad version follows the band's recent public resurgence: 2012 Kennedy Center Honors; TV interviews with surviving members; the Celebration Day film and album — which captured their 2007 reunion concert and made Billboard's Top Ten with music 40 years gone.
Back in the latter 70s, Preston's access to Zeppelin on tour was unique and complete. He flew with them on their private jets and stayed in the same hotels they were leaving in various states of havoc. The catch: He had to know when and when not to shoot. "It was unsaid," Preston writes, "that if you were to take a picture that was compromising in any way, shape, or form, that that picture would be tucked in your desk forever. It was unsaid, but you knew it. It's part of what you get when you buy the ticket to work for Led Zeppelin."
After the loosening effects of time, Preston has pulled quite a few images from that desk. We see no mud sharks or coke parties in this memoir, but we get private glimpses, candid moments and anecdotes that sharpen our views of the players: Jimmy Page the mercurial mastermind, Robert Plant the brazen frontman and sensitive soul, John Paul Jones the sly secret weapon, and John Bonham the affable yet volatile beast. Preston's shots of road weariness are balanced by onstage glee and swagger. "They weren't famous by accident, they were famous on purpose," says Danny Goldberg, vice president of the group's Swan Song label. "They liked being the biggest band in the world."
The book has fodder for fanatics: tour artifacts, concert playlists, and tributes from musical followers — from Corey Taylor of Slipknot to Ann Wilson of Heart — that come off as hagiography. Photo aficionados will enjoy the chapter on Preston's analog gear and tricks, the grease-pencilled contact sheets, and the confessions about botched photo shoots, ethical choices and dealing with a fearsome force of the crew: the roadies.
Preston went on to tour with numerous rockers including the Who, Queen, Fleetwood Mac and Bruce Springsteen. He continued to document Zeppelin until the decade's end, when the band's personal woes, creative fatigue and excesses caught up with them. After Bonham's binge-drinking death in 1980 ended their run, Zeppelin became to the 70s what the Beatles were to the 60s: a quintessential time capsule. In that realm, Preston's photographs are the visual core.