Sex and Revolution in Latin American Photography
Dispatch from Madrid's summer-long international festival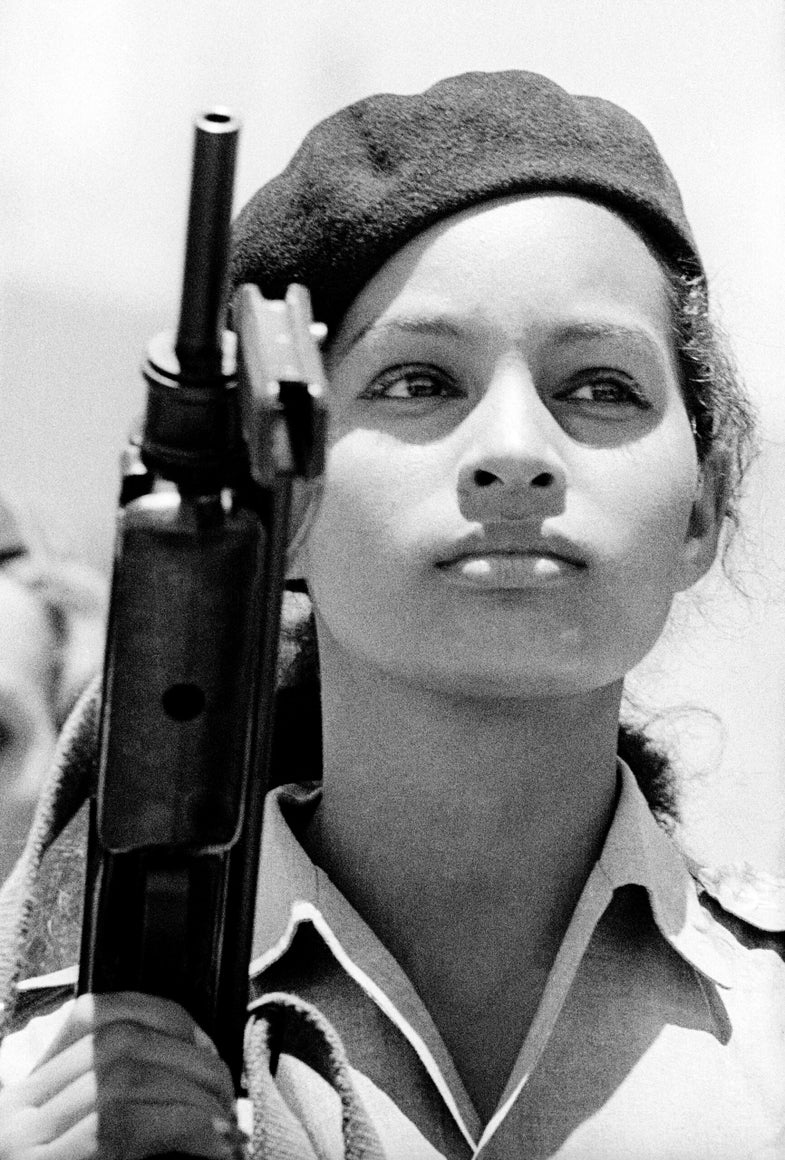 With some 100 exhibitions in venues throughout Madrid, this year's PHotoEspaña festival is once again an eclectic but unified collection of visual fare. While the overall scope is defined by geography—most shows feature photographers from Latin America—the prominent theme is femininity: both as a mode of view and as an object of desire. Several exhibitions feature the work of assertive female artists; one key show focuses on beautiful women through the lens of an admiring male. As one of the journalists jokingly commented during press week: "We have the strong women and the womanizer."
The latter jab ugly refers to Alberto Korda—better known just as Korda—one of the most renowned photographers ever to come out of Cuba. Korda's portrait of Che Guevara, which became a revolutionary icon, is one of the most widely known photographs in history. But in pre-revolutionary Cuba, Korda was a highly successful fashion photographer and something of a playboy: He confessed that he took up the genre so he could meet beautiful women. The show at Madrid's Museo Cerralbo through Sept. 6, 2015—"Korda: Feminine Portraiture"—shows Korda's progression from intimate studies of his first wife to semi-erotic outdoor imagery to darker portraits blending themes of beauty and death.
As an artist Korda aspired to be the "Avedon of Cuba," and in 1959, during a trip to New York City, he was introduced to Richard Avedon by none other than Fidel Castro. But soon after, Castro enlisted Korda to shoot revolutionary propaganda imagery almost exclusively. Still, even amidst rebellious crowds at populist demonstrations, Korda spotted and snapped beautiful women, as evidenced by several arresting images in the exhibition.
In contrast to Korda's work are shows featuring women artists in which the term "sex" more accurately connotes "gender." Most striking among these is a set of large-scale self-portraits and family studies by Mexican artist Ana Casas Broda at Circulo Bellas Artes through Aug. 30, 2015. Broda (who also co-curated an ambitious group show at PHE) calls her series Kinderwunsch, a German word translating to a desire to have children. The imagery bravely delineates the joys and woes of motherhood, from sonograms and childbirth to playful adventures with two sons, while the accompanying text reveals a tale of pain and separation stemming from the broken marriage of the artist's parents; in her new family, she seeks to heal the old wounds. With an intro by British curator Susan Bright—who included Broda in her recent group show Home Truths—this is a remarkably touching and honest exhibition.
In the same hall (on a different floor) is the most comprehensive show to date on Mexican photographer Lola Álvarez Bravo, who forged her own career after separating from her famed husband Manuel Álvarez Bravo in 1934. Lola went on to become one of the key artistic figures in post-revolutionary Mexico, forming a mutual-admiration club with artists Frida Kahlo and Diego Rivera; the show traces her pioneering work in portraiture, photomontage, and humanistic reportage of, as she put it, "a Mexico that once existed."
One of Bravo's photographic peers, Tina Modotti, gets the star treatment at a Madrid exhibition in the basement of the luxury store Loewe's through Aug. 30, 2015. Though born in Italy, Modotti created her most enduring work in Mexico after learning the photographic craft from her mentor and lover, Edward Weston. Modotti's empathetic portraits of common people presage her own revolutionary political passions—which led to legal complications that ended her photo career. But what a brief, shining career it was! Evidenced in this stunning collection of 50 vintage prints.
One of the photographic giants most widely associated with Latin America is Paul Strand, whose work in Mexico is a slim but vital part of his oeuvre. A vast retrospective of Strand's work is showing in Madrid through Aug. 23, 2015, at Fundación Mapfre. For sponsorship reasons, this show is not associated with PHotoEspaña, but it's well worth checking out—a fabulous overview of Strand's career in both photography and filmmaking, and a fascinating counterpoint to all the Latin American work on view in Madrid this summer.