See Bruce Springsteen as the Everyman Superstar
"This is all about the streets and the stage and behind the scenes"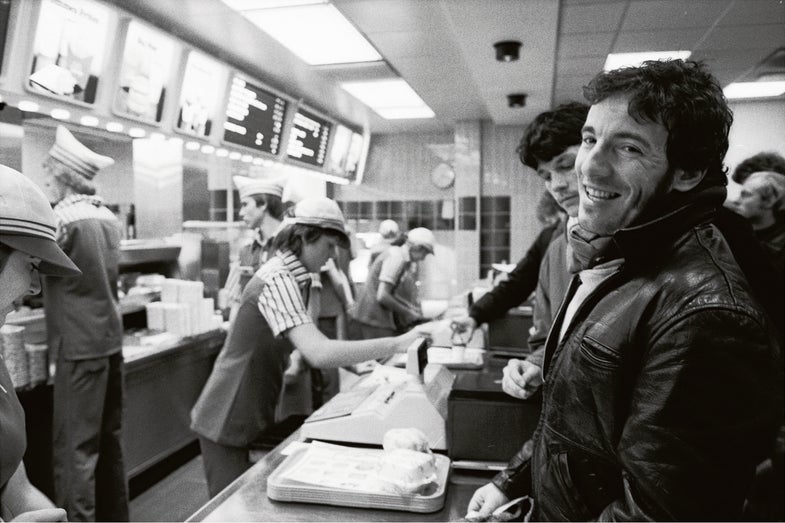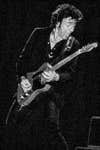 A few years ago on a snowy day, Peter Blachley spotted a hooded face peering into the SoHo storefront of the Morrison Hotel Gallery, which he co-founded in 2001. He recognized the pedestrian as Bruce Springsteen and invited him inside. "He was incredibly down-to-earth," says Blachley, who has befriended many a famous rocker as a gallery owner, former record executive, and musician himself. "Bruce really is a regular guy."
That everyman persona is something Springsteen has always carried—and cultivated. "He was writing songs about ordinary working people, and he wanted his portraits to reflect that," says Frank Stefanko, who shot the solemn cover image on "The River," Springsteen's sprawling double-album released in 1980. In tandem with that record's 35th anniversary, Morrison Hotel Gallery has staged a group exhibition, "Bruce Springsteen: The River Collection," that features work from seven noted rock photographers: Frank Stefanko, Lynn Goldsmith, Neal Preston, Joel Bernstein, Jim Marchese, Pat Harbron and David Gahr. The show will be on view in New York through February 9, before traveling to the gallery's Los Angeles location in March.
"A lot of these pictures have not been seen before," says Aaron Zych, who co-curated the exhibition with Blachley. "Others are iconic shots of Bruce in the late 1970s and early '80s."
This imagery pre-dates 1984, when Springsteen's "Born in the USA" album sold mega-millions and rocketed him to Beatlesque heights of global fame—while its title and flag-backdropped cover shot by Annie Leibovitz engulfed him in a wave of nationalistic jingoism. All of which took even the star by surprise. "This work [in the show] is before Annie Leibovitz, before the huge stadium shows and all that monster fame," Blachley says.
The bulk of of these photos were made in the two-year stretch when "The River" was recorded, although a few date back to Springsteen's 1973 album "The Wild, The Innocent, and the E Street Shuffle." Eric Meola's studio shots for "Born to Run" are notably absent, but according to Blachley that was intentional—the idea was to give a more intimate glimpse of the singer. "This is all about the streets and the stage and behind the scenes," he explains.
Beneath his oft-scruffy appearance lay a perfectionist artist: Springsteen shaped his own public image. "He's a control freak, just like me," Lynn Goldsmith recently told the Wall Street Journal. Goldsmith, who dated Springsteen in the 1970s, contributes some of the show's most revealing portraits, which she calls collaborative. "It's all manufactured. It's not just off-the-cuff, 'Oh, he's quiet now!' photos," she added. "I don't think there's anything wrong with that. I think he's taking full responsibility for his image."
The exhibition traces Bruce's transformation from a beaming, tanned and skinny kid on the boardwalk to a somber artist who looks like he's shouldering the weight of the world. Fame-wise, Springsteen may have been in a sweet spot—"Born to Run" sprung him loose nationwide and his fan base exploded—but privately he was dealing with the demands of stardom, a protracted legal battle with his former manager and the isolation and melancholia that increasingly began to creep into his songs.
In many ways "The River" reflected the duality of Springsteen: ebullient party-boy rock tunes contrasted with pensive, character-driven balladry. The exhibition likewise shows a dichotomy between the intensely serious private artist and his jubilant onstage presence. It's the story of a socially awkward guy who has said he spent his childhood "on the outside, looking in"—and then found a way to reverse that equation.
"Bruce Springsteen: The River Collection" is on view at New York City's Morrison Hotel Gallery through February 9.