See the 2016 Pictures of the Year International Winners
These are some of the year's most important pictures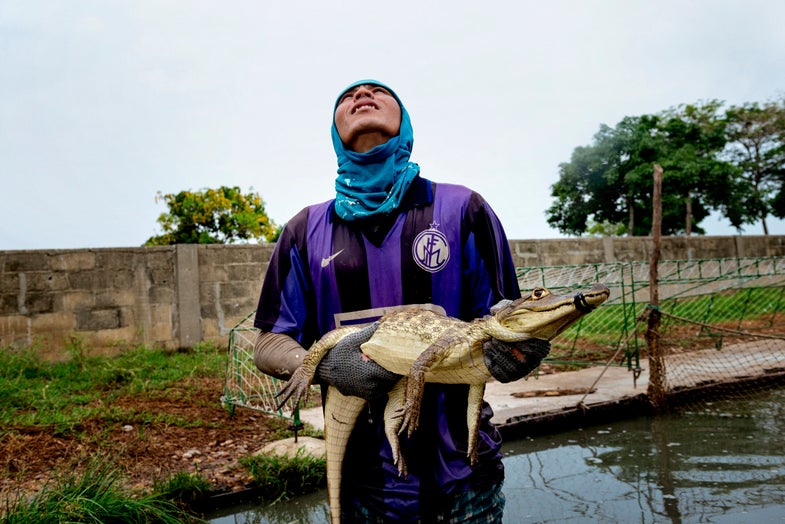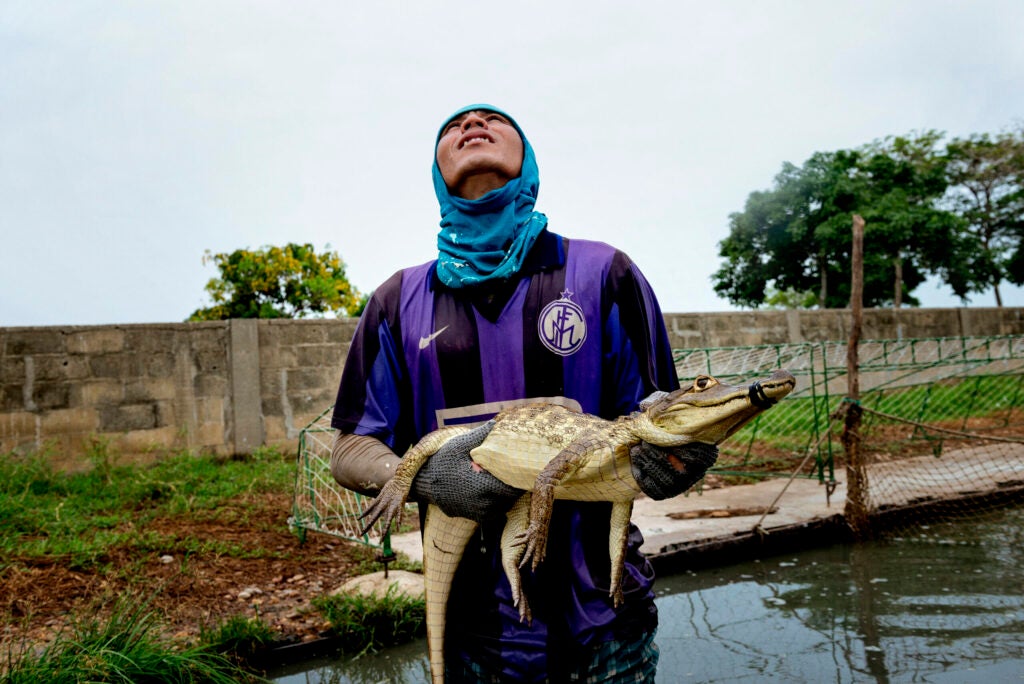 First Place, Photographer of the Year
The capture of a caiman intended along with hundreds of other specimens, to the Asian market. The capture is performed manually and is made possible and safe through the experience of a team specially prepared.The first intervention immediately after the catch is the application of an elastic rubber band on the mouth of the alligator to prevent the animal bite.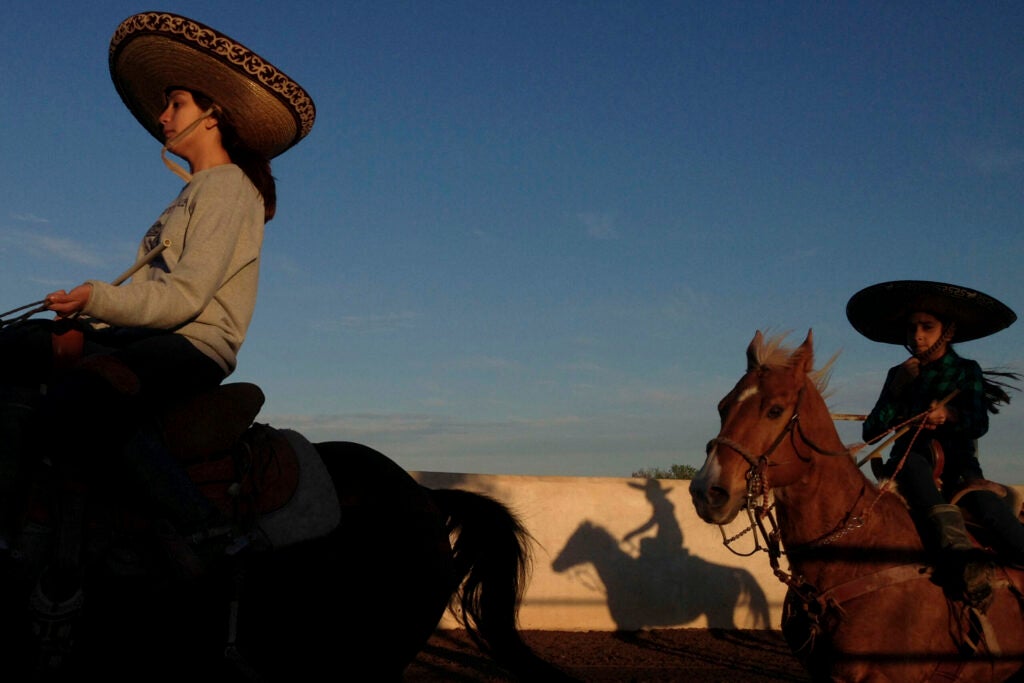 First Place, Newspaper Photographer of the Year
Caterina Ozuna and Miriam Alejandra Montecillos warm up before practicing their routine for Pre-Estatal at El Rancho Unico in Atascosa, Texas, U.S. on March 26, 2015. "You feel the nerves the moment you go in," Ozuna said.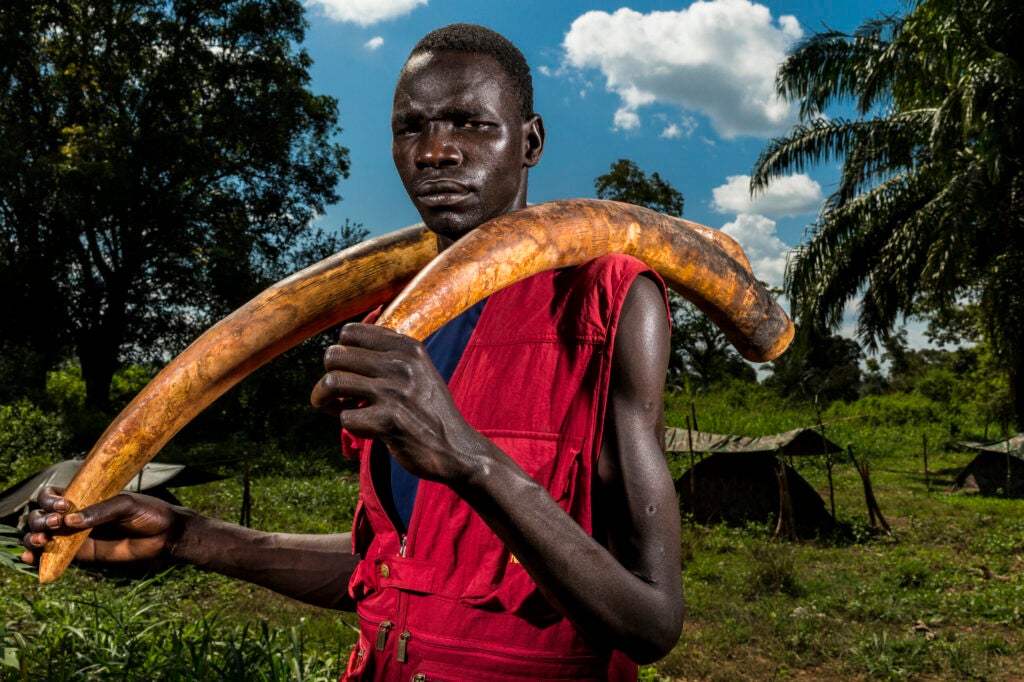 First Place, Environmental Vision Award
Michael Oryem, 29, is a recently defected Lord's Resistance Army fighter who's L.R.A group was involved in the poaching of Ivory in Garamba National Park in the Democratic Republic of Congo. Garamba is a former base of operations for the LRA and a major source of financing for the notorious group. Oryem is seen with 2 of 6 ivory tusks that he hid and then led the Ugandan forces to inside the border region of the Central African Republic. He claims that the LRA killed many elephants in Garamba National Park in the DRC and that he was ordered by Joseph Kony, the LRA's notorious leader, to bring the ivory to him in Darfur, South Sudan. Ivory is now a real means of financing for the LRA, it is used for both food and weapons supplies and is traded to the Sudanese Army who transports it north to Khartoum. Oryem was abducted by the group when he was 9 and lived with them for over 17 years in the wild. He was made a commander in the group at the age of 12. The LRA is infamous for the killing and abduction of thousands of civilians across multiple countries. He defected and is now a member of the Ugandan Army, UPDF, African Union force hunting the LRA.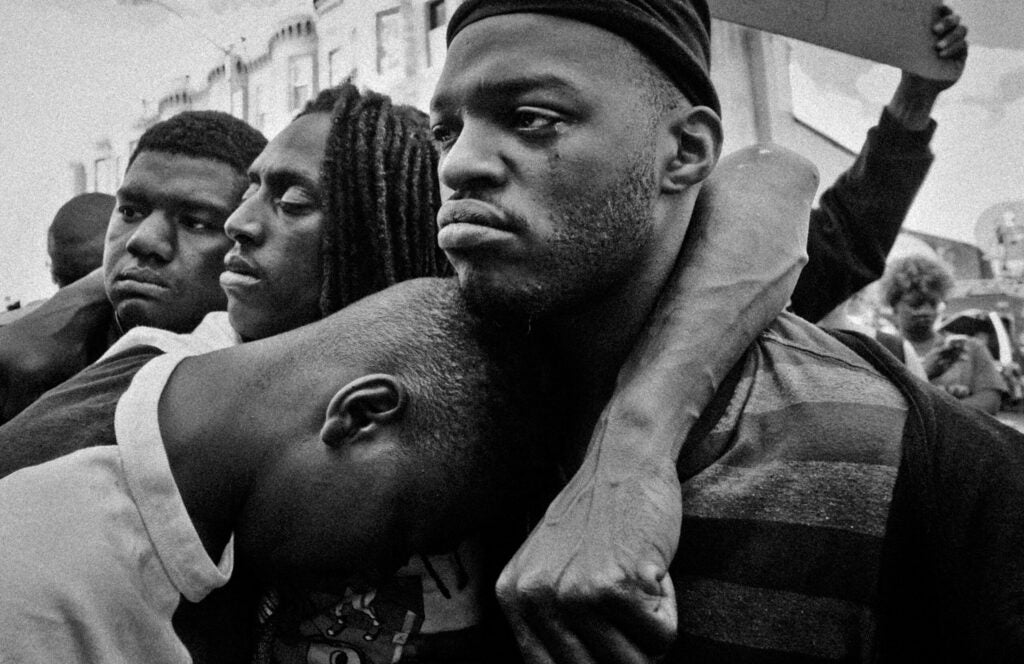 First Place, General News
Men mourn the death of Freddie Gray in West Baltimore, a day after his funeral riots broke out. Gray died from spinal cord injury sustained while in police custody on April 12. String police shootings and brutality have a massive launched national protests and the "Black Lives Matter" protests. Many question, maybe the race relations in America have not changed since the riots of 1960.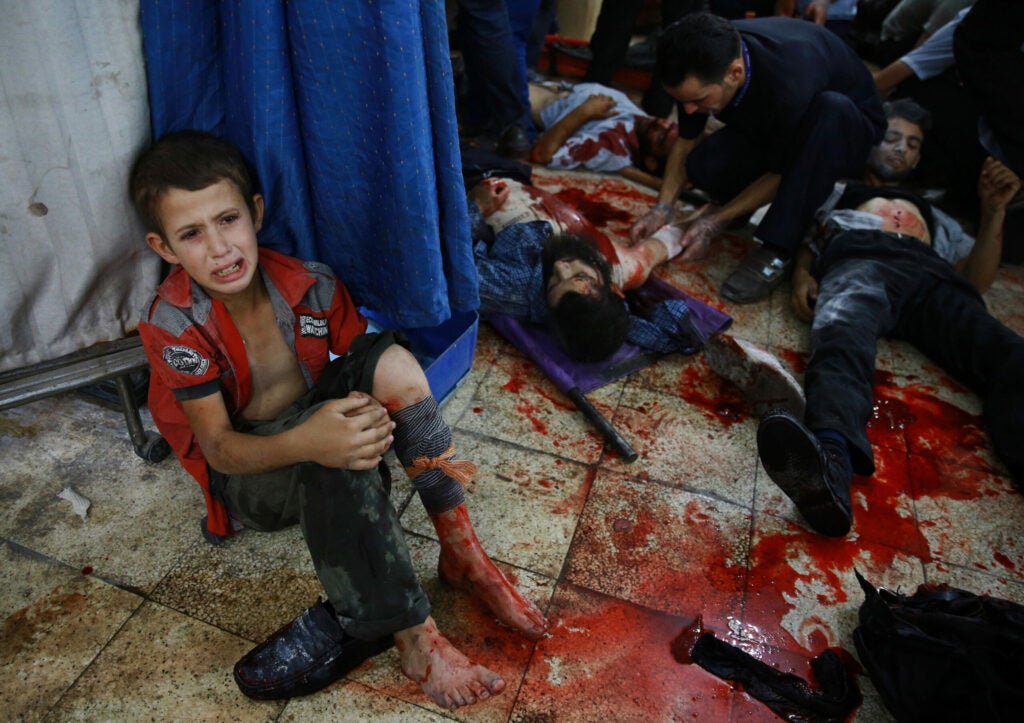 First Place, Spot News
A wounded Syrian boy sits on the floor next to men receiving treatment at a make-shift hospital in the rebel-held area of Douma, east of the capital Damascus, following reported air strikes by regime forces, on August 12, 2015.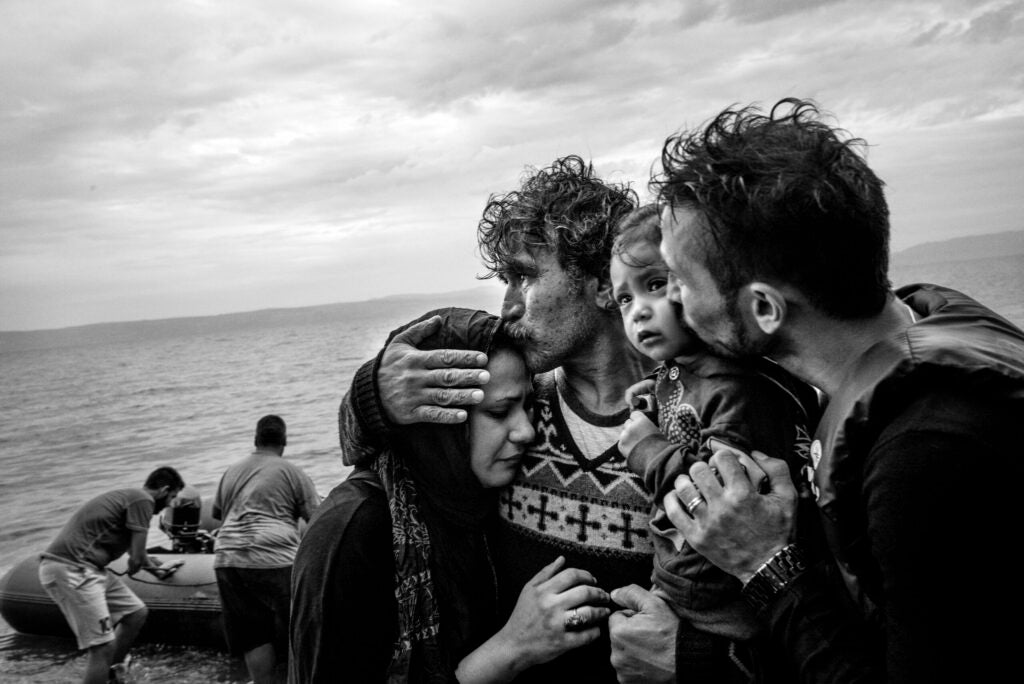 First Place, Exodus
A Syrian family weeps tears of joy after reaching, on a rubber boat from Turkey, the village of Skala Sykaminias located on the northeastern Greek island of Lesbos, on October 10, 2015. Thousand of refugees, mostly coming from Syria, Iraq and Afghanistan, cross everyday the Aegean sea from Turkey to reach Europe: a relatively short but extremely perilous journey. According to the UN Refugee Agency, more than 850 000 arrivals by sea were registered in Greece in 2015.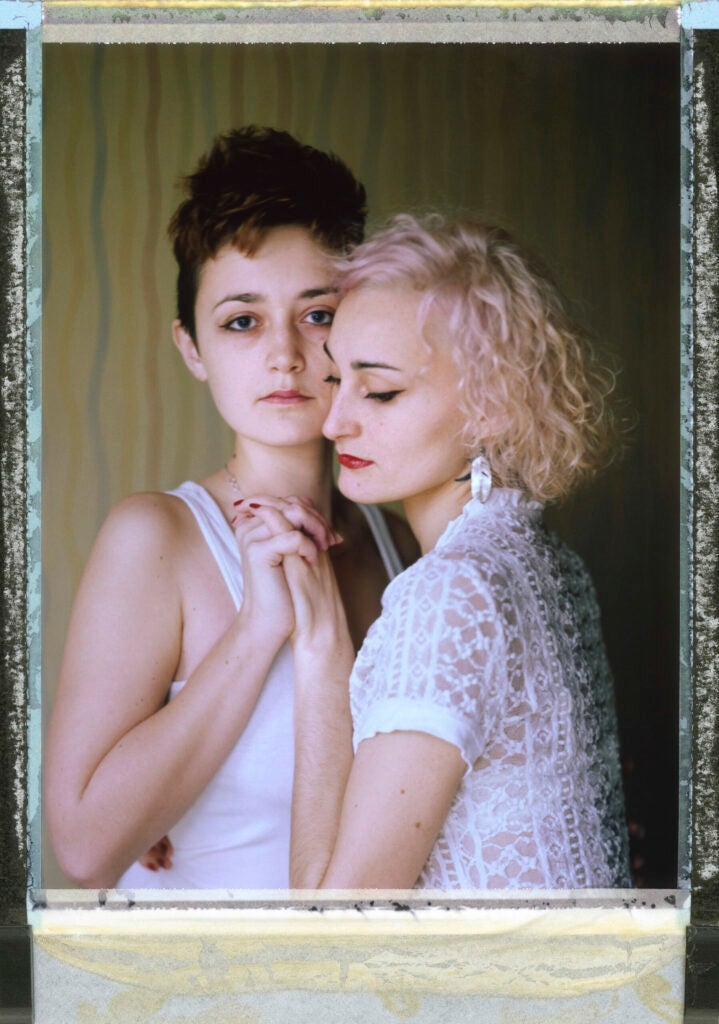 First Place, Portrait Series
O (right) and D (left), St Petersburg, Russia. Nov. 9, 2014. Lesbian couple O (27) and D (23) were holding hands and sharing a kiss on their way home after a jazz concert late at night on Oct. 19 when they say they were attacked. A stranger accused them of being lesbians, punching and kicking them repeatedly. Although Russia decriminalized same-sex relationships between consenting adults in private in 1993, there are currently no laws prohibiting discrimination towards LGBT people. In June 2013 Russia introduced federal law criminalizing the distribution of LGBT propaganda among minors, which prompted international uproar. "Now, in Russia, holding hands is dangerous for us," says O. "But if the goal of these attackers was to separate us, they failed. They only made our relationship stronger."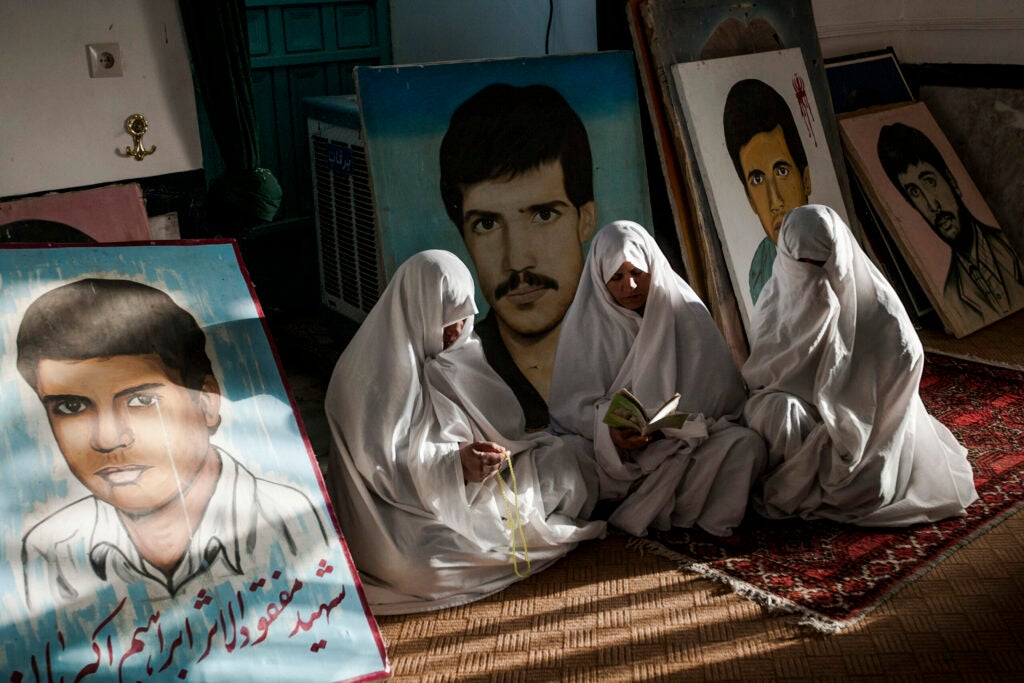 First Place, World Understanding Award
The mother of Martyrs, those who died in the Iran-Iraq war, praying at the graves of their sons and surrounded by their portraits.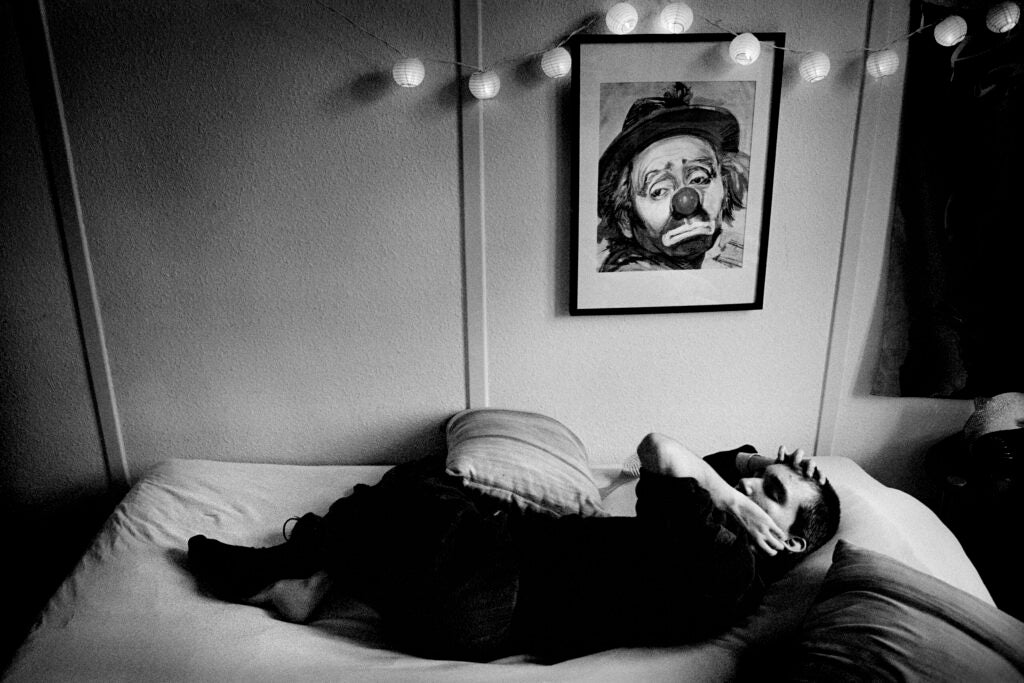 First Place, Community Awareness Award
In Denmark, there is a small community like no one else. The village Sølund is a special home to 232 adults, all living a life with a significant and permanent mental and physical functioning, which means that they are all heavily dependent on care. Each day the 600 employees at Sølund creating the best possible life for the people living in Sølund, all people with special- and individual needs. The goal is that they find the best, meaningful and significant life under the circumstances. Sølund is the largest habitat of its kind in Denmark. Life goes on in good and evil until you die. A life, that only bad highlighted and described in our times, and still associated with a big taboo. Even though that the life are lived on the dark side, the residents at Sølund are all "Commitment to Life"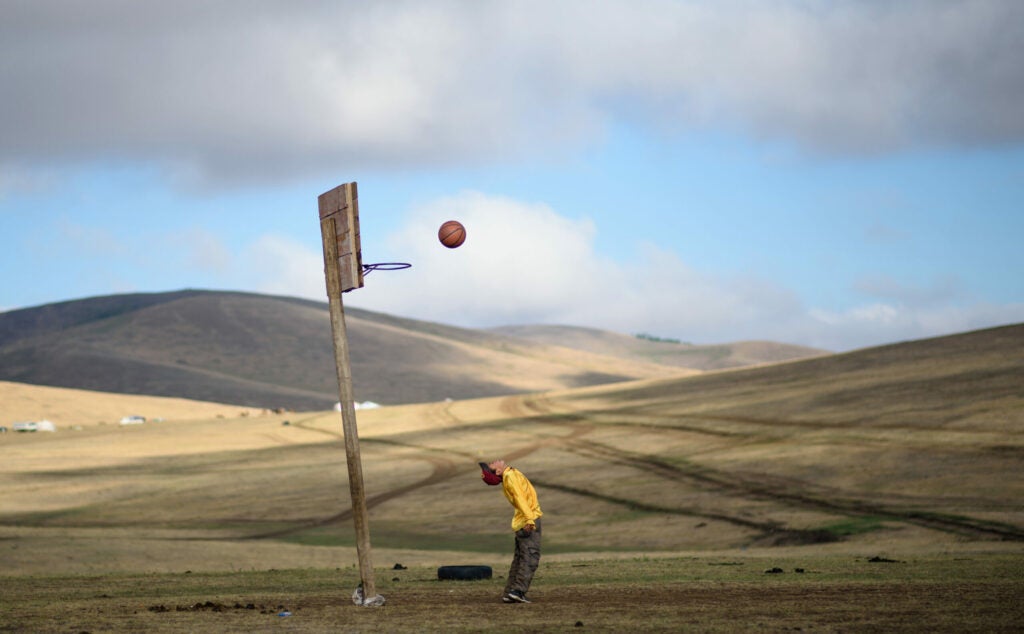 First Place, Recreational Sports
Purevsurengiin Togtokhsuren plays basketball after taking care of the horses in Khui Doloon Khudag, some 50 kms west of Ulan Bator on July 8, 2015.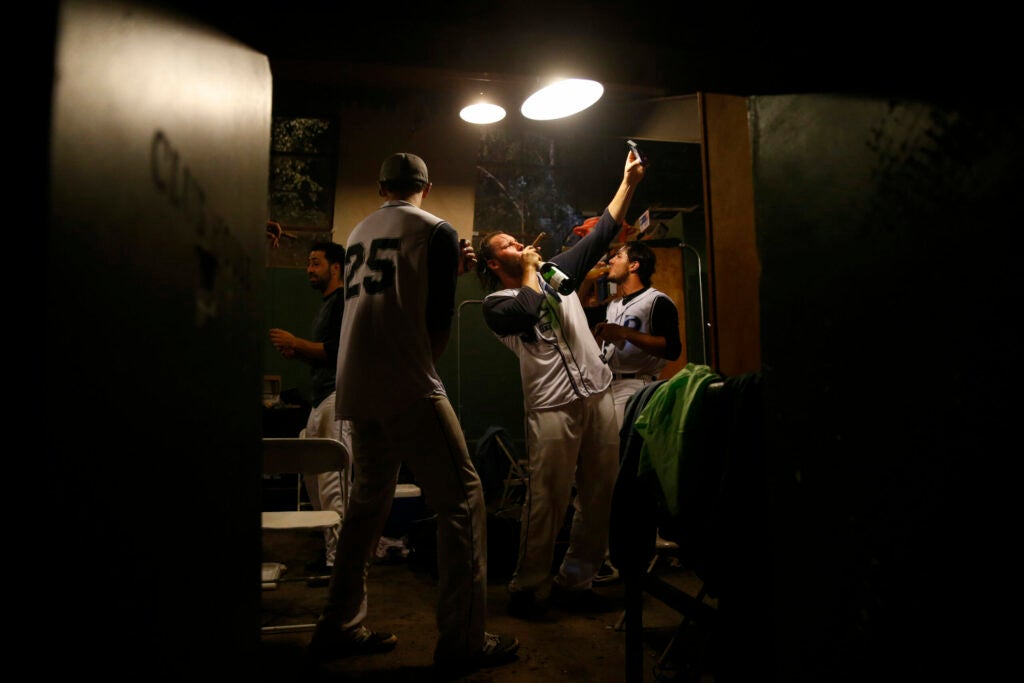 First Place, Sports Feature
Elliott Waterman takes a selfie in the team clubhouse while enjoying a cigar and champagne following the San Rafael Pacifics' championship game victory over Sonoma at Albert Field in San Rafael, Calif., on Monday, Aug. 31, 2015.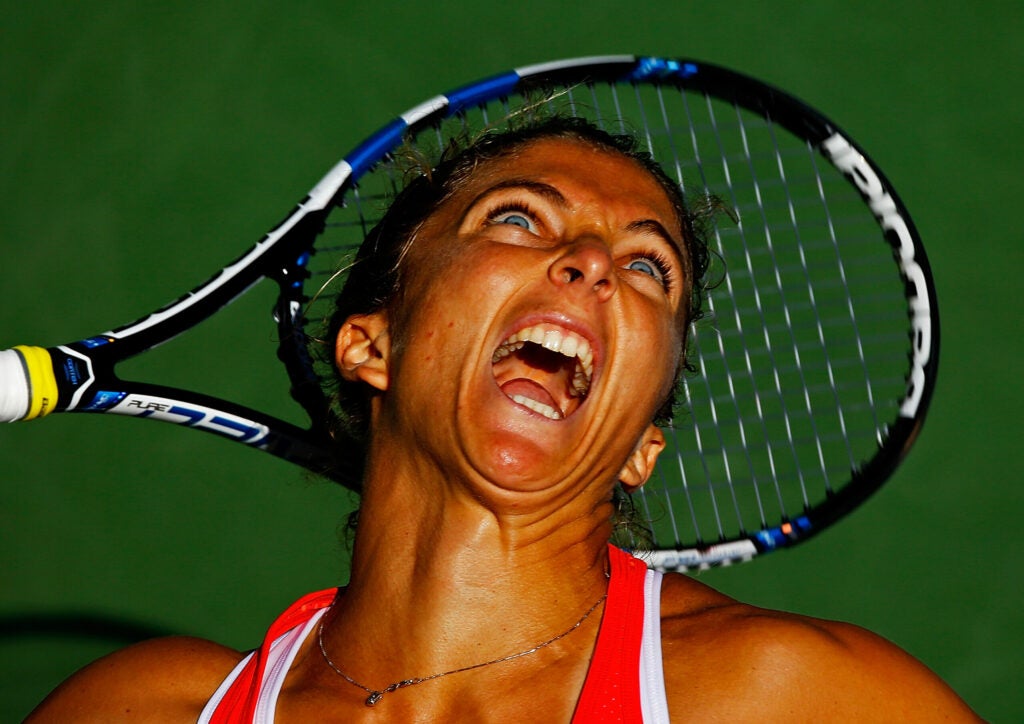 First Place, Sports Photographer of the Year
Sara Errani of Italy serves to Samantha Stosur of Australia during their Women's Singles Third Round match on Day Six of the 2015 US Open at the USTA Billie Jean King National Tennis Center on September 5, 2015 in the Flushing neighborhood of the Queens borough of New York City.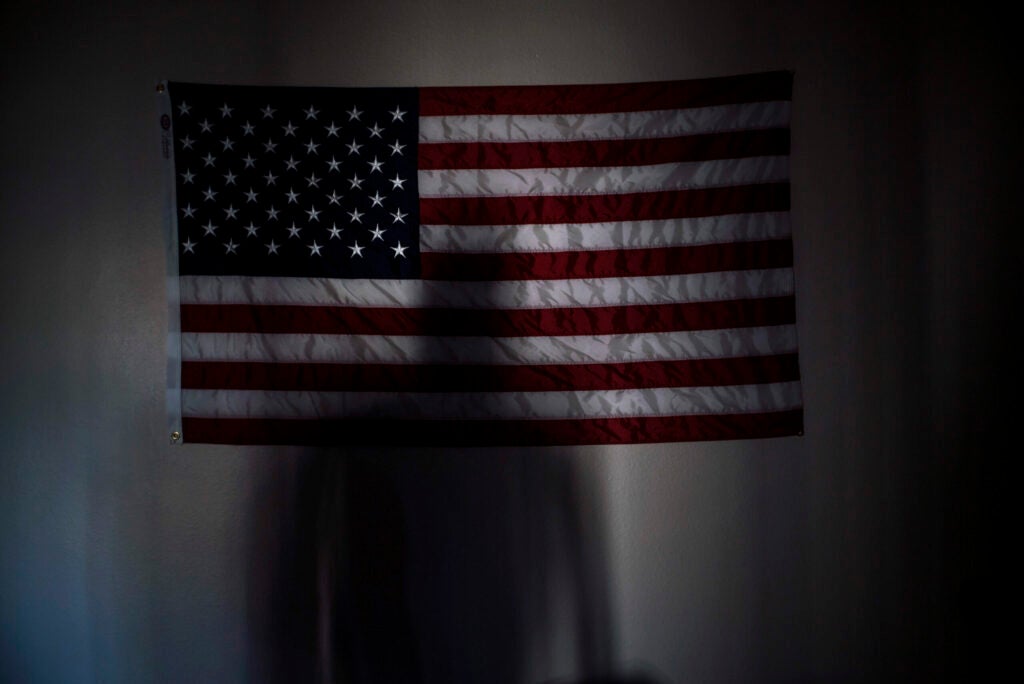 First Place, Sports Picture Story
Manny Bojorquez casts a shadow on a flag in his apartment in Mesa, Arizona. He was a member of the 2/7 Marines, which fought in Afghanistan in 2008 and now has a suicide rate more than 10 times higher than the national average. Since the deployment, there have been 14 suicides. Bojorquez, like many of his comrades, has been haunted by the high number of deaths in his battalion and even tried to shoot himself. He has tried to get counseling from the VA, but walked out of a session when he was told to treat the loss of his friends like a bad break up with a girlfriend. The Marines of the 2/7 have since created a database of their members to help stem the suicides by sending the nearest Marine to check on someone who is suicidal. Photographed on Friday, March 27, 2015.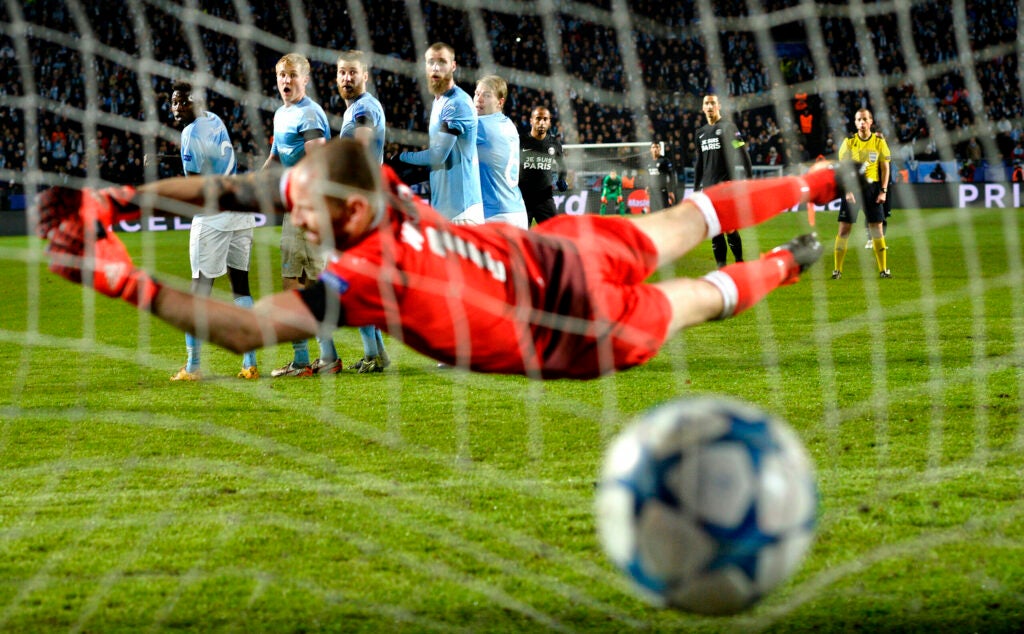 First Place, Sports Action
Malm goalkeeper Johan Wiland throws himself to the left, but he's to late. He has to watch as Brazilian winger Lucas Mouras's ball from a 20 yard free-kick passes his gloves and into the net for Paris Saint-Germain. Pa Konate, Franz Brorsson, Rasmus Bengtsson, Jo Inge Berget and Oscar Lewicki in the Swedish wall are all gaping spectators as Moura and Zlatan Ibrahimovich sees the Brazilians training pay dividend. Ibrahimovich had scored from the same angle in earlier matches, and there weren't few that thought he was going to score this one as well. However, the Swede stepped back and let the Brazilian steal the show.
The winners of the 73rd annual Pictures of the Year International competition have been announced, with many freelancers taking home big prizes. Paolo Marchetti, an independent photojournalist based in Italy, was named Photographer of the Year for a portfolio that featured in-depth coverage on the issue of animal harvesting for fashion in two seprate photo essays.
Carolyn Van Houten, who joined the San Antonio Express-News last January after graduated from the University of North Carolina at Chapel Hill, was named Newspaper Photographer of the Year for her work on a story called "Oil Bust in South Texas." Al Bello of Getty Images was named Sports Photographer of the Year, Andrew Michael Ellis of MediaStorm received the Multimedia Photographer of the Year award, freelance photographer Hossein Fatemi picked up the World Understanding Award, Casper Dolhoff of Jyllands-Posten received the Community Awareness Award and Brent Stirton of Getty Images picked up the Environmental Vision Award for his work on "Ivory Wars."
Freelance journalist Yunghi Kim received first place for General News for an image taken on the streets of Baltimore in the aftermath of Freddie Gray's death. Fabio Bucciarelli of MeMO received the first place Exodus award for an image of a weeping Syrian family reaching the Greek island of Lesbos. Abd Doumany (a pseudonym used by a Syrian freelancer) won first place for Spot News for an image of a wounded Syrian boy waiting for treatment in a make-shift hospital. Robin Hammond picked up a first place prize for his portrait series "Where Love is Illegal."
A complete list of the award winners in all 40 categories can be found on the POY website.