Roger Ballen's The House Project Takes a Deep Dive Into the Photographer's Mind
"The mind is just absolutely impossible to understand"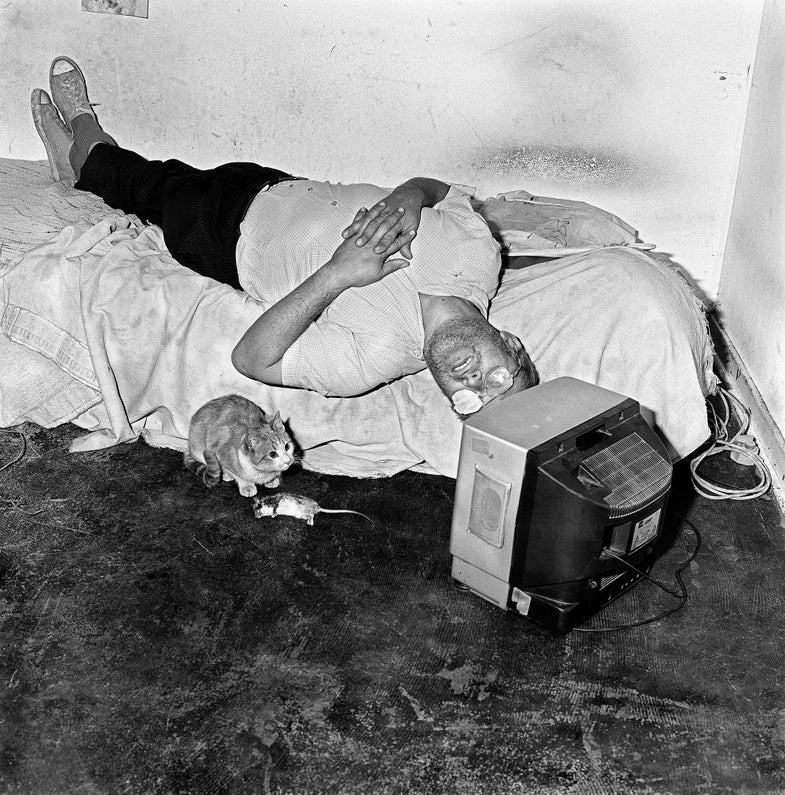 Before the release of his new career-spanning photo book, The House Project, Roger Ballen spoke with American Photo about the existential nature of his work and what he has learned about himself after 50 years of making pictures.
Why do you think a house is a good metaphor for the mind?
There can be a lot of metaphors for the mind. The mind is a very complex organ, a very complex thing to talk about in a simplistic terminology. We chose the house because I think there are aspects of the house that can be easily equated with the way people think of their mind. The basement is the more primeval part of their mind, the place that dreams originate—or nightmares. It's the foundation. As you go up the house the various metaphoric aspects of the human condition can be equated with the mind. There's a room that deals with human absurdity, another place in the house relates back to the more animalistic aspect of the mind. The top floor is dealing with the spiritual side. These are arbitrary floors that we've created that each reflect an important part of the human mind, human behavior and human identity.
In the introduction of The House Project Didi Bozzini writes about the images in the house moving from darkness to lightness—can you elaborate on that structure?
It's really clear the basement is dark, as you move though from that level to the next it's a little more subtle. The attic—I wouldn't say it's lighter. It's trying to deal with the theory of the sky, the birds, with the heavens—but in a very complicated way. It's not necessarily all about finding nirvana. The last picture is a broken window—the heavens aren't necessarily a place of milk and honey. That's the way we've been taught, but the heavens also have mystery to them. I think we have a very simplistic concept of the heavens. It's certainly not something we can objectify, but we can reinterpret it.
In some ways the book is a bit of a career-retrospective—working on this project and looking back at some of this older images, how do you think the public's understanding of your work has evolved?
It was an interesting challenge for me to have people look at my images from another vantage point. It expands the aesthetic of what I'm doing. My imagery has multiple meanings to it and can be interpreted in a lot of different ways. Some of my pictures at one point in time were seen as social commentary on South Africa. Now those same images are seen as metaphors for human absurdity. It is interesting how the meaning of my work is constantly being reinterpreted. When I produced Platteland, Dorps and Outland people interpreted it as sociopolitical documentary. I think when they look back on my career they see that those series were stepping stones in the development of what I think is quite a unique aesthetic in photography. The work actually holds its own and makes a deeper reflection on the human condition.
You've said before that the physical places where you make your photographs can be unsafe—are there places within the house that are also unsafe?
There's two ways to define safety in terms of the work. One is the physical safety. These places that I work are seen as unsafe. Then there is the psychological safety—where you find parts of yourself which you were originally scared of, or unaware of, and didn't want to come to terms with. I always think that one of the reasons I've been able to create this type of imagery is that I have always seen it as a challenge and a thrill to find parts of my interior that I haven't found before. I don't see that as an unsafe situation. It's something I've always sought out. The side that people see as unsafe is the side that I like to explore.
Within the text of The House Project there is a great quote from Kafka about photography. "We photograph things in order to drive them out of our minds." What was it about that quote that made it a fit with your work?
Your mind is made up of millions of images—the things that haunt you in a way, the things that are unresolved are fragmented. When you make a picture of it, it's much more concrete. You actually resolve it. We are all made up of infinite fragments and reflections in some way. When I take the pictures it solidifies some of these fragments.
What would you say you learned about the way that you mind works in putting together The House Project?
I think it is important to realize that whatever I do I'm making visual statements. I don't have ideas in my head that I try to convey through photographs. The pictures can't easily be defined in verbal ways. This is where my pictures are very different from most other photographers. I don't start with any words and I don't end up with any words. I'm very fortunate that I've had the camera as a tool. My work is really psychological and it has been an existential journey from the minute I started photographing 50 years ago. As time has gone on, hopefully the pictures are able to express deeper and deeper aspects of myself. I've learned more about myself, but it doesn't mean there will ever be any consummation.
The mind is just absolutely impossible to understand. That's all I can say. To me it's the greatest challenge of living on the planet. Just trying to figure out in some enigmatic reflective way how one works ones self.
The House Project is published by Oodee and will be released during Paris Photo 2015.