Robert Doisneau's Love Affair with the Streets
Robert Doisneau's Paris changed drastically over the thirty years he spent photographing it, but his eye did not. "His style … Continued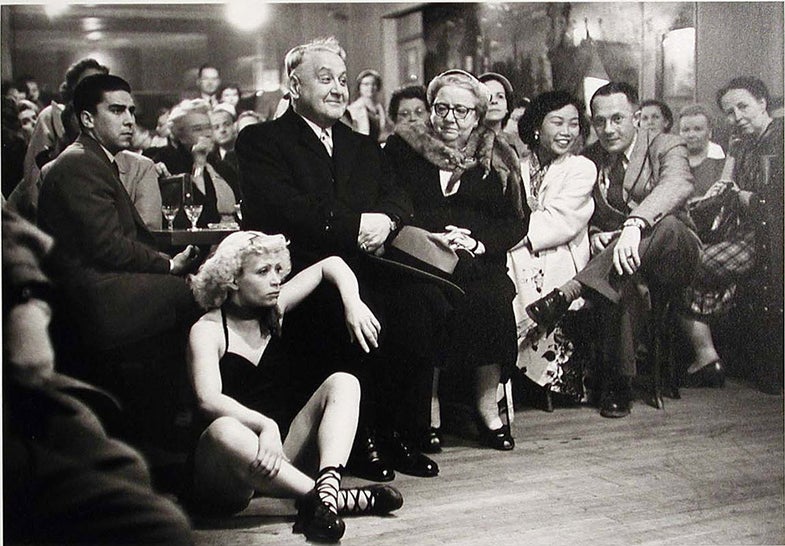 Robert Doisneau's Paris changed drastically over the thirty years he spent photographing it, but his eye did not.
"His style was very continuous throughout his career. He didn't have major shifts," says Charlotte Farrell, curator at Rox Gallery. "He really spent a lot of time perfecting what came instinctively to him, capturing that decisive moment: that magical fleeting moment in the city."
Most well known for his photograph of a kissing couple called "Le baiser de l'hôtel de ville," Doisneau spent a good deal of his career photographing the streets of Paris and had a knack for capturing the amusing in the every day. The scenes in his images are simple, but there is humor to be found in the details: a man poses with oversized puppet heads, a woman reacts in shock to a nude painting through a window and a worker emerges from a shop with a bottle of wine tucked in his pocket and a baguette in hand.
A show currently on view at New York's Rox Gallery pairs a selection of Doisneau's photographs from the 1940s-'70s with the work of three contemporary photographers: Rita Bernstein, Julian Darwall and Emily Hope. "I wanted to evoke a sense of place and also play with not knowing what era the work is from," Farrell says. "Although they are all very contrasting, there is this unifying quality of time and place between the work that is very evocative." Ultimately, the collection of black and white images capture the invigorating pulse of life lived in an urban area despite being created decades apart from one another.
"I think that all the artists had very urban images expect for [Rita Bernstein] whose work had a more bucolic edge to it," Farrell says of the show. "I wanted that sort of dreamy escapism amongst the images of the city. For me personally, in New York, I always have a yearning for escape, but also an absolute enjoyment of the urban environment."
The show will be on display at Rox Gallery until September 15.