Photo Icons: The Ramones
How four outcasts from Queens visually defined punk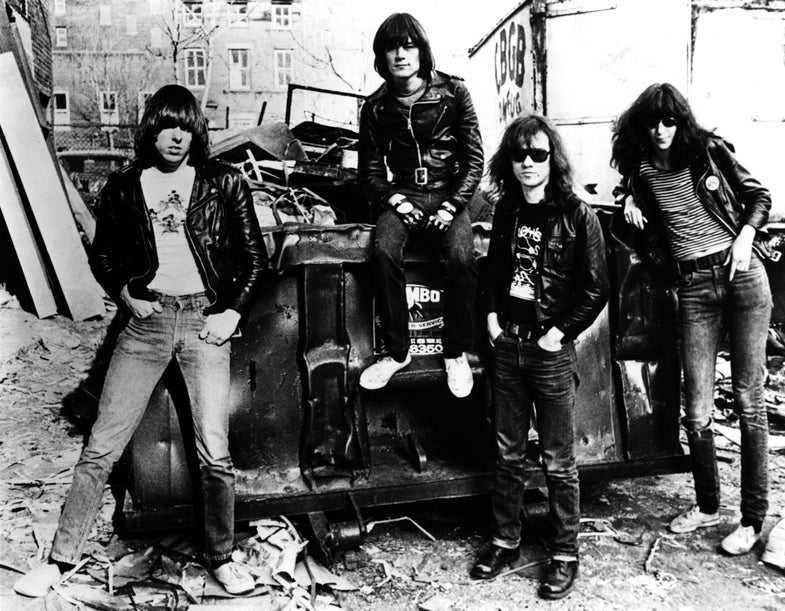 As four ragtag outcasts from Forest Hills High School in Queens, the Ramones seem unlikely subjects for a major art exhibition. Yet the Queens Museum, just a stone's throw from their alma mater, has filled three large galleries with a lavish collection of memorabilia—including several dozen photographs—that the punk pioneers and photo icons left in the wake of their 22-year career. Displayed in pristine white rooms and glass cases with scholarly detailed wall text, the rebel band's story and artifacts have achieved—dare we say—art-world respectability.
Hey! Ho! Let's Go: Ramones and the Birth of Punk, runs through July at the Queens Museum and then travels to the GRAMMY Museum in Los Angeles this fall. It all coincides with the 40th anniversary of the group's 1976 debut album, "Ramones," now widely regarded as the salvo that launched punk rock—not their term, but one they came to represent.
The show includes a wall's worth of Ramones-branded T-shirts, as well as posters and merchandise, amid an assortment of leather jackets, guitars and amps, large-scale paintings, album covers, historic videos, magazine spreads, and other artifacts. But especially striking is the photography, from casual snapshots by friends to performance pictures to portraiture by noted rock shooters.
"The Ramones were extremely photogenic—it's hard to explain why," says Marc H. Miller, guest curator of the exhibition. "They were not conventionally handsome. For some reason they just had this knack to pose and project an attitude."

Their roles as photo icons started with their look—an anti-fashion response to a musical genre the band sprung out of: glam rock. "Tommy knew glitter had an expiration date and decided that the way they dressed would be their look," writes Danny Fields, their first official manager, in his new photobook My Ramones. "They would wear leather jackets, T-shirts, jeans and sneakers—that was so simple and cool and they would never have to think about it again. They could just concentrate on rehearsing and writing songs. No 'fashion,' only style. It was a uniform, in a way, but more like a class marker or social indicator."

After Fields took over managerial duties from drummer Tommy Ramone, he helped them sign on with Sire Records and became their de facto photographer. Fields had ties to Rock Scene magazine, which covered global rock acts and also the emerging underground milieu of New York's Lower East Side. The magazine ran extended photo essays—on display in the exhibit—by noted rock purveyors such as Bob Gruen and Fields, who shot sequences of candid scenes, both offstage and on.

For the latter, the hotspot was Bowery club CBGB, where the Ramones were building a following with their raucous, rapid-fire blend of garage-band noise and bubblegum bounce. The scene's resident documentarian was David Godlis, who brought a no-flash, shadowy aesthetic inspired by Brassaï to the seedy but energized venue. "The Ramones did not look or sound like anything I'd ever seen or heard before," says Godlis, whose photobook History Is Made at Night is due in early June. His images in the exhibit evoke the smoky, sweaty atmosphere as well as the visibly high decibel load of the Ramones' early stage sets.

Working the door at CBGB was Roberta Bayley, a fan and friend of several local acts. "She was close to the bands and they needed publicity photos so she would shoot them," Miller says.
Bayley contributed many shots to the fanzine Punk, titled after the term rock writers had tagged to the emerging scene. "Her photo on the Ramones' first album was done for Punk magazine," Miller says. "Sire Records had hired a 'slicker' photographer and they weren't happy with the results—so that shot was brought to their attention." When Ramones was released in early 1976, the photo blasted their ragged-gang image out to the world.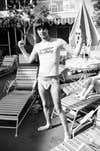 By the time Fields lined up a European tour for the group—launched in England on the bicentennial date of July 4, 1976—their debut album had sparked a fire in Britain. "Two things stand out regarding the impact they had," Fields says. "Virtuoso musicianship is not a factor in a band's ability to excite a crowd; and these guys sold out the Roundhouse, with lines around the block—an answer to those who said 'this kind of music' had no potential audience." Among the young Brits inspired by the band's London gigs were the Sex Pistols, the Damned, and the Clash. In the words of Clash leader Joe Strummer: "I think the Ramones gave the youth of the world a lot of self-respect."
Photographically, the exhibit traces the Ramones' subsequent global tours through the eyes of shooters including Ian Dickson, Jenny Lens, Keith Green, and George DuBose, who became something of an official lensman in later years. While studio experiments led to DuBose's psychedelic imagery and Mick Rock's color-saturated portraits, the photo icons stuck with their grungy look and trademark sound onstage.
The Ramones toured for an unlikely 20 years—outlasting virtually all of the punk and post-punk bands they inspired—and performed 2,263 shows, according to tour manager Monte Melnick, who provided much of the exhibit's archival material.

There were personnel changes and personal feuds. Drummer Tommy disliked touring and dropped out in 1978, ceding the band's leadership to guitarist Johnny. Bassist Dee Dee left in 1989 for an ill-fated rap career. The two hardcore members—Johnny and singer Joey—developed a deep mutual dislike, but the show went on. They finally called it quits in 1996.
The exhibit traces the Ramones' whole glorious and twisted tale and its aftermath, through visionary Tommy's death in 2014. Now all the original members are gone—but these photo icons are not forgotten.
Hey! Ho! Let's Go: Ramones and the Birth of Punk runs at the Queens Museum through July 31. The venue hosts a punk flea market June 25, with book signings by Danny Fields and David Godlis and a screening of the 2003 Ramones documentary End of the Century.