See The Photos That Changed Everything for Magnum's Photographers
Snag $100 signed 6x6 prints of the game-changing images this week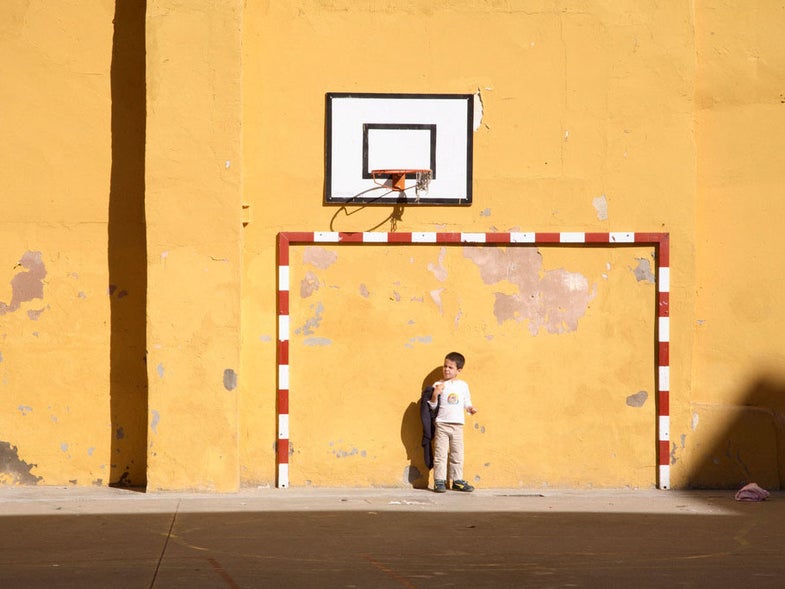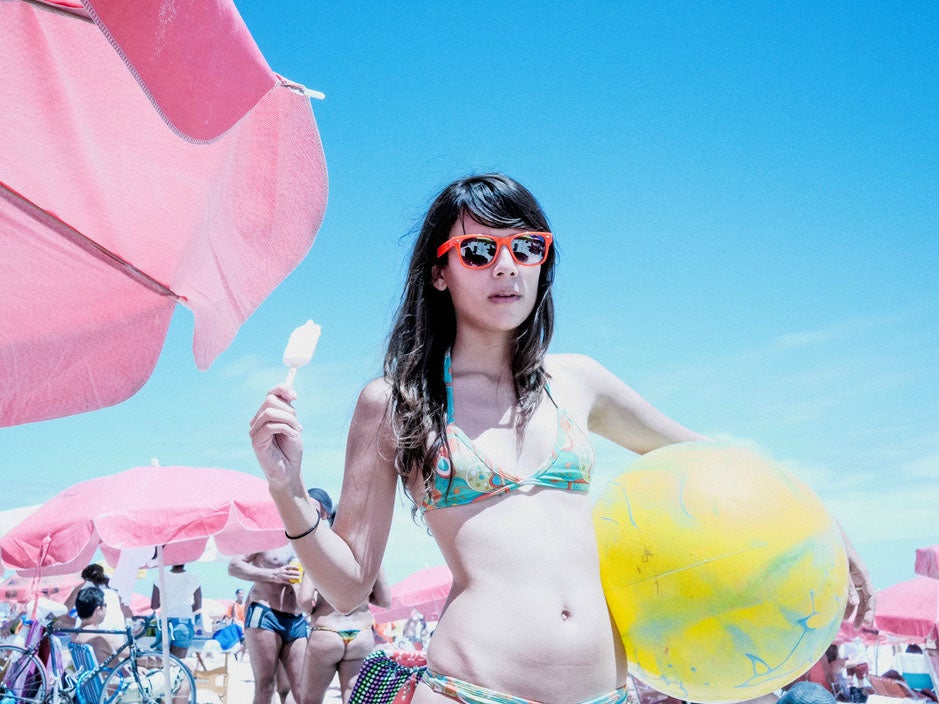 "After this successful book in 2012, I totally changed my methodology. From that point forward, I focused only on my self-published books. I dropped doing assignments, and simply worked on personal projects and artworks. I never plan a change. Things just happen. I think recognising when something revolutionary is going on in your creative life is the key. One needs to realize when a turning point is right before your eyes. It's just like photography itself. Fleeting. Carpe diem. Miss it, and you've missed it forever."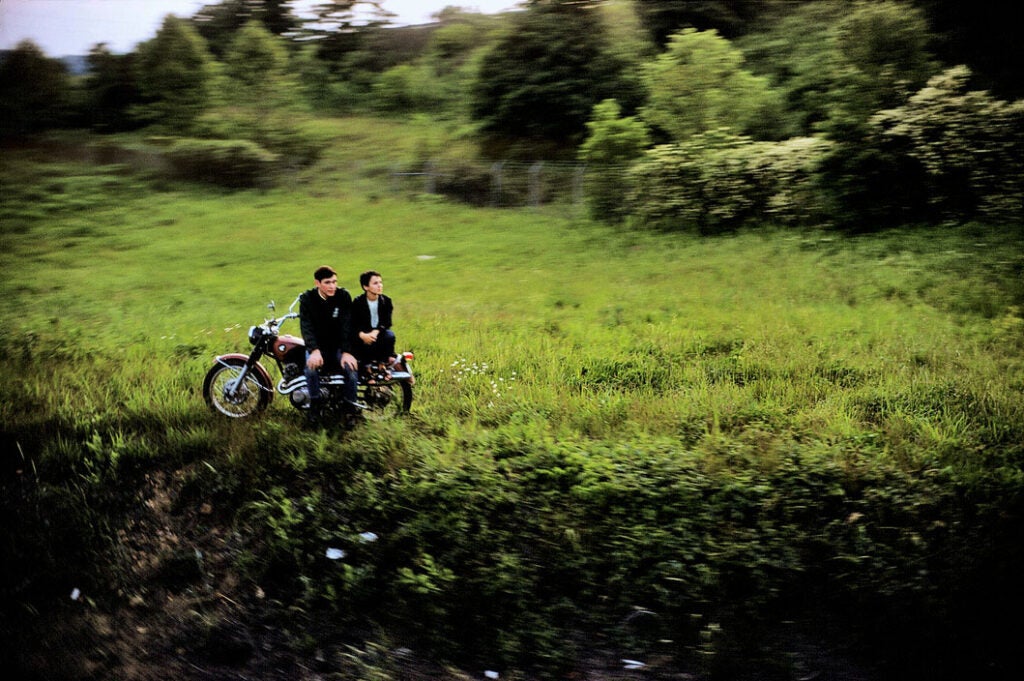 "Barred from photographing the Kennedy family in their private train car, I took note of the people lined up along the track to pay their last respects, and decided to photograph them. I was surprised that the other photographers on the train either failed to notice them, or chose not to take pictures. These photographs, first published in George magazine more than 30 years after RFK's death, are among the among most important I've ever captured."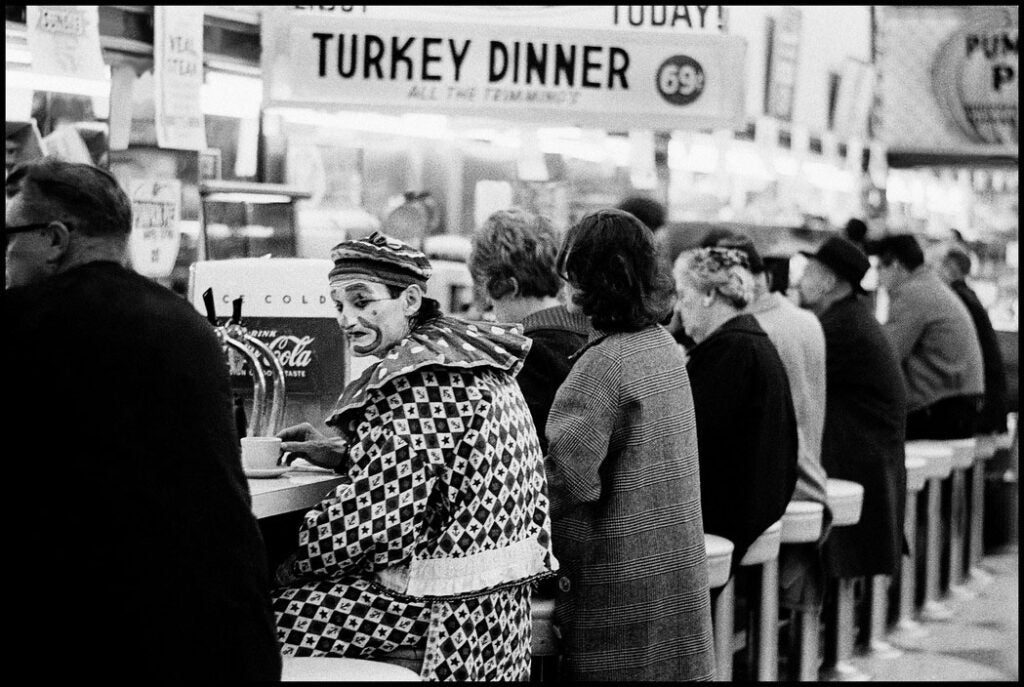 "Indeed, most of my pictures were made while walking through a city or a landscape. I found this image while strolling through the streets of Reno/Nevada one night in 1963, I had a Leica MP over my shoulder and a few rolls of Kodak Tri-X film in my pockets. The clown at the lunch counter did not see me and I walked away. This picture happened while I was on a three-month trip through the USA, on assignment for the German magazine KRISTALL. The writer Rolf Winter and I flew to New York, we rented a car and drove across the country and back again. We had no briefing from our editors, except "Give us your opinion about America. Come back once you feel you have seen enough". Years later I published a book named HEARTLAND, a rather critical view of the United States in the nineteen sixties."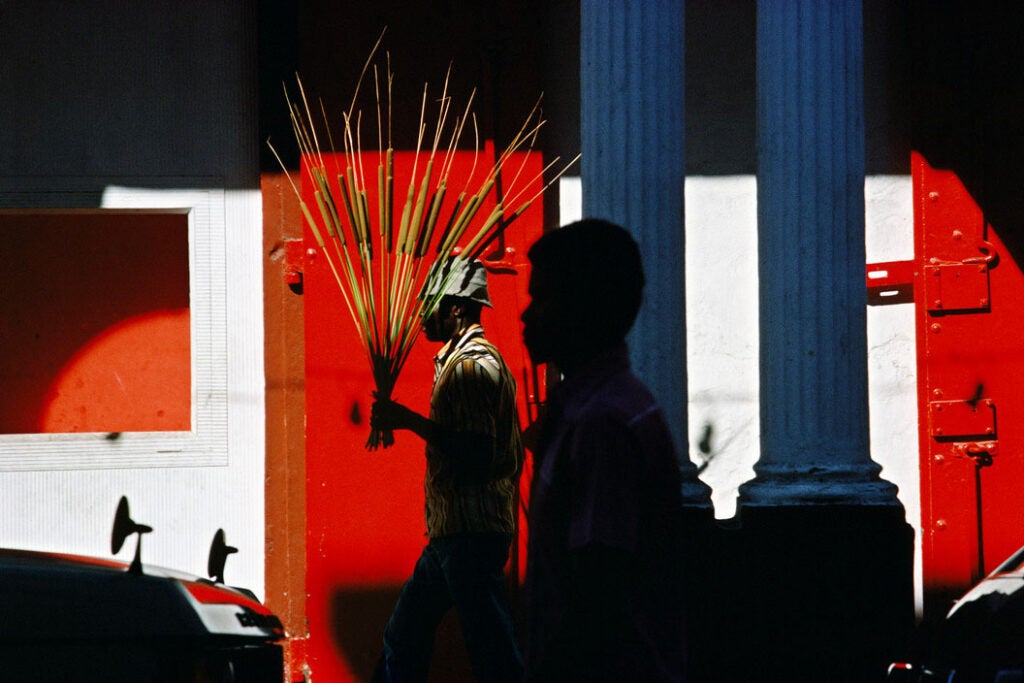 "After reading Graham Greene's The Comedians—a novel set in Haiti that both fascinated and scared me—I made my first trip in 1975. But, photographing in black and white, I soon realized that something was missing: I wasn't capturing a sense of the searing light and the heat—physical and, perhaps, metaphysical—of this country, so different than the grey-brown reticence of New England, where I grew up. I wasn't dealing with the emotional intensity of my experience of this vivid and troubled land. So, when I returned to Haiti four years later, I decided to work in color. As I wandered through the porticos of downtown Port au Prince in 1979, I remember spotting this man with a bouquet of bulrushes—strikingly outlined against a vibrant red wall—as a second man, in shadow, rushed by. I took the photograph and slowly began to realize it was time to leave black and white behind."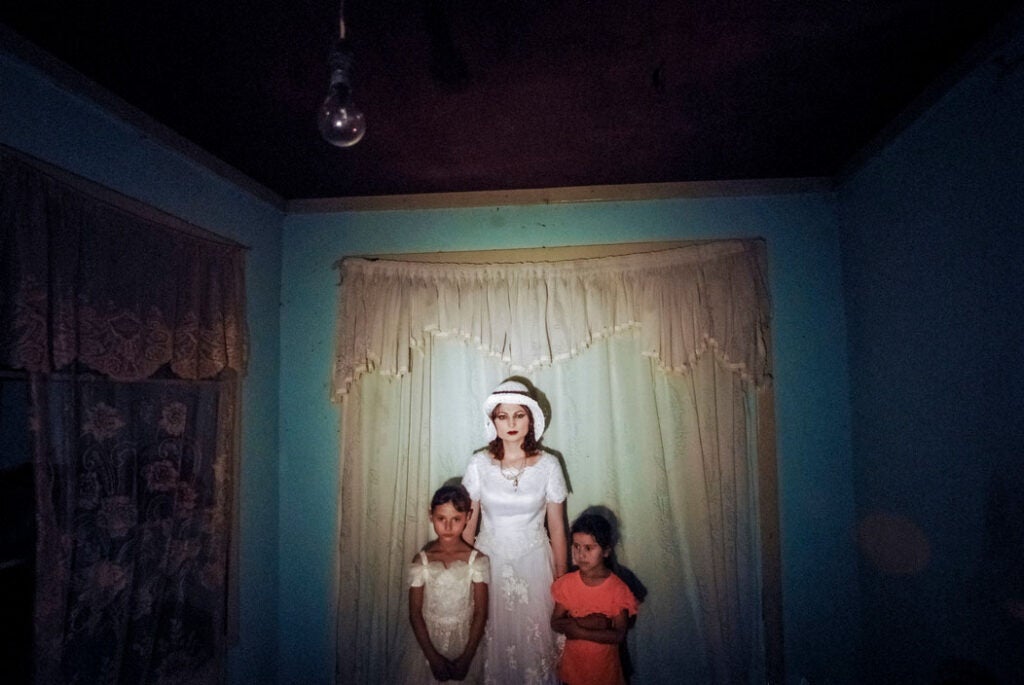 "Having spent the previous few years on a series of embeds with the American armed forces, I had only seen the war through the narrow lens of a foreign military, almost devoid of any connection to the local population. I felt more like I was in America than in Afghanistan or Iraq. This trip was the first time I went un-embedded. I traveled around the north with Dost Mohammed Khairy, a disabled Afghan living in Phoenix who had gone back to Afghanistan to get married. This picture was taken on his wedding night, his bride Fahima posing with his nieces. Because of that trip, I began to realize the deep limitations of my perspective. Where Afghans had been shadowy and collective figures to me before, they had finally become individuals that I could start to see. I felt ashamed that my scope had been so narrow, and began to change the way I work."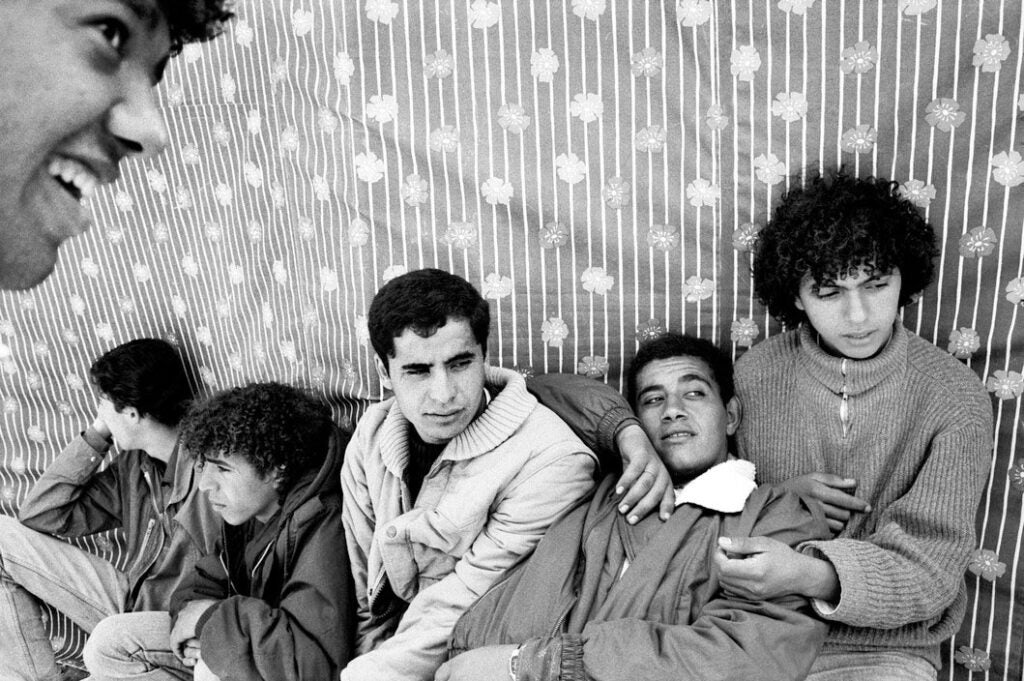 "They were almost all teenagers of immigrant origins, and many of them were involved with drugs and gangs. I was supposed to give them small compact cameras, and introduce them to photography, not necessarily so that they may become photographers, but say so they could use photography as a medium to express themselves and help their struggles. I chose to make them focus on their identities, on their neighbourhoods, their families, friends. This fascinating experience lasted six months. While they took pictures, I decided to follow each of them in their daily life and make a photographic work of my own. Thanks to this cultural assignment, I understood I could penetrate very closed and sometimes dangerous communities if it was understood that I wasn't a reporter who would just pass through, take pictures and leave, but that I was a 'teacher.' It changed everything! I was not only 'taking' something, but giving something."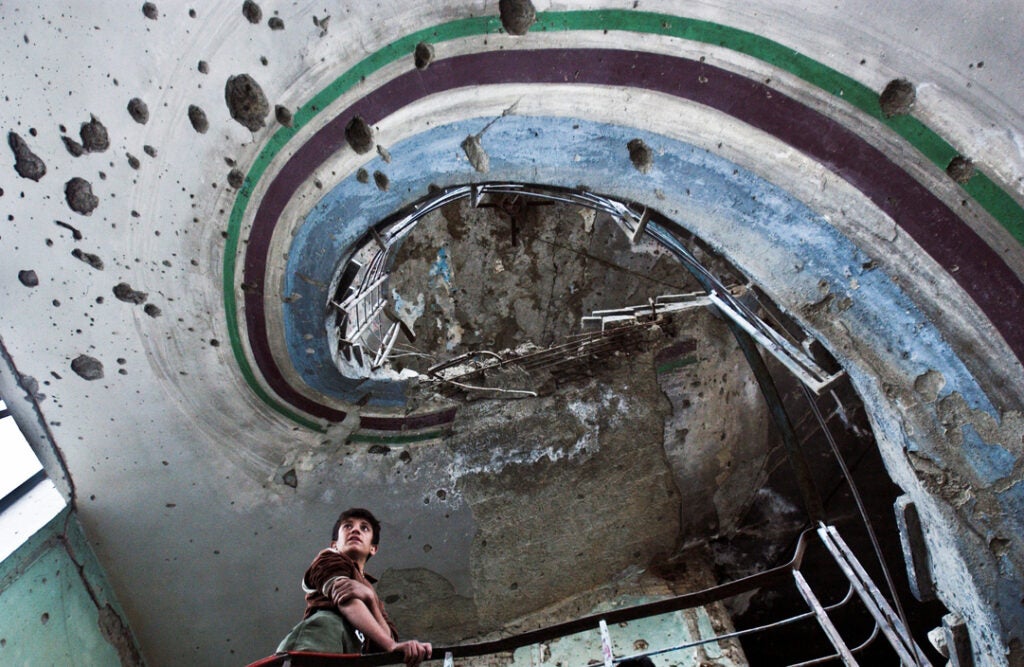 "In it, a displaced young man stands on the staircase of the old Kabul Cinema, a building destroyed during the Afghan Civil War of the 1990s. At the time I took this picture, I had no idea I was going to spend almost 10 years of my life working in this country. Afghanistan was my first 'real war,' a war that, in retrospect, came to define a generation of photojournalists that matured in the aftermath of the 9/11 attacks."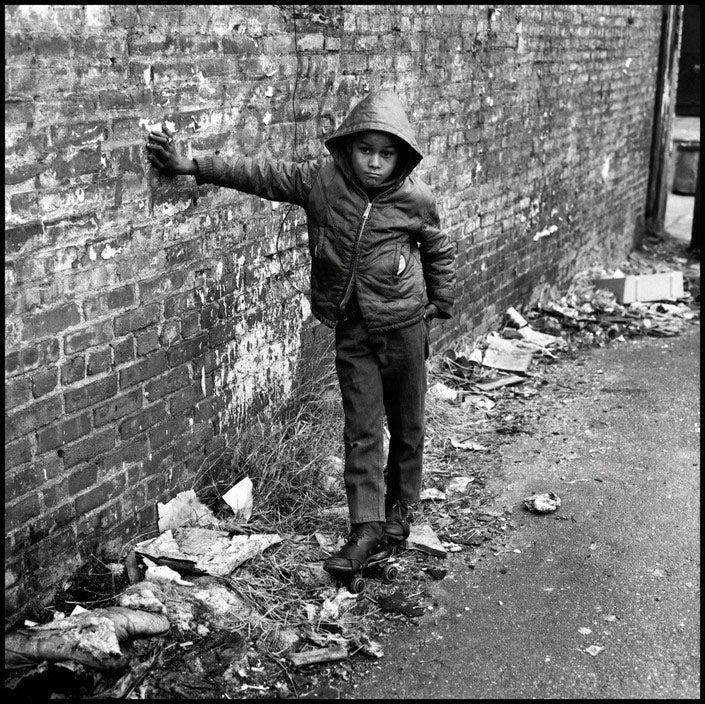 "In 1966, I began to document the neighborhood in Spanish Harlem known as 'El Barrio.' At first, I met with the local citizens' committee, Metro North, to obtain their permission to produce a document that would serve as a calling card, to be presented to local politicians, prospective business investors, and the mayor. The community workers took me around to meet and observe people living in abysmal housing. I witnessed people working together to improve lives and create a place of peace, power, and pride. At that point in American history, we were sending rockets to the moon and waging a futile war in Vietnam. I felt the need to explore the space of our inner cities and document both the problems and the potential there. I photographed the people of East 100th Street and their environment in an open 'eye to eye' relationship, using a large bellows camera with its dark focusing cloth. I carried a heavy tripod and a powerful strobe light along with a portfolio of pictures taken in the community. As I stood before the subjects, the physical presence of the classic camera lent a certain respect to the act of photography, placing me in the picture itself."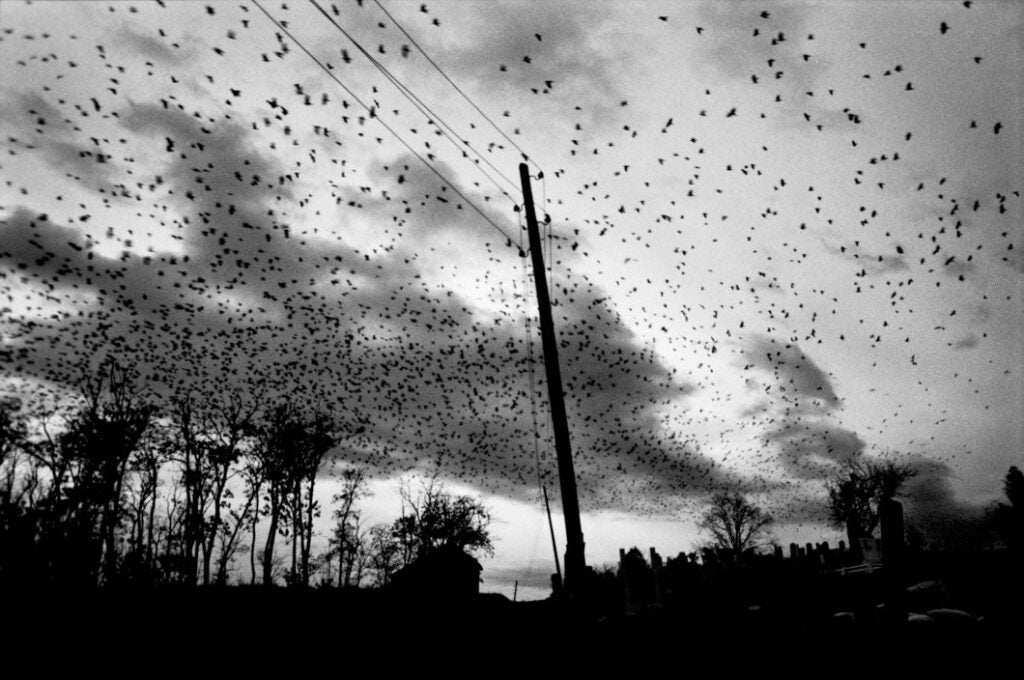 "But this particular photograph is representative of my time in Kosovo, a body of work that has, in a certain sense, changed my life. I was already a good fifteen years into my career when I first went to Kosovo in 1999, and it was the three years I spent on that project that made me feel I had really grown as a photographer. I've always been interested in a photography that can touch multiple chords—images that are descriptive while simultaneously transcending that to be more evocative and metaphorical. For me, this image tries to achieve that. The body of work I created in Kosovo was also part of my portfolio when I applied to join Magnum in 2001."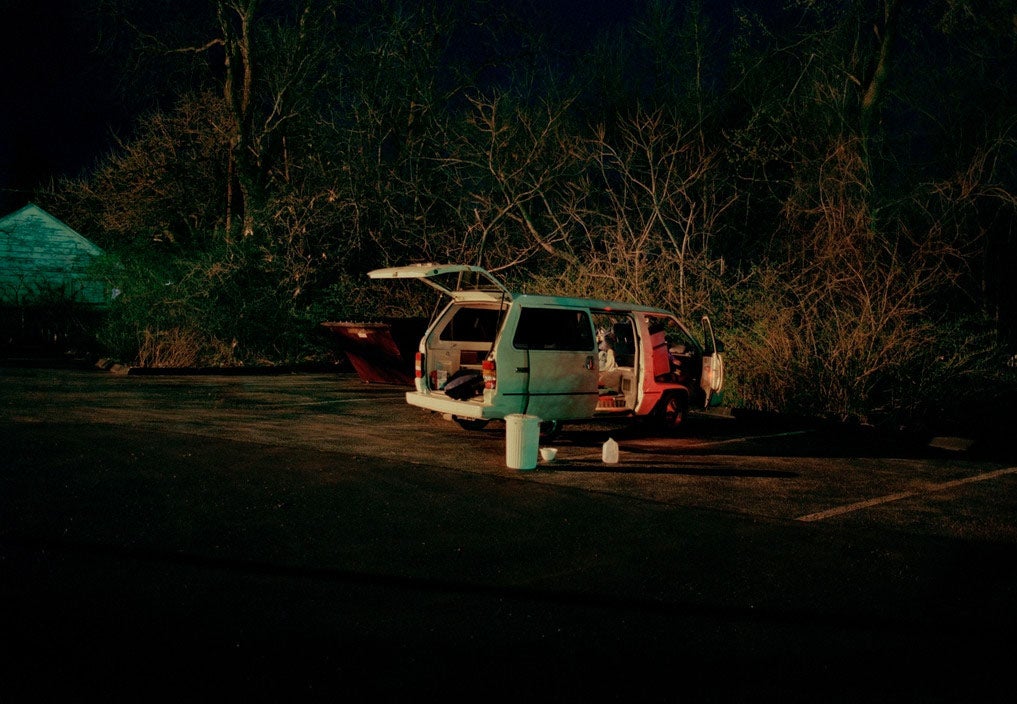 "We traveled from our home in Minneapolis to Memphis. Each night we'd hunt for a discreet place to park so that we could sleep in our van. We'd unload all of our bags and make a small bedroom. A decade later I would travel the Mississippi again for my first book, Sleeping By The Mississippi. This picture is like looking at the seed from which all of that work sprung."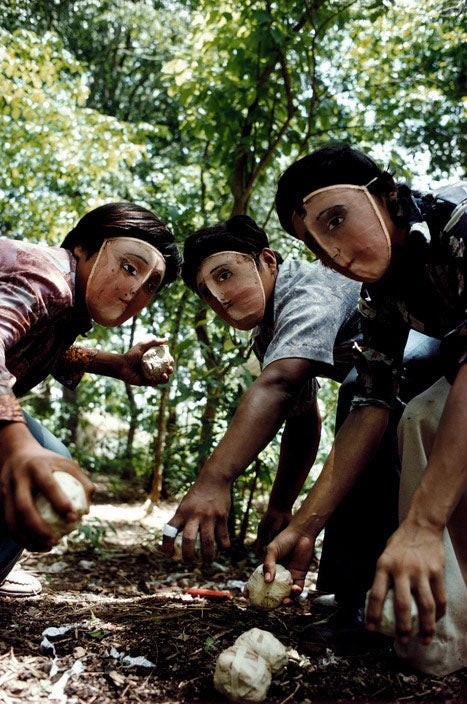 "It was the first time I felt a subject was using me to make the photograph they wanted so that their message could get out. It was taken in Masaya, Nicaragua just before the popular insurrection against the Somoza dictatorship took hold. The Indigenous community used these traditional dance masks to protect their identity. They were practicing future attacks with homemade contact bombs. They simply wanted the world to know. The surprise for me was that it was used on the cover of The New York Times Magazine, my first ever in the media. I remain ambivalent about the performative in photography. I have never thought of myself as a portraitist, and still prefer to make connections through a process of immersion."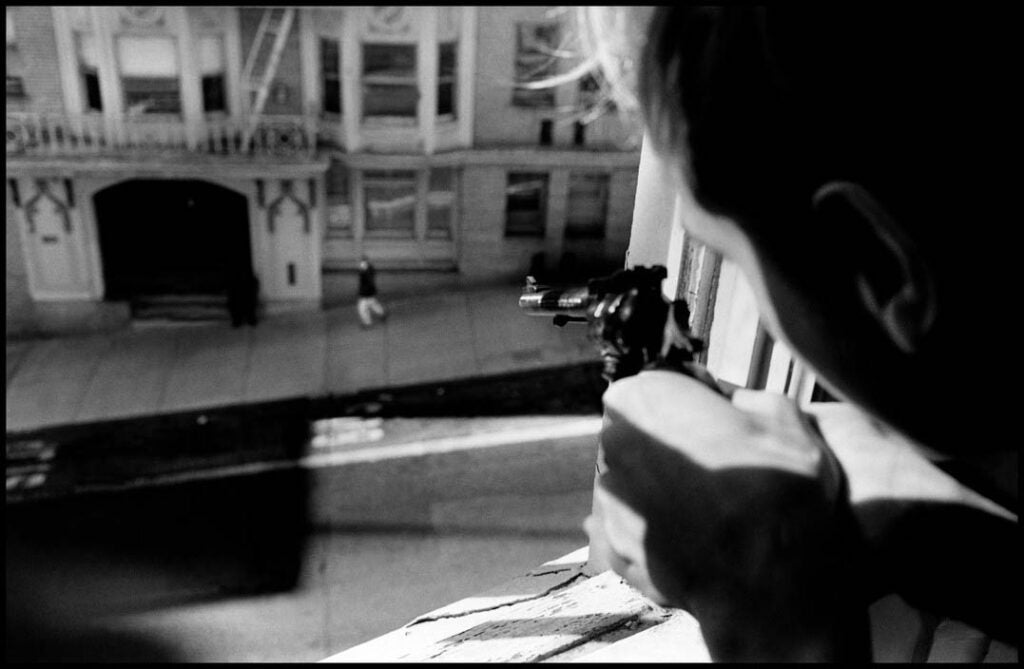 "A bunch of kids were camped out in the Riviera Hotel—boy hustlers and their Sugar Daddy. One boy, Tank, showed us his gun. "It's not loaded," he said. He pointed the gun to his head, then out the window, and then to the ceiling. When the gun was pointed to the ceiling, he pulled the trigger and it went off. The gun was loaded after all."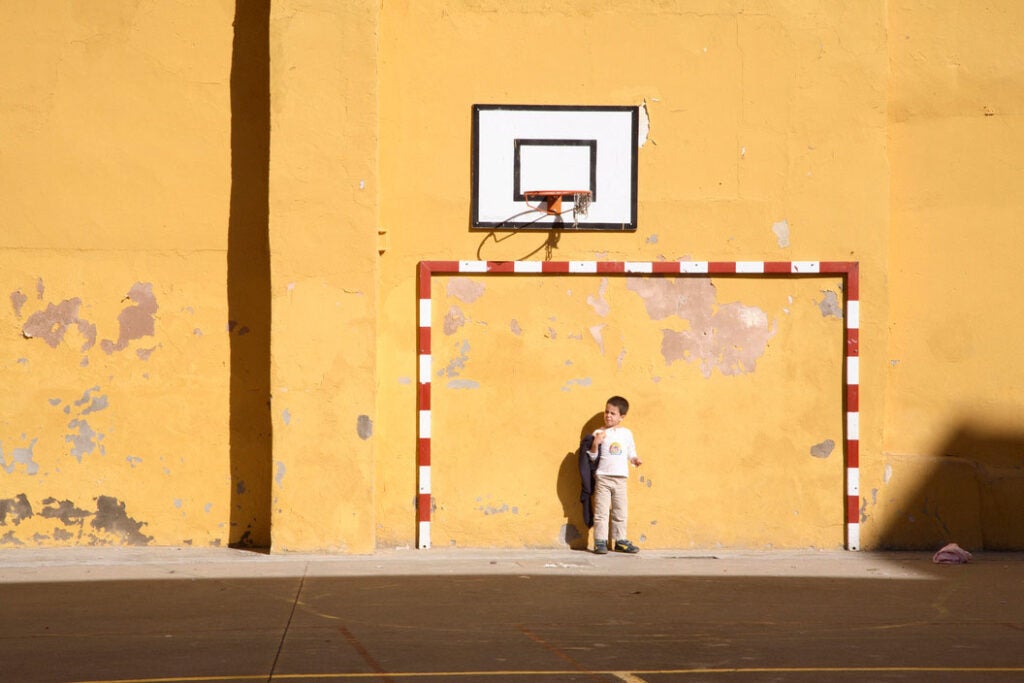 "I started shooting digital some 10 years ago. I had been using Kodachrome for decades, but digital techniques offered me many new possibilities and incredible flexibility. It stimulated creation."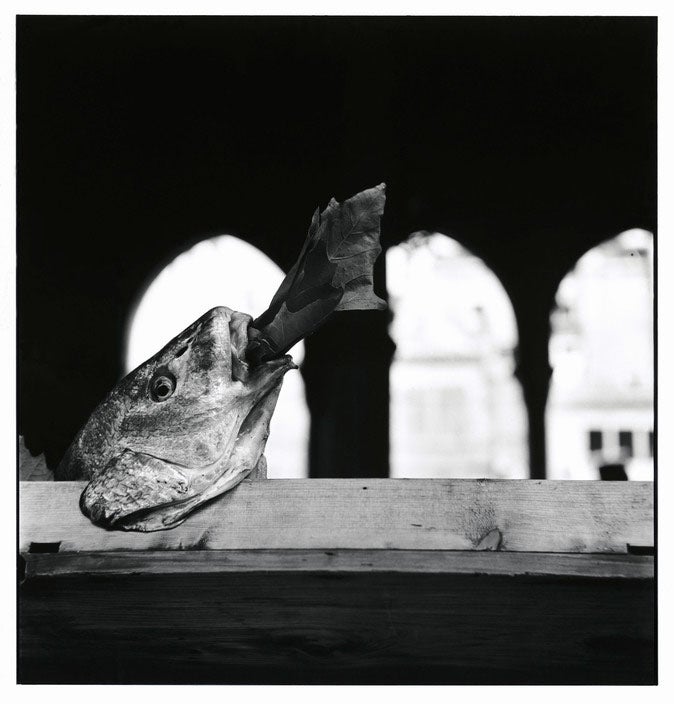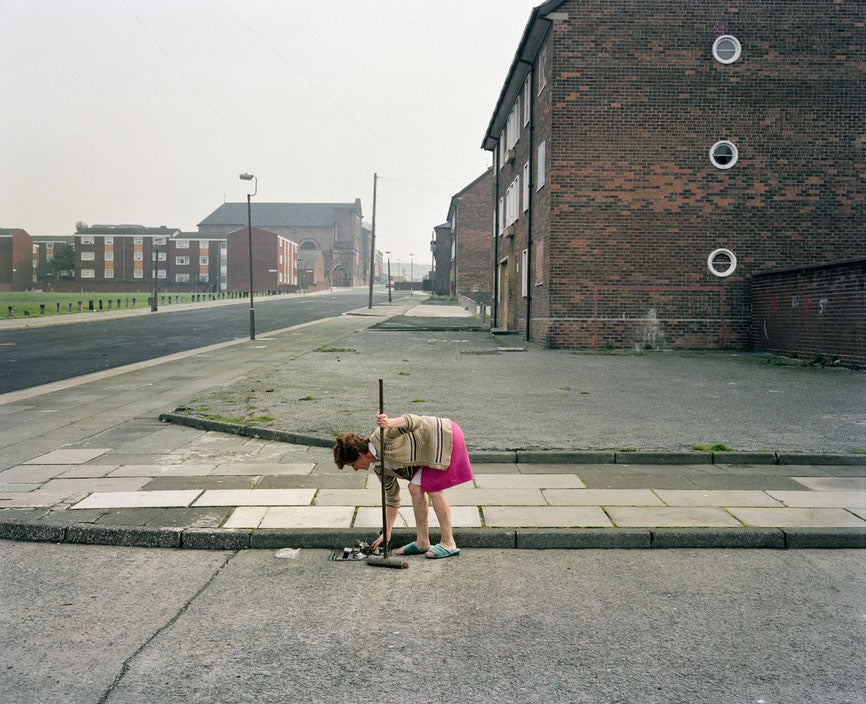 "With this shift from 35mm to 6 x 7, I also changed from black and white to colour. Later that year, I started my project on New Brighton called The Last Resort. However, the first project I shot in colour was composed of urban scenes from Liverpool. This image was on the second roll of film. It's the first good photo I made in this new chapter of my work."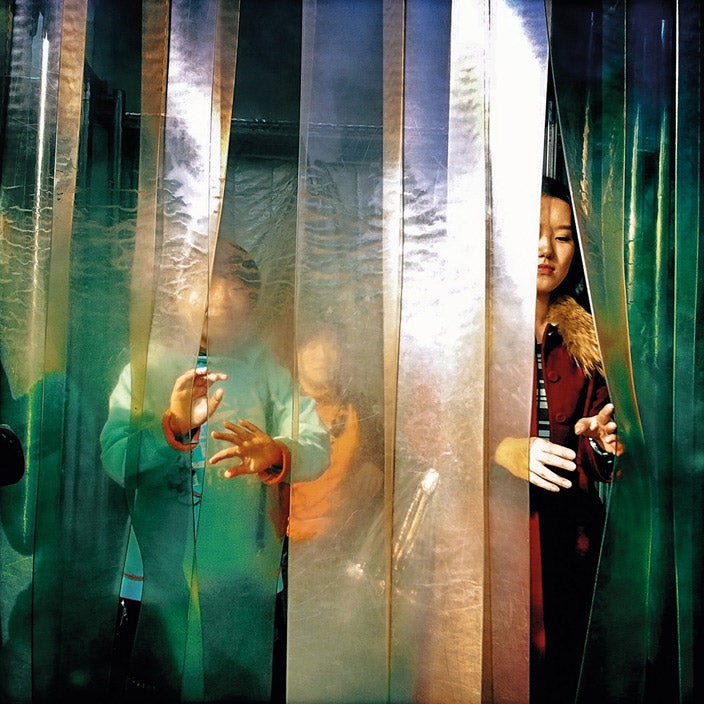 "I was living in China, taking road trips in my Jinbei van. Both that experience and the novelty of the phone was exciting, though I did not know that the phone would enable me to change—from someone who was used by photography to someone who was using photography. Without bags of equipment and the baggage and history of the photographic process, I was able to forget about photography and just focus on the experience. I then discovered what I needed to say."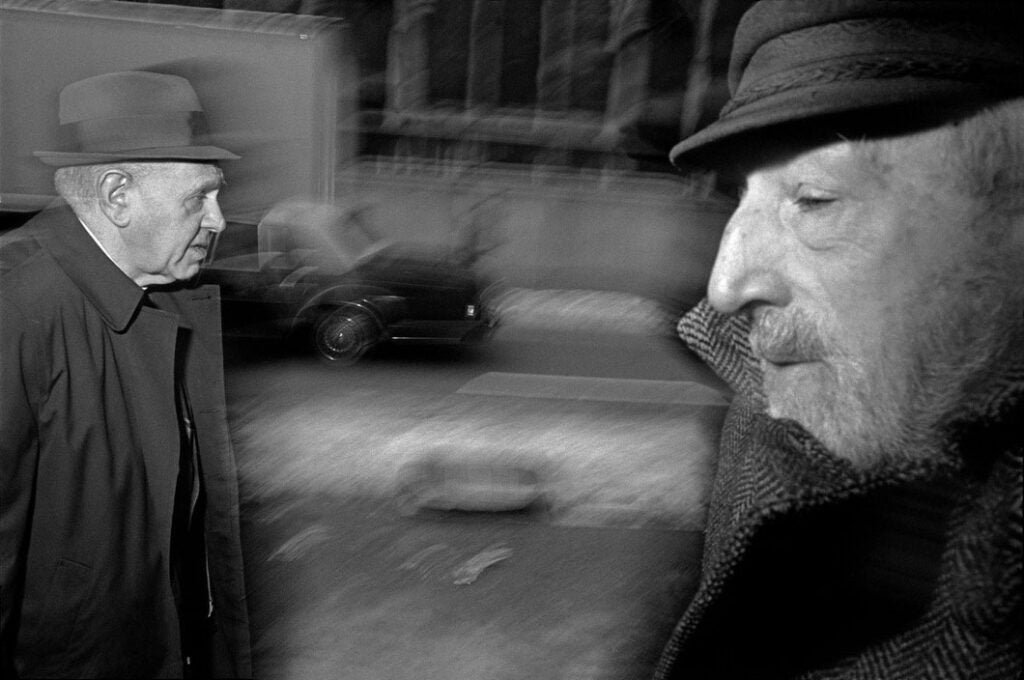 "I don't like to do things differently than the way I know how to do them. That's not because I don't like change—I just trust what I know. But I always loved film noir, and I always loved shadows. So in 1980, I shot like 600 rolls of film in the streets of New York and developed them all in one fell swoop in my bathroom. I looked at what I had and found that there was nothing good. Nothing. It was all shit because I couldn't separate the foreground from the background. I said to myself, 'Bruce, you gotta start using flash.' So I tried it, and immediately, making pictures started to feel like a fun game. I was trying things, playing and experimenting. This was the first picture I ever took with a flash that I felt really good about. It marks the beginning of something simple, but something that changed my life as a photographer."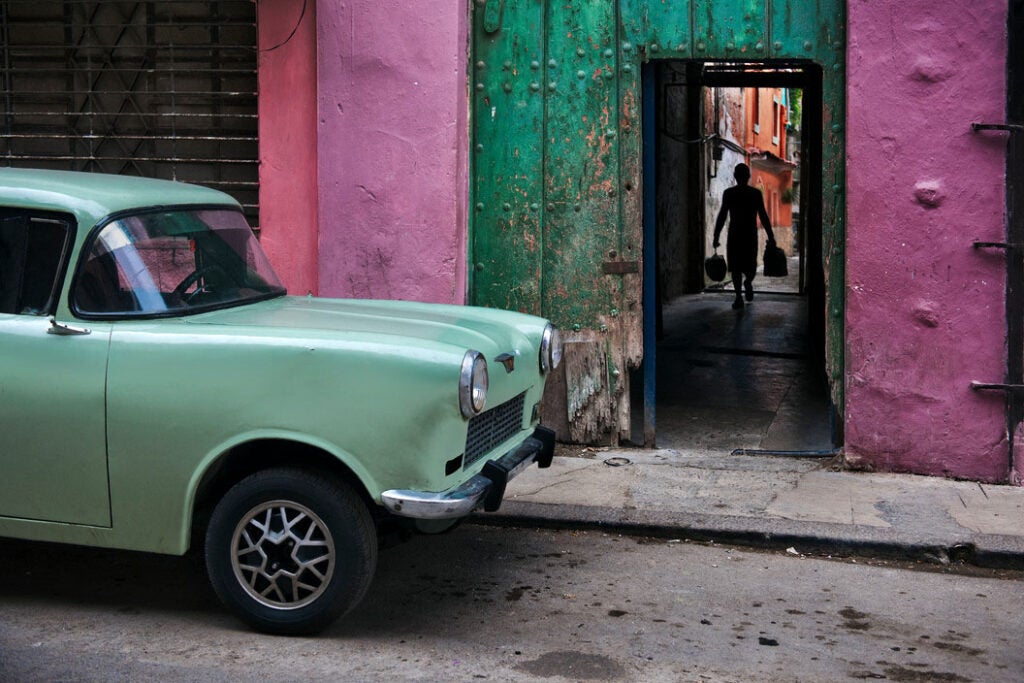 "Declared a UNESCO World Heritage Site, Old Havana is a time capsule of these wonderful vintage cars, and amazing architecture. There are few places I've yet to travel, and Cuba was one of those places until only five years ago. By the time I had started my career in photography in the '70s, the U.S. and Cuba had already cut all diplomatic ties in 1961. Since 2010, I've made multiple trips; one of my more recent trips in 2014 happened to coincide with President Obama's announcement to begin rebuilding the diplomatic ties with Cuba once more. I'm continuously drawn to the energetic scenes and people of Cuba, and I look forward to many more trips to the historic island."
One of the weirder things about photography is how few of the images a photographer shoots over their career are ever seen by the public. Images are captured, edits are mulled over, but ultimately only a few frames are seen widely and come to define a photographer's style. Knowing this, Magnum Photos challenged their collective members to revisit their expansive image archives before the 68th Annual General Meeting and find a single image that changed it all for them. Until Friday at 5 p.m. EST you can pick up a signed version of one of these game-changing images from 51 different photographers for only $100 during Magnum's third Square Print sale.
The sale, which launched this morning, "is a chance for photographers to have an excuse to reflect on their careers and their massive, massive archives," says Magnum's Creative Director, Gideon Jacobs. "Something that allows people to go back and dig is good."
But selecting a single image from careers that have spanned decades is no easy task. "A lot of photographers found it very difficult to think in terms of individual pictures," says Jacobs. "They think in terms of bodies of work. They don't really break it down by frames."
Paolo Pellegrin, the Italian conflict photographer, selected an image he took in Kosovo for a larger project that he says changed his life. "I was already a good fifteen years into my career when I first went to Kosovo in 1999," he wrote on the Magnum site. "It was the three years I spent on that project that made me feel I had really grown as a photographer." The work from Kosovo also happened to be part of the portfolio that Pellegrin submitted when he applied to join Magnum.
Some members of the collective approached the prompt from a more technical angle, selecting images that coincided with a shift in materials or equipment. Martin Parr chose an image from his early experiences shooting color film on a newly purchased Makina Plaubel 55mm fixed-lens camera. "This image was on the second roll of film," he wrote. "It's the first good photo I made in this new chapter of my work."
For Bruce Gilden, that moment was when he finally took a risk and started shooting the streets of New York City with a flash. "It marks the beginning of something simple, but something that changed my life as a photographer," he wrote.
Alec Soth picked a frame that was more personal; the image he selected was made during his first road trip down the Mississippi River with his future wife and his dog. "Each night we'd hunt for a discreet place to park so that we could sleep in our van. We'd unload all of our bags and make a small bedroom," he wrote. "A decade later I would travel the Mississippi again for my first book… This picture is like looking at the seed from which all of that work sprung."
Others, like Elliott Erwitt, chose something a bit more tongue and cheek—an image of a fish head taken in Italy. "The picture made me a vegetarian," he wrote. "But only for a while."
Magnum's 6×6 Square Print Sale will run until Friday at 5 p.m. EST and the signed prints are expected to ship by the end of July. A box set of the 51 prints can be purchased for $3,800.