Photojournalists Uninvited to Syracuse University because of Fear of Ebola
Two Pulitzer prize-winning photojournalists were disinvited from a journalism workshop at Syracuse University this weekend after a student discovered one … Continued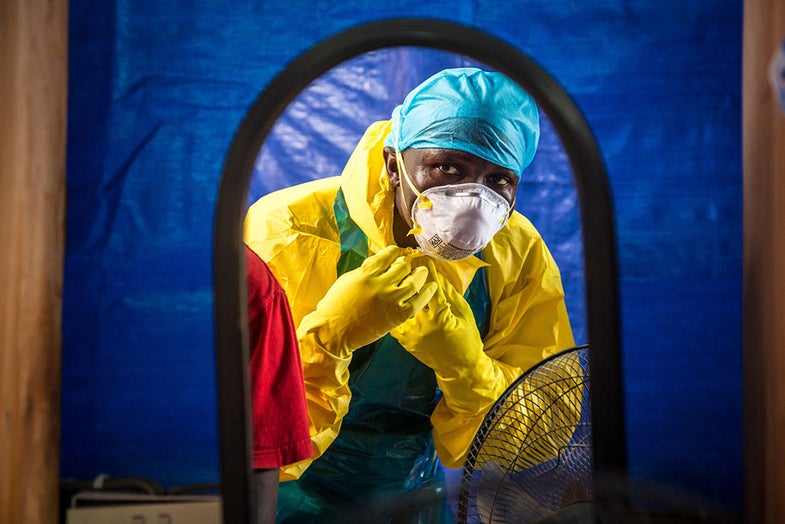 Two Pulitzer prize-winning photojournalists were disinvited from a journalism workshop at Syracuse University this weekend after a student discovered one of them had been working in Liberia.
Michel du Cille returned from Liberia, where he was covering the Ebola outbreak for the Washington Post, 21 days ago. He spent two weeks in the country, but has shown zero symptoms of the disease since returning home and has passed the incubation period established by the Centers of Disease Control and Prevention. Du Cille says he has been monitoring his temperature at least twice a day—but sometimes at least every hour—since he retuned from Liberia.
"I'm pissed off and embarrassed and completely weirded out that a journalism institution that should be seeking out facts and details is basically pandering to hysteria," du Cille told the Washington Post about the ordeal.
Du Cille's wife, Nikki Kahn, who was also planning to attend the workshop was uninvited as a precaution.
The Dean of Syracuse, Lorraine Branham, said she didn't realize that du Cille had even been in Liberia and the two photojournalists were asked not to come because of the concerns generated by a student. "It's my responsibility to protect the students," she told _News Photographer _magazine. "[Twenty-one] days is the CDC's standard, but there have been questions raised about whether the incubation period is longer. I knew parents would be upset and at the end of the day my concern is about the students."
The public has repeatedly been told that the best way to fight the spread of this virus is through awareness and education, so it seems strange that the University would cancel based on the concerns of a single student.
"The most disappointing thing is that the students at Syracuse have missed that moment to learn about the Ebola crisis, using someone who has been on the ground and seen it up close," du Cille told the Post. "But they chose to pander to hysteria."
And the real kicker? Earlier this week du Cille was at the CDC, photographing the director.