Photojournalist Has Rifle Pointed in Face While Covering Ferguson Protests
On Sunday evening, while covering the ongoing protests over Michael Brown's killing in Ferguson, Mo., Daily News photographer Pearl Gabel...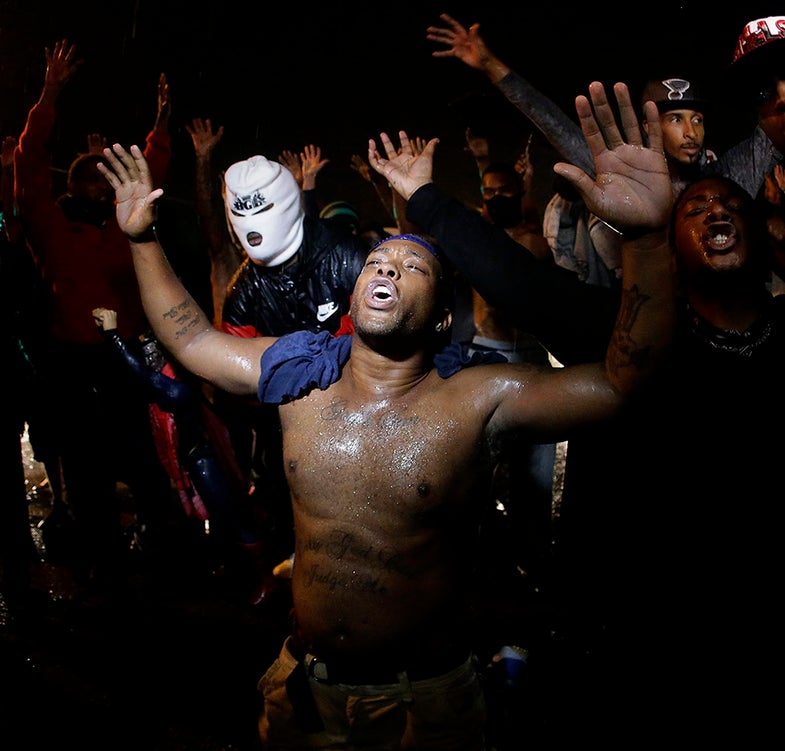 On Sunday evening, while covering the ongoing protests over Michael Brown's killing in Ferguson, Mo., Daily News photographer Pearl Gabel reportedly had a rifle pointed in her face by a police officer and was briefly detained. Gabel is the reportedly the third journalist to be arrested while covering the protests since an officer fatally shot and killed an unarmed teenager on August 9.
Gabel says she was walking toward the police with her hands raised above her head, to signal she wasn't a threat, at approximately 1 a.m.—an hour after the midnight curfew that was imposed in Ferguson on Saturday evening.
"Suddenly an officer pointed a rifle at my face," she wrote in her account of the incident, which was published by the Daily News.
In a video captured on Gabel's camera and posted on the Daily News website, you can hear an officer screaming at Gabel to "get on the ground," to put her camera on the ground and to "put your hands behind your head!"
"You're under arrest for curfew violation," the officer shouts in the video. Gabel remains calm as she explains she is a member of the press and has a press pass under her poncho—even, she reports, as her cell phone and two cameras were confiscated by the officer. Gabel says she was uncuffed and her gear was returned after the officer "was satisfied I was a newspaper photographer doing my job."
The full video of Gabel's encounter with the police can be seen here.
Gabel isn't the first journalist to report being detained by police while working in Ferguson. On August 13, Ryan Reilly of the Huffington Post and Wesley Lowery of the Washington Post were also arrested while reporting. Both journalists were inside a Ferguson McDonald's that, according to Lowery, was being used by many members of the media as a place to file stories and recharge batteries, when officers came in to clear out the restaurant. Unlike Gabel, who was quickly released, Lowery and Reilly were taken to the Police Department and put in a holding cell before being released without charges.
Lowery wrote about his interaction with the police and also took video footage, which appeared on the Washington Post, of an officer telling him to stop recording moments before he says he was restrained and taken to jail.
Since Michael Brown's shooting the ACLU of Eastern Missouri has been working to prevent protestors and members of the media from having their First Amendment Rights violated. As a reminder, members of the media and public can legally photograph and record police activity on public streets and sidewalks "unless it obstructs the activities or threatens the safety of others, or physically interferes with the ability of law enforcement officers to perform their duties."
A detailed explanation of photographer's first amendment rights can be found on the ACLU's site.