Photojournalist David Guttenfelder Featured in New Squarespace Campaign
"It felt a little strange to have the camera on me"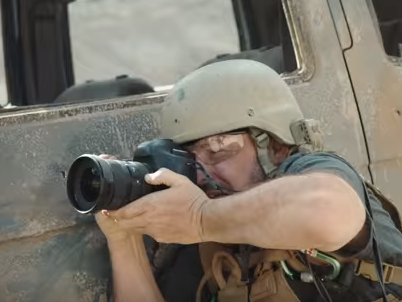 Ad campaigns launched during live television events, like this weekend's Academy Awards, are big business for brands. This year Squarespace has chosen to focus its 30-second campaign on the life of award-winning photojournalist David Guttenfelder. The extended minute-long version, which was directed by Noam Murro (300: Rise of an Empire), can be seen above and traces Guttenfelder's life as a young boy running through cornfields in rural Iowa with an old polaroid camera to his day's covering combat in Afghanistan.
"It felt a little strange to have the camera on me and for me to be the story," Guttenfelder tells American Photo about shooting the campaign. "I was asked to re-live or even play myself during different points of my life. Quite honestly, it's a crazy fast-paced life with a lot of experiences that I probably haven't had time to stop, think about and digest."
Condensing the life and work of any photojournalist into a minute-long spot would be a challenge, but Guttenfelder—who is currently represented by National Geographic Creative, is a seven-time World Press Photo winner, a seven-time finalist for the Pulitzer Prize and has huge Instagram following from his work in North Korea—has had a particularly prolific career. Although the scenes portrayed in the campaign were all shot to be representational, rather than factual, the experience of being surrounded by 200-person film crew and re-enacting some of those moments was a little surreal for the photographer.
"It's clearly a very cinematic and dramatic view—peak moments in a photojournalist's life," he says. "It's not going to reflect everything, especially the more mundane parts, but I think it got across the part that was most important to me. The all-consuming life decision that it is to go and be a photojournalist … that you make when you are young, to do this kind of work and to put yourself out there. That decision has to be made over and over again in your life."
You obviously can't cover it all in a minute, so in addition to the ad spot, Squarespace launched Field Stories, which highlights 14 of Guttenfelder's impactful images and pairs them with audio tracks where he speaks about the circumstances in which the pictures were made. There are high-tension stories from his time in Afghanistan covering the war and its aftermath and the cleanup from Japan's triple-disaster, but also quieter day-in-the life moments from Cambodia's floating villages and fishing communities in Laos.
"I don't like to be on the other side of the camera, but I think people are very in interested in how we work and how we get to where we need to be to take photos," he says. "These were pictures that were triggers to talk about what it's like to work and how the picture was made."
It turns out that making award-winning pictures means often working in unforgiving conditions—dusty, damp, extreme heat, bitter cold—all things that can do a number on camera equipment. "My various employers would say I have a reputation as a gear smasher," Guttenfelder says. "I try to take care of my cameras as best I can. They are fragile, but I don't worry about them so much that I don't get into the water or get into the thick of it."