One to Watch: Matt Eich Can Do It All
Even as an undergraduate at Ohio University in Athens, Ohio, Matt Eich had a rigorous work ethic. He freelanced as … Continued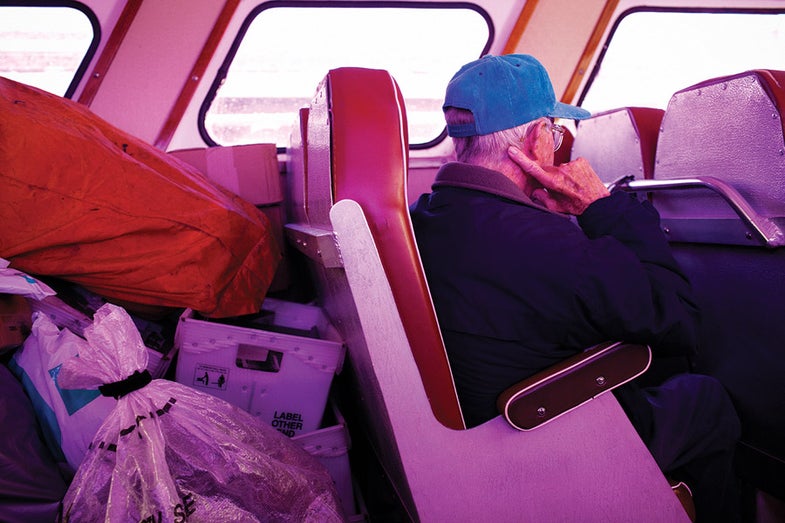 Even as an undergraduate at Ohio University in Athens, Ohio, Matt Eich had a rigorous work ethic. He freelanced as a photographer, interned at newspapers including the Orange County Register in California and Portland's The Oregonian, and picked up honors as the 2006 College Photographer of the Year, always a career boost.
Then, when Eich was 21, he became a parent, and life changed dramatically. "I knew I had to up my game if I was going to be able to support my family," says Eich, now 26. "I couldn't rely on one client or one market. I needed some stability."
And up his game he did. Since graduating in 2008, Eich has built a roster of A-list clients such as Apple, AARP, National Geographic, Time, and Newsweek. He's earned grants including an Aaron Siskind fellowship, a National Geographic Magazine Photography Grant, a ShootQ Grant, and a National Press Photographers Association Short Grant. He's received international awards and his work is in several museums and private collections.
This year Eich will present a new solo show (his sixth) in collaboration with the Virginia Museum of Contemporary Art in Virginia Beach for his project_ The Seven Cities_. "I wanted to find a reason to work close to home," he says. "I pitched to the museum the idea of photographing all the cities that make up what's known as the Hampton Roads and how dependent the area is both on the water that surrounds it and the military industry."
Other work has come from the photo collective LUCEO, which Eich formed with five friends in 2007 to provide mutual creative feedback and camaraderie; he left it in 2012 to pursue other projects and spend more time with his family. "I thrive in a creative community, and that's what LUCEO was for me," he says. "We would critique each other's work and that's where the real learning happened."
While with LUCEO, Eich began an ongoing project, The Invisible Yoke, which comprises The Seven Cities as well as two other series, Carry Me Ohio and Sin & Salvation in Baptist Town. The latter began in 2010 as a brief assignment on rural health care for the AARP Bulletin. Baptist Town is a neighborhood in Greenwood, Mississippi, plagued by poverty and crime but held together by a sense of family and community. "I knew there was a much bigger story there about the real legacies of racism in the South, so I begged my editor, Michael Wichita, to send me back," he recalls. "I brought prints to the people I had photographed and made friends."
After his second visit, one of the people he'd befriended, Demetrius "Butta" Anderson, was shot to death. Eich needed to photograph the funeral—but he was broke. "I didn't even have money for gas, so a friend gave me money and my editor got me an assignment so I could spend 48 hours there."
Even more determined to finish the project, he raised $5,690 through the crowd-funding platform Emphas.is so he could spend a month in Greenwood. Then in 2012 he received $32,000 in grants, which he applied to continuing the series. "The Baptist Town project functions well for me in the documentary sphere, but that's not enough for me anymore," Eich says. "I want the images to function for the community, so I've been thinking about how to have it play out in the streets or in social media." This idea was sparked when he used Instagram as a sort of digital Polaroid to engage people. "Instagram is much more permanent than a Polaroid if I can tag [the subject] on a social site."
In upping his game, Eich always has different projects in play. Between sessions on The Invisible Yoke, he shoots commercial work. "I hope that people hire me for the way I see," he says, "but I also hope they know my pictures aren't always dark. I find that I can create a situation—and then real moments will occur if I step back and let life unfold."
CLOSE-UP: Matt Eich
MattEichPhoto.com
Lives In: Norfolk, VA
Studied At: Ohio University
Awards: F25 Award for Concerned Photography, 2010; Pictures of the Year International Community Awareness Award, 2009 Clients Include Apple, Bloomberg Businessweek, Esquire, GQ, Harper's, Mother Jones, National Geographic, Time, Sentara Healthcare
In the Bag: Canon EOS 5D Mark II; Canon EF lenses including EF 35mm f/1.4L USM, EF 24mm f/1.4L II USM, and EF 50mm f/1.2L USM; Canon Speedlite 580EX II