Michael Zagaris speaks about his career as a rock 'n' roll photographer
"I can't play guitar, so I'll play camera."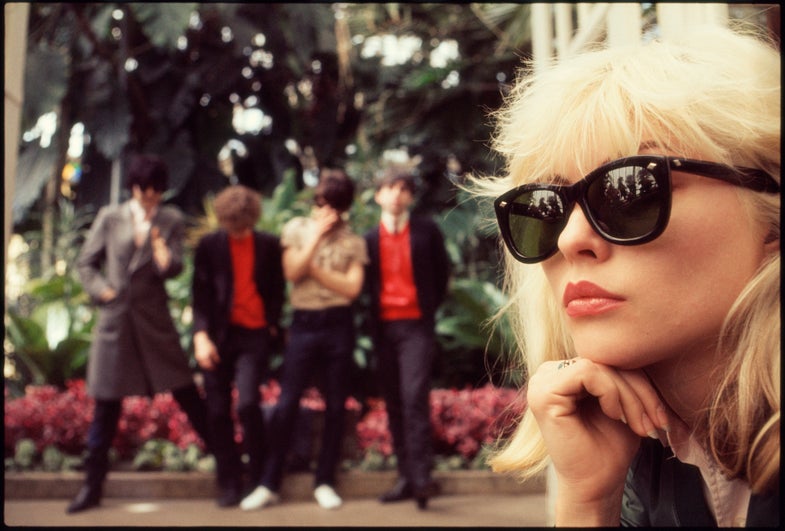 Michael Zagaris has had a strange trip, to say the least. In his early 20s Zagaris began documenting the 1970's San Francisco music scene, where he captured images of now-iconic artists such as Blondie, The Grateful Dead, Lou Reed, Eric Clapton, Patti Smith, The Clash and more.
Earlier this year Zagaris released Total Excess through Reel Art Press, which brings a number of these images together. A show by the same name is currently on view at Milk Gallery in New York. Zagaris spoke with us about his unlikely journey to photography and what it was like to cull through his massive archive.
Before you started shooting you worked in politics alongside Robert F. Kennedy, it seems like you had a bit of 180 professionally after he was assassinated, tell me about what happened?
Really I didn't start out in the political world, I was going to school on a football scholarship and I was working on the Hill in DC. My plan, at that point, and this sounds insane to people that live now, I wanted to play professional football for a few years, then I was going to run for congress, and then I was going to run for the senate. Then I was going to be president. In that time, that wasn't that crazy. There was a lot of idealism. It was really pre-Beatles, pre-revolution. The assassination was really the demarcation point. That changed the direction of my life.
I started experimenting with LSD. I was doing that, not to get fucked up, not to escape, not to get high. I was searching for truth and for myself. That first acid trip completely pulled the veil back. I learned more doing that than I did in college, law school, working for the Kennedys, it was like an eye opener. When Bobby was assassinated, I had to fly back to San Francisco, and I was in law school, Santa Clara University. By that time, I was really disenchanted with law school. I had initially gotten into it as part of the vehicle of how I would vault into politics. That was what you did. I saw early on, for me, it wasn't about justice and helping people. Most of the people that I was in law school with, at that point in time, were there for the status.
After the assassination and the LSD, I started hanging out at the Fillmore in San Francisco. The music scene here was just exploding. At that point, I decided to write a book on how English musicians had come over here using our American blues roots, much of what we had never heard, and with their flamboyant dress and stage presence, they were kind of changing our culture, while in turn, being changed by it.
Right, and when you were first starting out you saw yourself as more of a writer than a photographer, correct?
I'd have a camera with me the way you'd have a camera with you on a trip, a tape recorder and a couple joints in my pocket. About a year into it, I'd done an interview with Clapton, just about the time Cream was breaking up. I wanted to show him the transcript of the interview we had done to make sure everything was okay. He started going through the transcript of the interview, and I had some proof sheets with me. I'm marking proofs as he's going through the transcripts. At one point he goes, "Oh what are you doing there?" I said, "I'm just marking these proof sheets." He says, "Oh, can I have a look?"
He started looking, he says, "Look, man, these are fucking great. Can we use these? We'll pay you." At that point in time, as crazy as this seems, I'm like, "Wow. This is what I think I'll do," because I was searching for something when the law school thing was done.
When you were shooting these musicians did you have a sense of how influential many of them would become?
No, it was more about the moment. Not just my life, but I think our lives and our, meaning anybody that was interested in that. We were living moment to moment then. Everything seemed much more intense. I thought they were all incredible, all these moments, but I didn't have the overview of, "Wow, I'm capturing some iconic history." That never really came to mind. Certainly not then.
We were all caught up in it. When you're young, I don't think you're aware of a lot of these things. The other thing I think, we thought, a lot of people in my generation, I think that we thought we were actually changing the world. When I look back at it now, I think there was something more metaphysical happening in the universe that we were probably channeling. The same thing probably happened in Renaissance. We were caught up in something, it was much bigger than any of us. Even now in retrospect, it's hard to articulate.
When did you begin editing for Total Excess?
I'd been thinking about the book for probably ten years, but really began editing about four or five years ago. It was really meeting my good friend Dagon James, who used to edit Lid Magazine out of New York. I told him about the book. He wanted to do the book, and we started assembling things. He moved to San Francisco after Thanksgiving last year and that's when we plunged into the book in earnest. We worked, probably nonstop, six to eight hours a day. Not everyday, but many days. Dagon did the design. The design, to me, is off the charts. The design was always important to me because I felt the design compliments the pictures. His design is unconventional, to say the least. It was this great collaboration, and working on the book, it was, to me, as fun, as exciting, as living the life I lived for 10 or 12 years doing the pictures when I was shooting. In the end, when we were finished, it was both a relief, and I was kind of depressed because it's the old adage, it's not about the final goal, it's about the journey.
I love how you've included full proof sheets in the book and in the show that is currently on view at Milk. Why was that important to you?
I never went to art school and I didn't go to photo school. I was a magazine junkie: French Vogue, Italian Vogue, Photo, the French Photo, Creative Camera out of Switzerland. All these incredibly dynamic, graphic photography magazines. I learned from them. Also people like David Bailey, when they do their books, they would have proof sheets. I always thought from a design and photography point of view, the proof sheet tells a whole story. I thought it was important to include that. It's an artifact. The same way a color slide, a transparency. It's an artifact unto itself.
I never considered myself a photographer. I always took pictures from the time I was a kid, but you know, honestly for me, the camera was always, and remains, an entrée to a world I want to inhabit and become, at that point in time. With the bands, I wanted to fucking be in the bands. I wanted to be Ten Years After; I wanted to be The Clash. I can't play guitar, so I'll play camera. In those days you were backstage, it was like you were a member of the band. I wanted my pictures to reflect that and really be kind of an inside out view. If you're looking at them, whether it's tomorrow or in 40 years, you get a feeling that you are with them.
Total Excess will be on view at Milk Gallery through Dec. 18.