Matthew Pillsbury's magical long exposures
Photographs that make viewers face the fleeting nature of time.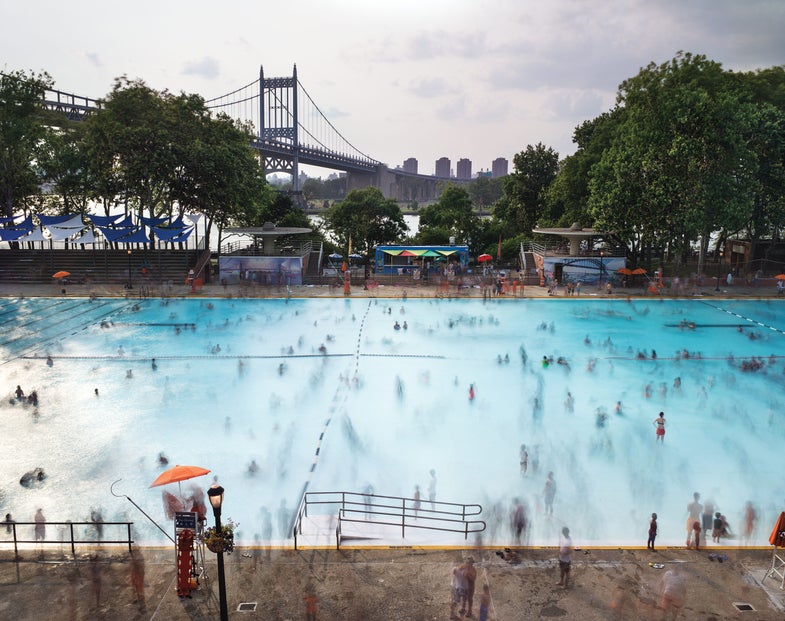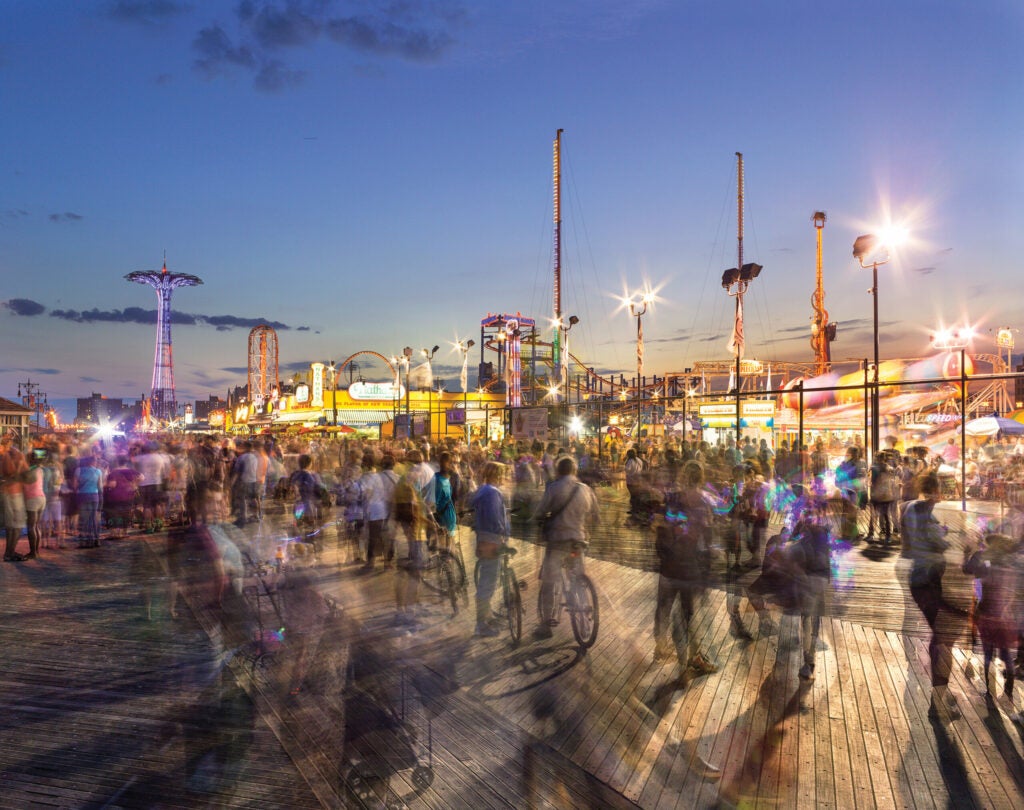 It all started because Matthew Pillsbury really wanted to watch television.
As a student at the School of Visual Arts in the early 2000s, the photographer—born and raised in Paris, now based in New York City—still felt a nagging void from his childhood. "My parents didn't, alas, have a TV. So I would go over to my friends' houses and watch TV with them," he says. "In a weird way that's what I rebuilt in making these pictures. I'd become very interested in the time that we spend watching favorite TV shows, and how unaware we are of that."
The project turned into Screen Lives, a series of black-and-white, long-exposure photographs of people engaging with their televisions and, as the project expanded, their computers and mobile devices. Drawing obvious inspiration from Hiroshi Sugimoto's ongoing series of photographs of movie theaters, at first Pillsbury defined the length of exposure strictly by the length of the show being watched.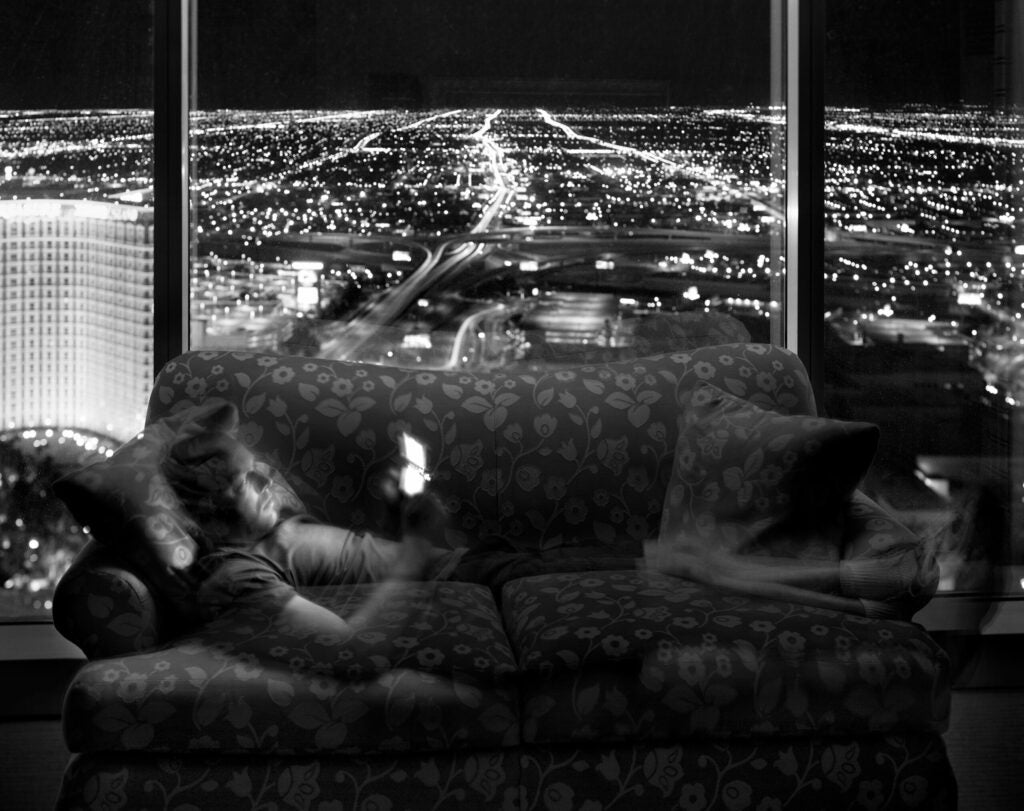 "Now it's more of an artistic decision, less rigorous," he says—one that invites the photographer to experiment with the effects of various exposure times, even though at this point he can estimate pretty closely the effect of a given exposure time in a given setting. "With computers and cellphones the question became 'What's representative of your use of it?'"
After shooting his friends watching their favorite TV shows, Pillsbury soon realized there could be more to it than observing people veg on the couch. "Seeing the pictures, I realized that something really magical had happened. You had these familiar environments, and these familiar scenes, and yet, through seeing a long exposure of it, it was truly transformed into something that was magical and surprising."
He adds, "it's about our culture's relationship to technology." So he moved outside to observe groups of strangers interacting with screens and other objects in public spaces.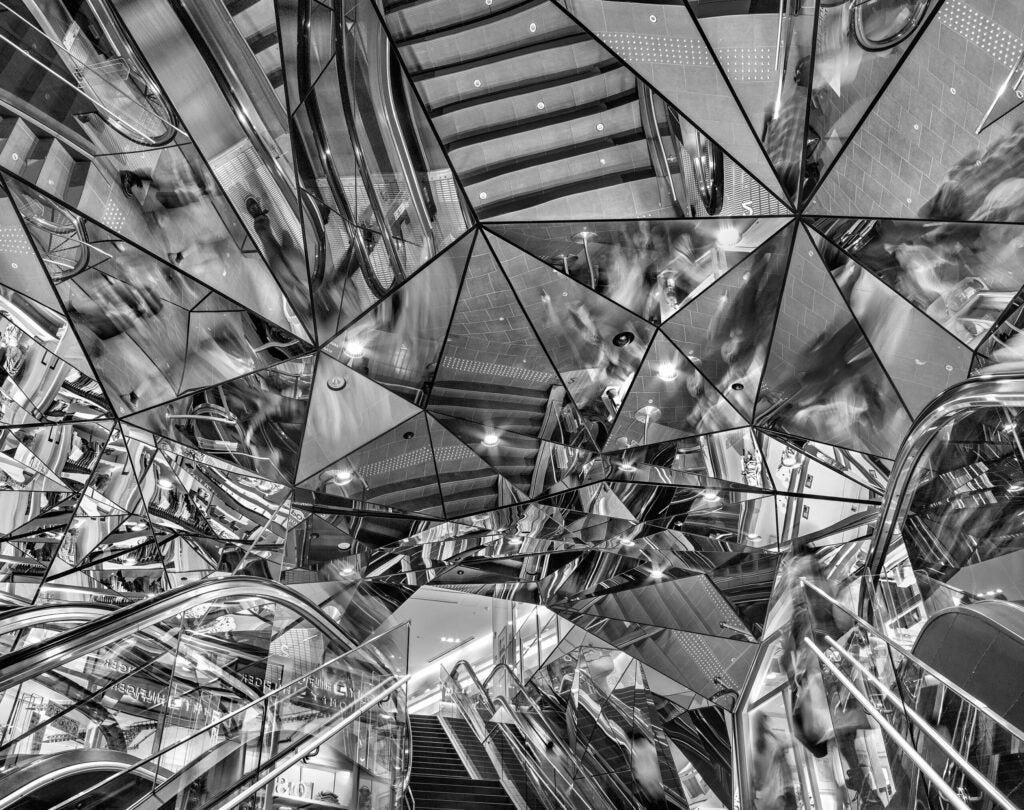 The Pokémon GO craze has brought our relationships with our screens into high relief recently. And in most of Pillsbury's photographs of public spaces, the people who remain clear in the image have phones in their hands. "I think almost all my work is [an extension of Screen Lives], in some ways, because I don't think there's a way of addressing modern existence without addressing the role of technology in our lives."
That cultural shift is what has kept Pillsbury interested in making long exposures. "What's interesting to me is that so much of photography initially was about asserting presence: 'I was here; I exist.' In my work I'm questioning that. A photograph is in fact making us [face] the fleeting nature of our time as opposed to being a statement of our presence."
His long-exposures of iconic settings—visitors to the Louvre, commuters in Grand Central Terminal—remind us how ephemeral our existence really is and unites us through a shared experience of the artifact, the monument, the swimming pool, the TV screen. "Somehow you can make a picture that makes people stop and question their experience of a similar moment," he says.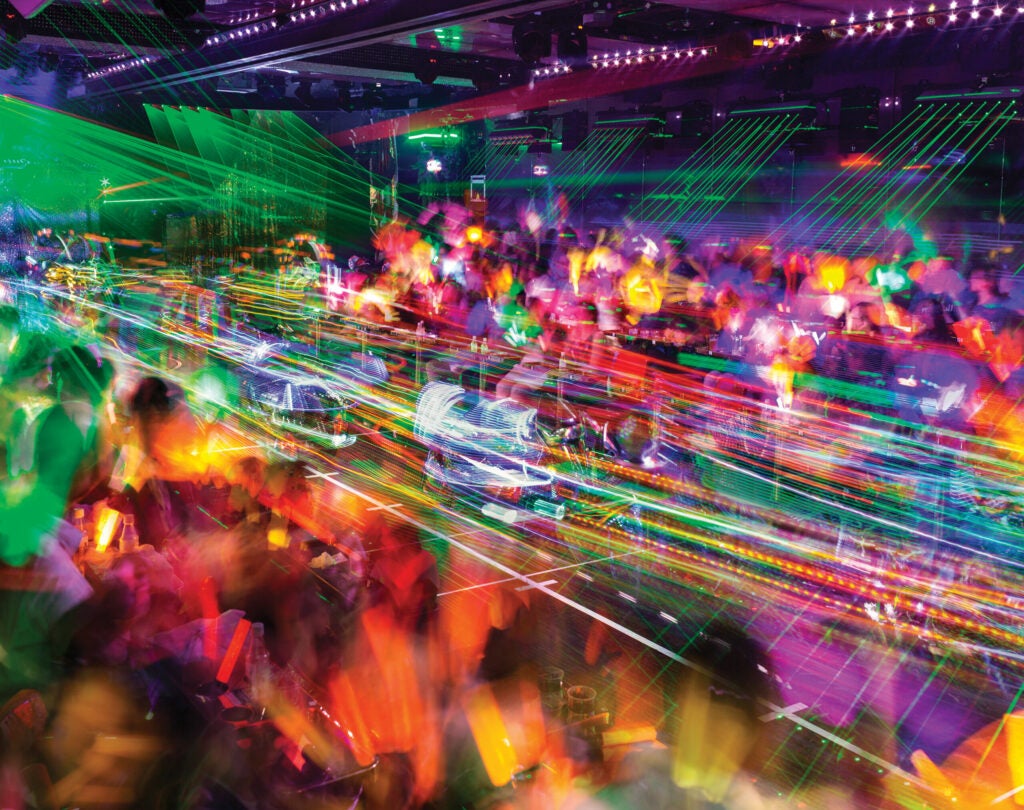 Much of long-exposure photography, in both technique and aesthetics, relies on trial and error. "As much as I can anticipate certain parts of the picture, the results are still surprising," he admits. What counts is the play of moving and stationary elements. "When you pull up the negative for the first time and look at it, there are these details that become the big parts of the picture."
His images of Coney Island and New York's Astoria Park swimming pool capture a haze of people. These are exposures of less than a minute. "If I had done an hour-long exposure, the pool would probably look empty with the exception of a few people sunning themselves, who would probably look like corpses," he says. "The activity happens so fast that to capture it in any meaningful way you have to do a much shorter exposure."
Another challenge of shooting long exposures—and an advantage of doing it in black and white—is making sense of the various light sources, since they vary in intensity and change in different ways over the course of a long exposure. But in monochrome, Pillsbury, says "they can be merged into a single visual experience and read as one space." Unless the goal is visual cacophony, as in his vibrantly colored photo of a Tokyo restaurant.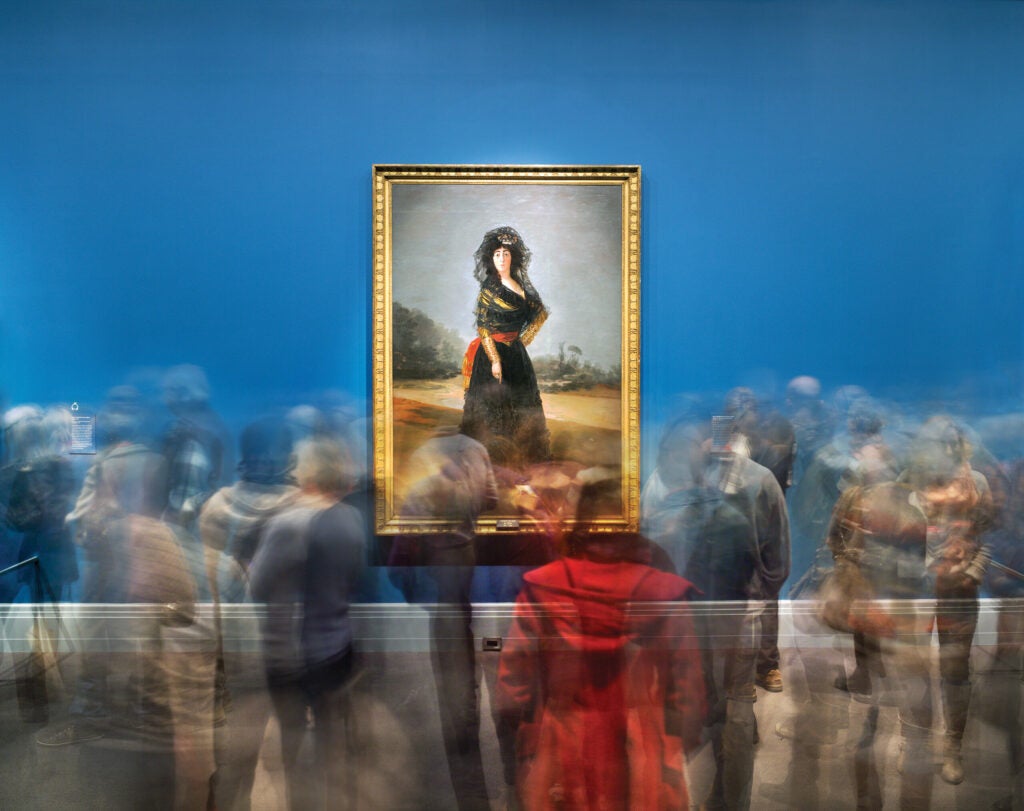 Of another photo, taken in Paris, he says, "At Sainte-Chapelle all the tourists had cameras with flashes, and it was driving me crazy. I thought for sure they were ruining my picture. Then I saw the picture and was like, what are all these spots?" The flashes, of course, appearing as if the parishioners are holding up candles. "The accident of that happening is more special."
How long to leave the shutter open? Pillsbury's exposures in public spaces as a rule are shorter (1 to 15 minutes) than those in private settings where there's not as much action. He searches for the sweet in-between spot to find something new. "If I do too short of an exposure, I won't reveal anything about the use of the space. An exposure that's too short becomes just what we have experienced that space to be. It's about finding something surprising," he says.
One thing absolutely not left to chance is the use of a neutral-density filter. "If you're shooting in broad daylight on a hot summer day, even if you shut the camera all the way down your exposures can't be more than about a second," Pillsbury advises. "You need the ND filter to be able to get a few minutes."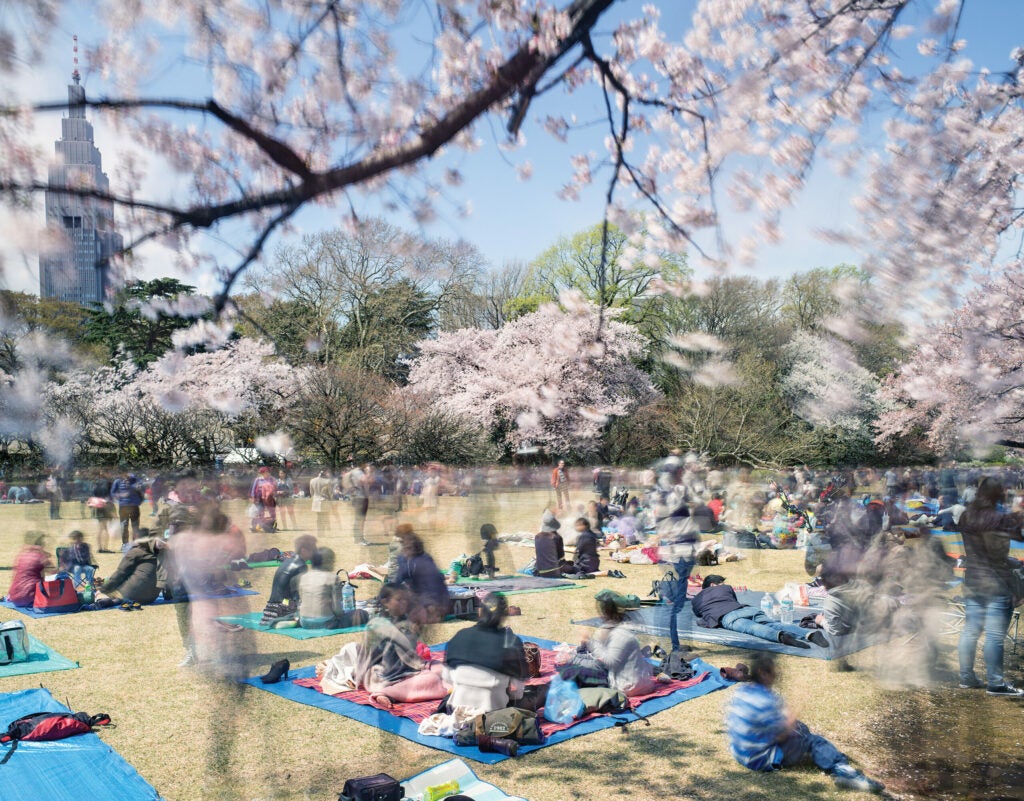 As a matter of fact, Pillsbury leaves very little to chance when it comes to gear. A sturdy tripod, of course, is a given. He used a single lens—a 9 1/2-inch f/6.8 Goertz Dagor—on the large-format Deardorff 8×10 that was his sole camera until a few years ago, and he uses a single lens—a 45mm f/2.8 Phase One AF—on the digital medium-format Phase One system he switched to in late 2013. (His current rig: the 45mm lens, a 29mm equivalent, on a 645 DF+ body with an IQ260 back.)
"I've never been the most technically minded," he says. "If you have all these different choices, you end up thinking about that instead of the picture that you want to try to make. The choice [of tools] is only interesting in that you don't want to be digging a giant hole with a teaspoon. To me finding something new in the environment to look at and question is where the interest lies."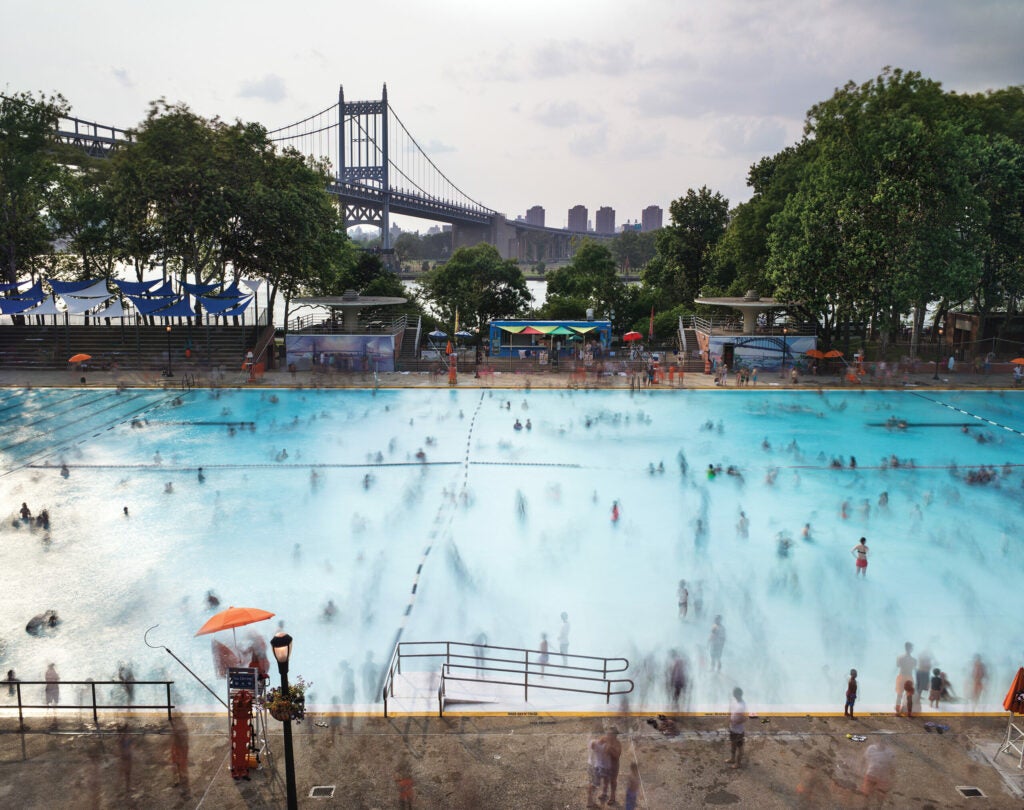 And this is the beauty of long-exposure photography, Pillsbury says. Using the basic tools of photography, you can take a single parameter—length of exposure—and, changing nothing else, explore an idea, or the world, in great depth. You can chew on a single question, study it from different angles, for years. Paring down in this way reveals one of the most important skills of taking good pictures over years: staying interested.
"It's the heart of the struggle as an artist," Pillsbury says. "Tonight I'll get on my bike and head out to Coney Island. I photographed in Coney Island last summer, and it's interesting to be compelled to find something new." And quite likely, more interesting than watching TV.