Where is the 9-year-old smoker photographed by Mary Ellen Mark?
NPR tracks down one of the photographer's most memorable portrait subjects.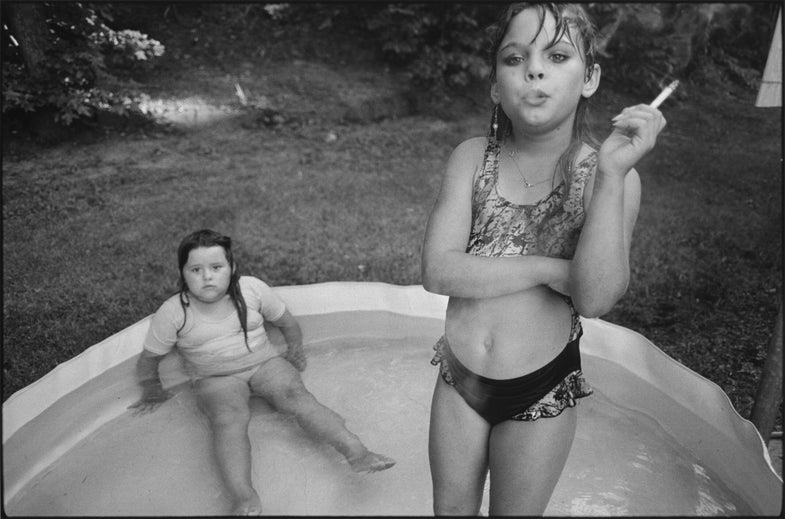 Documentary photographer Mary Ellen Mark was a master portraitist like no other. For over fifty years her photographs showed the world the humanity of those who were often overlooked: disabled children, street prostitutes and the homeless. Her images were sensitive and subtle—allowing viewers to explore the nuances of her subjects. Her arresting photograph "Amanda and her cousin Amy" featuring a bikini-clad pre-teen girl smoking a cigarette in a kiddie pool was no different.
The image was taken by Mark in 1990 while on-assignment for Life Magazine. Mark had been send by Peter Howe to work on a picture story about a school for troubled children. Amanda, the girl with the cigarette, was one of the students and as Mark told British Vogue in 1993—one of her favorites. "She was so bad she was wonderful, she had a really vulgar mouth, she was brilliant," Mark said in the interview.
Last month, after Mark passed away at the age of 75, NPR decided to dig deeper into the story of this photograph. Who was Amanda, why exactly was she smoking and where had she ended up?
Listen to the segment above to find out what became of the 9-year-old smoker from North Carolina and her cousin.
[See also: 13 Photos that Made Mary Ellen Mark a Legend]