Rich and Famous Poolside Portraits by Johnny Pigozzi
These photos of the rich and famous make us anxious for summer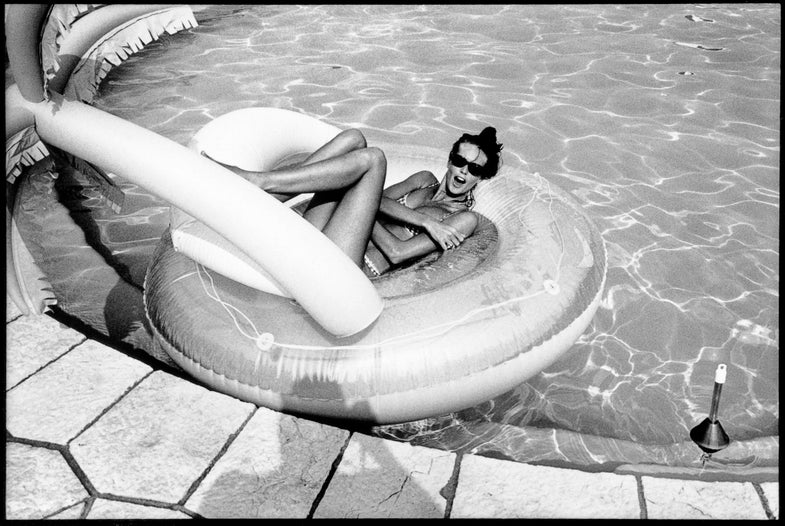 When he was a toddler in the 1950s, Jean aka Johnny Pigozzi's parents installed a kidney-shaped pool at Villa Dorane, the summer home they owned in Cap d' Antibes, a resort town on the French Riviera. "I learned to swim in that pool and I've always had fun there," says Pigozzi, now a businessman, art collector and photographer. "That pool has been one of my great friends over the years."
It's also been a social magnet for Pigozzi's other friends—many of whom are rich and famous, beautiful, in the cultural cognoscenti or otherwise well appointed—drawn to the location's gorgeous view of the Côte d'Azur as well as its friendly vibe.
"Amongst the sloping lawns and the conifers we hear on the breeze a quieting thought—'life's too serious to take so seriously,'" writes Bono in the foreword to Pool Party, Pigozzi's new photobook about the perennial summertime scene. "All the wild and wonderful guests [are] jumping in and out of his looking-glass pool. The biggest thrill for me is to hear the laughter drown out the sea … because Johnny is funny everyone is now a comedian."
Pigozzi's photographs offer ample evidence of jet-setters at play—Mick Jagger cavorting with Helmut Newton, Diane von Furstenberg hanging with Bruce Weber, Jack Nicholson yukking it up with Jack Rizzo—all relaxed and with their guards down. Many of the images are also on view in Johnny's Pool, an exhibit at New York's Gagosian Gallery through May 28.
The villa's pool-party tradition started with Pigozzi's parents: Henri, founder of the French car maker Simca, and his wife Louisette, who transferred their Parisian style and hospitality to the summer getaway. But after Johnny inherited the home in the '80s the social scene kicked into overdrive. In the early '90s he hired Ettore Sottsass to refurbish the place and add architectural flourishes. "He really brought a completely different spirit to the house," Pigozzi says. "He made it much more fun and friendly."
Along with a quick eye, Pigozzi brings an unintimidating presence to his portraiture, mostly shot on a Leica M4 35mm rangefinder or, more recently, a Leica Q digital compact. "I hate posed photographs. Most of the time, I just take one quick snapshot," Pigozzi explains.
That casual candor extends to the book's light-hearted presentation, including hand-written captions by Pigozzi and his "intro" consisting of what he terms "a stream of words that came to mind": "bikinis, reggae music, sunburns, siestas, helicopters … inflatable pool toys, terry cloth, Lebanese food, bad cellular reception …"
The viewer is then treated to the famous faces that follow such as Sting, Elle MacPherson, Herbie Hancock, Naomi Campbell, Uma Thurman and David Geffen—disparate players with one thing in common: entrée into an exclusive Riviera hideaway. It's a nice perk if you can get it.