Jeff Frost's Stunning Photos of California's Devastating Wildfires
"Draw people in with the beauty—and then thump them over the head."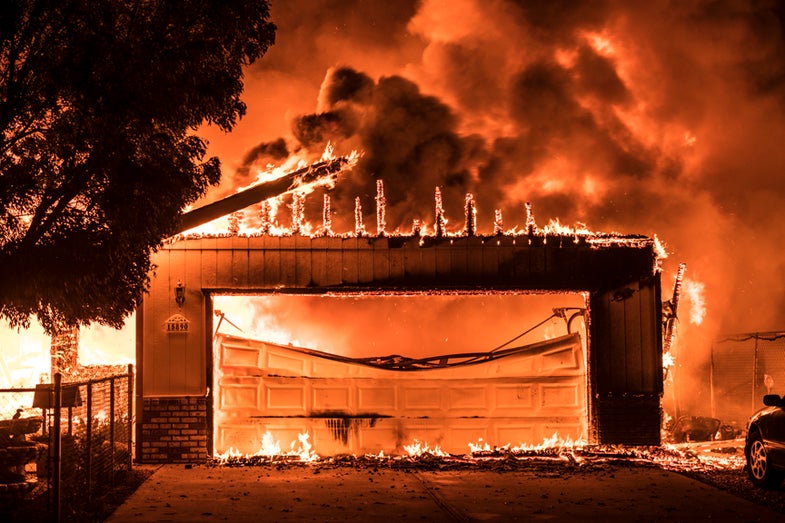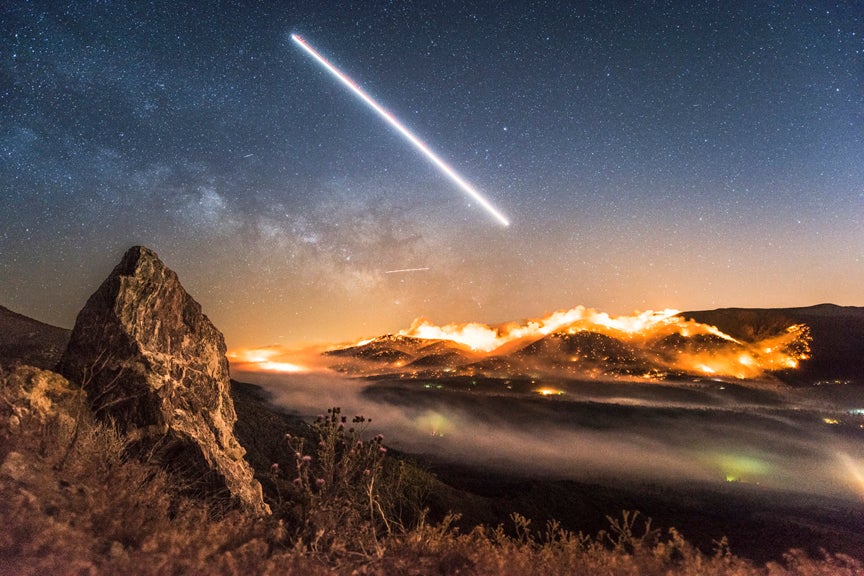 Multimedia artist Jeff Frost's latest photo project, California On Fire, documents a series of Golden State wildfires over the past three years that have destroyed countless acres of forest land and thousands of homes. Yet his images evince an almost supernatural sense of beauty.
"I've struggled with that a lot," Frost says. "I'm happy about getting a good photo, but I'm not happy about the fire—or about what's happening with climate change—so it's a basic conflict. You learn to compartmentalize things. I've talked with hardcore war photojournalists, whose images are sometimes quite artful, and asked how they resolve these issues. Their strategy, which I've adopted, has been: 'Draw people in with the beauty—and then thump them over the head.'"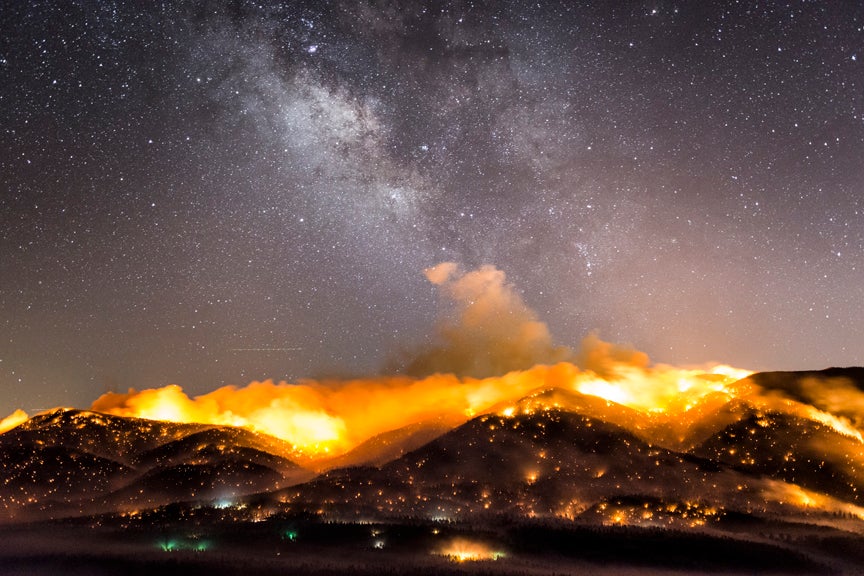 Message-wise, Frost hopes his project will highlight the connection between wildfire proliferation and man-made climate change, which he calls "the single most important issue for our species."
Frost stumbled into this project in 2014 while working on an art project that involved photographing abandoned homes at night. During one of these shoots he encountered a raging wildfire and decided to incorporate the flames into his work. "I started researching the scientific literature on wildfires as manifestations of climate change: It's quite alarming," he says. "I'm doing the best thing I can think of to do."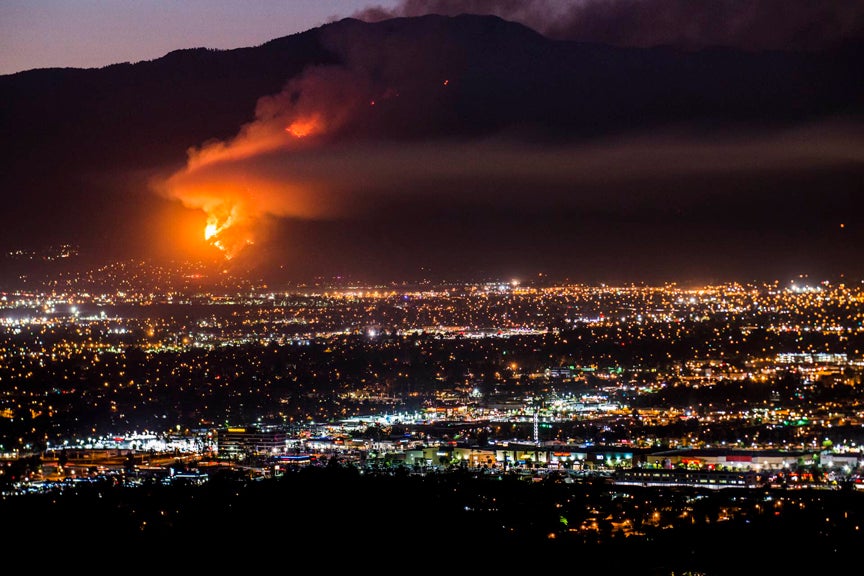 Since that chance encounter with a wildfire, Frost has immersed himself in the work, completing a number of firefighting courses so he can get advanced clearance when chasing fires—he says he is only a few classes away from being qualified to actually fight a fire. As a documentarian, he takes care not to impede the work of the firefighters he encounters though. "To me, they are the true heroes," he says. "It's important to show what they are up against—but I purposefully don't just focus on them. The guys have routinely said to me, 'We're really happy that you are out here showing what's happening.'"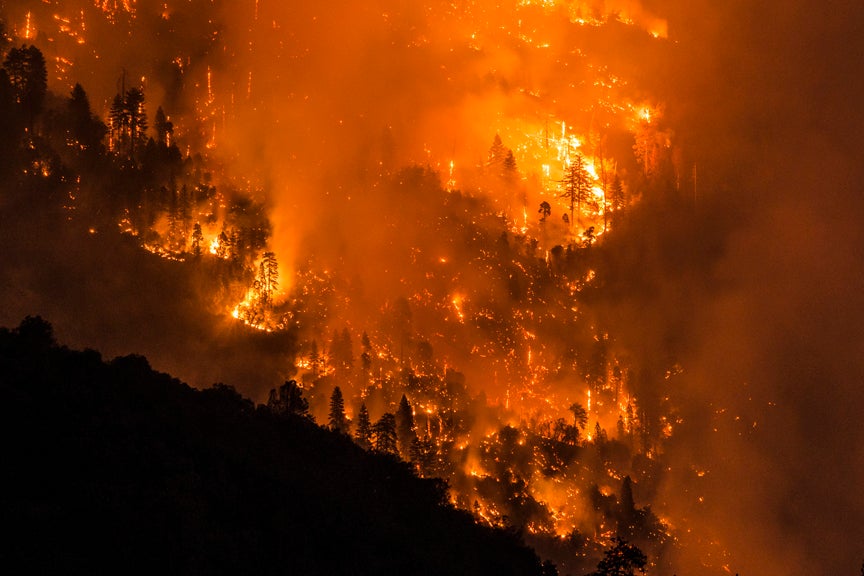 Frost tracks active fires through online forums and Twitter feeds from state fire agencies. "A lot of times they're chatting back and forth before you hear stuff on the news," he says. "I also know journalists and firefighters who will feed me tips, so we get alerted pretty quickly." With many fires located several hours away from his LA–area home, Frost often has to move fast to witness a wildfire before it's brought under control.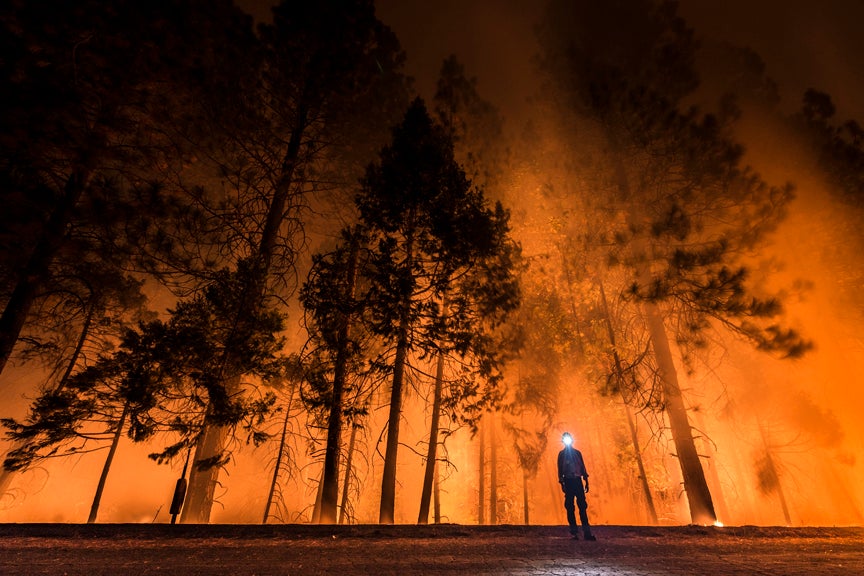 As his project evolves, Frost increasingly finds himself documenting wildfire havok in populated areas, rather than the desolate regions where the project started. "I've started photographing more ordinary daytime scenes with thick plumes of smoke in the background," he says. "A couple of weeks ago I shot straight down a long city thoroughfare, with all these cars going back and forth and this giant smoke cloud at the end of the perspective. I'm shooting gas stations, Rite Aids, or strip malls with fires approaching behind them, because that's what's actually happening. I want this to be connected to people's everyday lives."
Frost's wildfire images comprise a new coffee-table book project with Minor Matters Books, California on Fire ($50). As per the company's publishing model, the title needs to pre-sell 500 copies in order to get a green light for publication. The book will be available for pre-order through July 31.