Interview: Daniel Berehulak on Afghanistan, India and Pakistan
Daniel Berehulak has spent the last five years covering history in the making across Asia. As a Getty staffer based...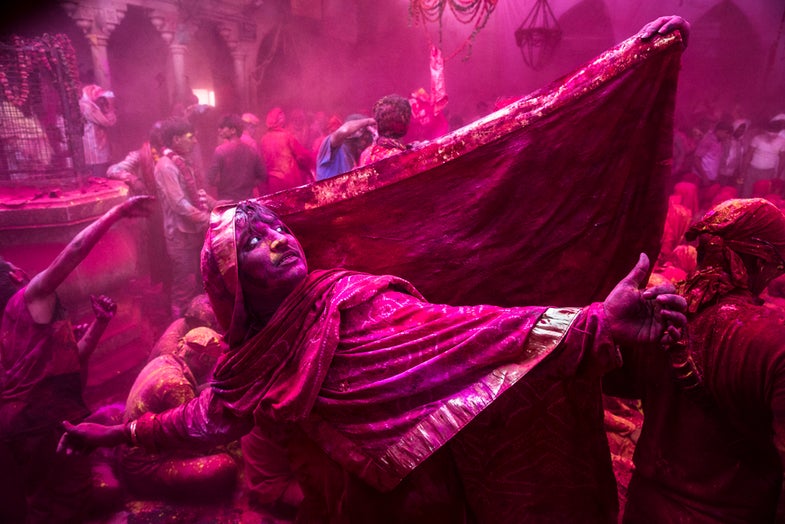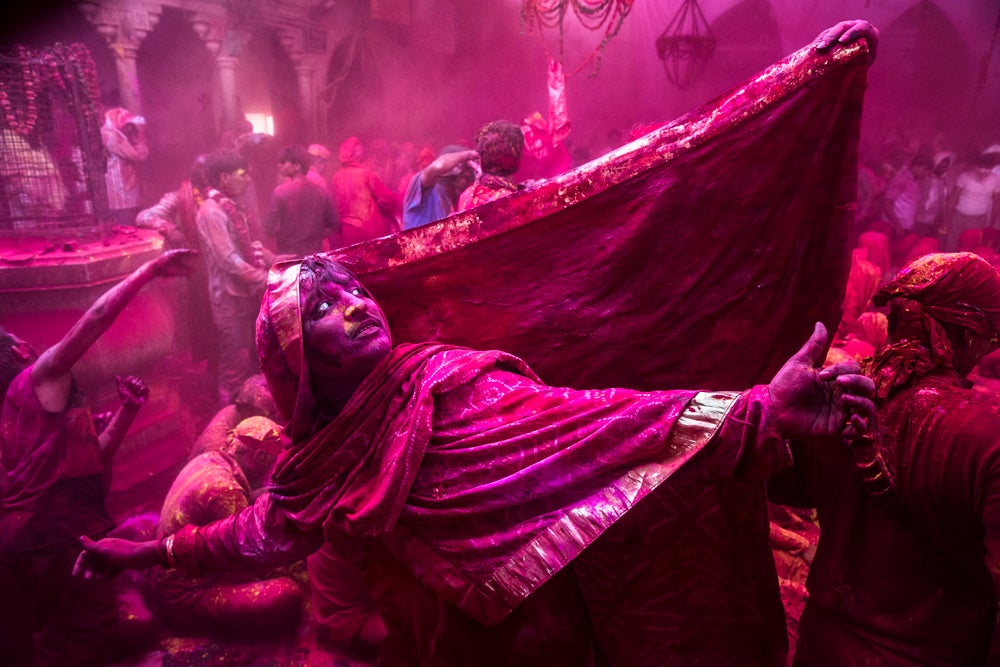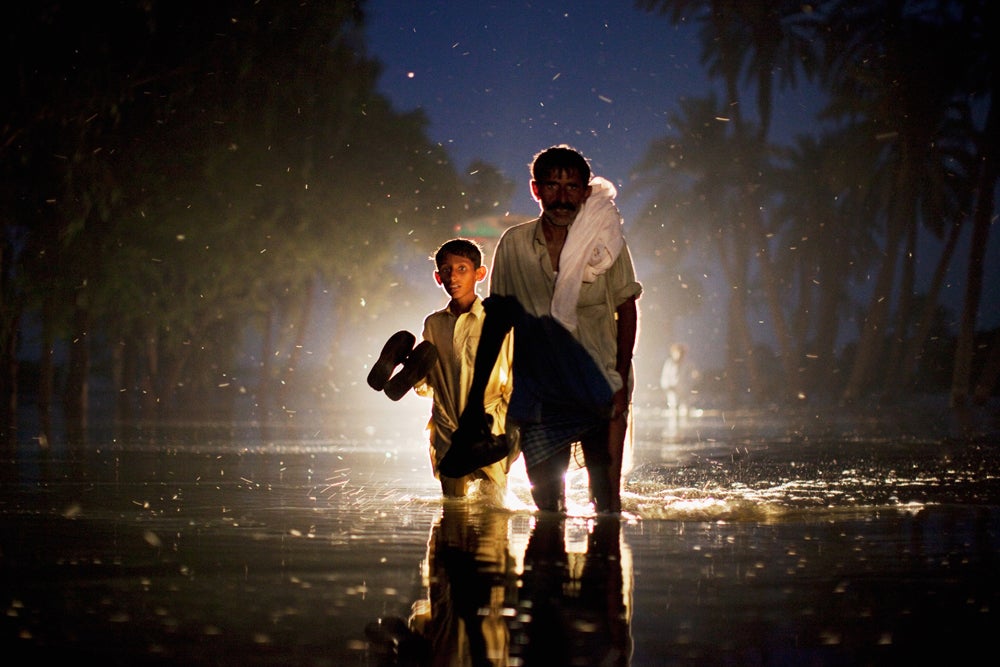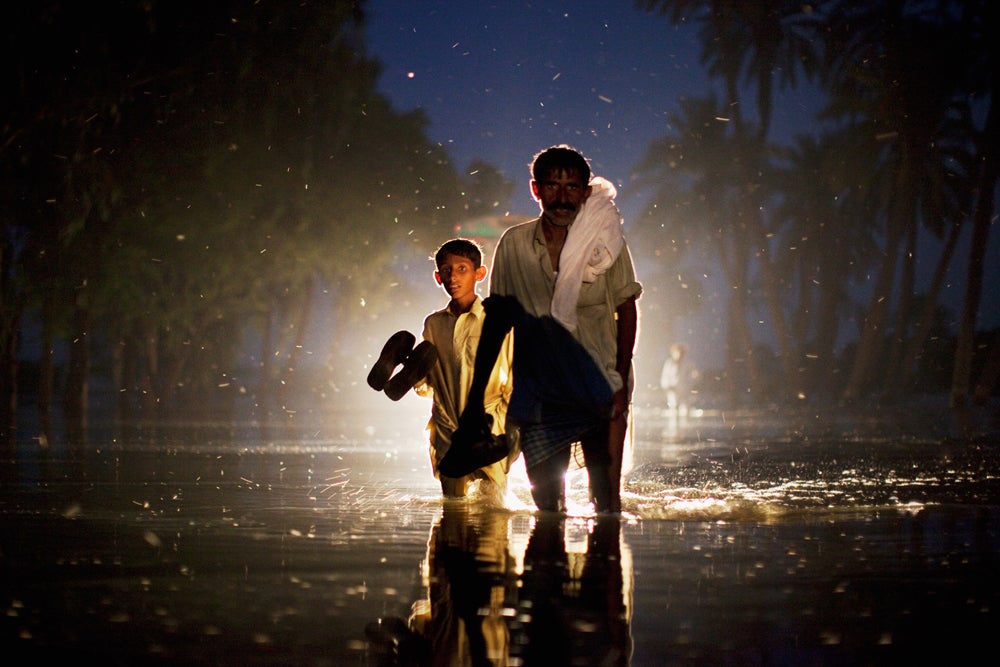 Pakistan Flood Devastation Continues To Grow
Mueen Ibrahim, 10, peers around the back of his grandfather Ghulam Qadir, 52, displaced by floods, walk through flood waters on August 22, 2010 in the village of Baseera near Muzaffargarh in Punjab, Pakistan. Ghulam, walked his one water buffalo and three goats to safety to higher ground, before evacuating his family and their belongings two days before the floods hit his home in Basti Jagwala.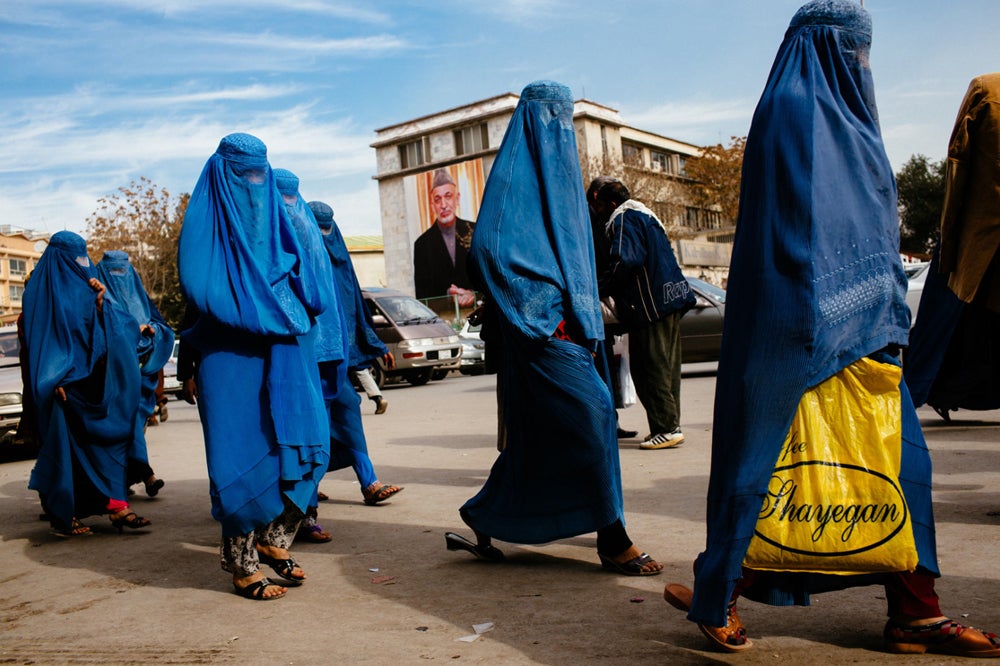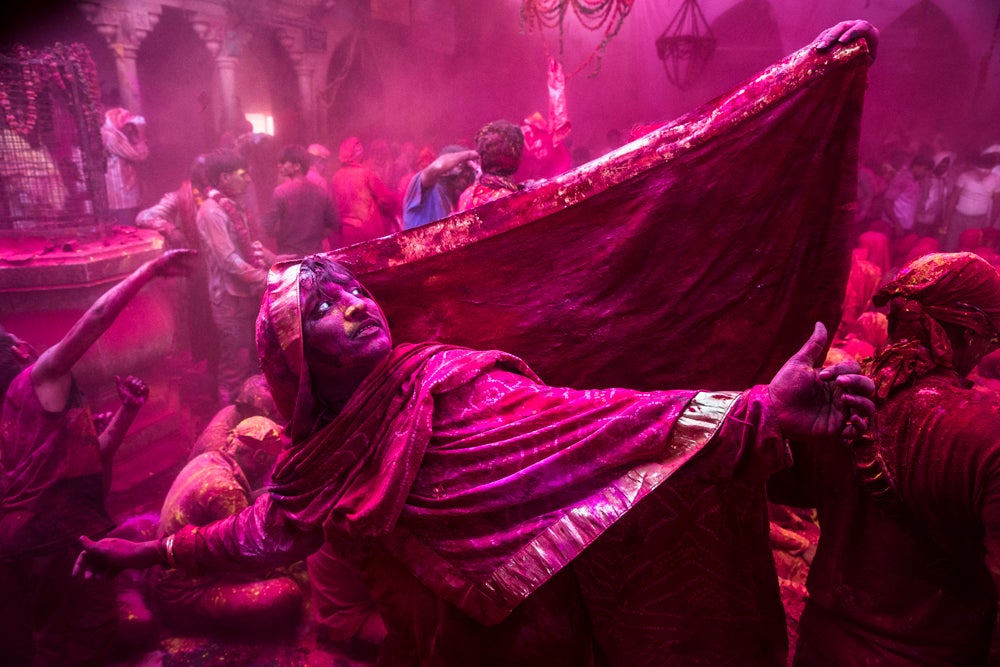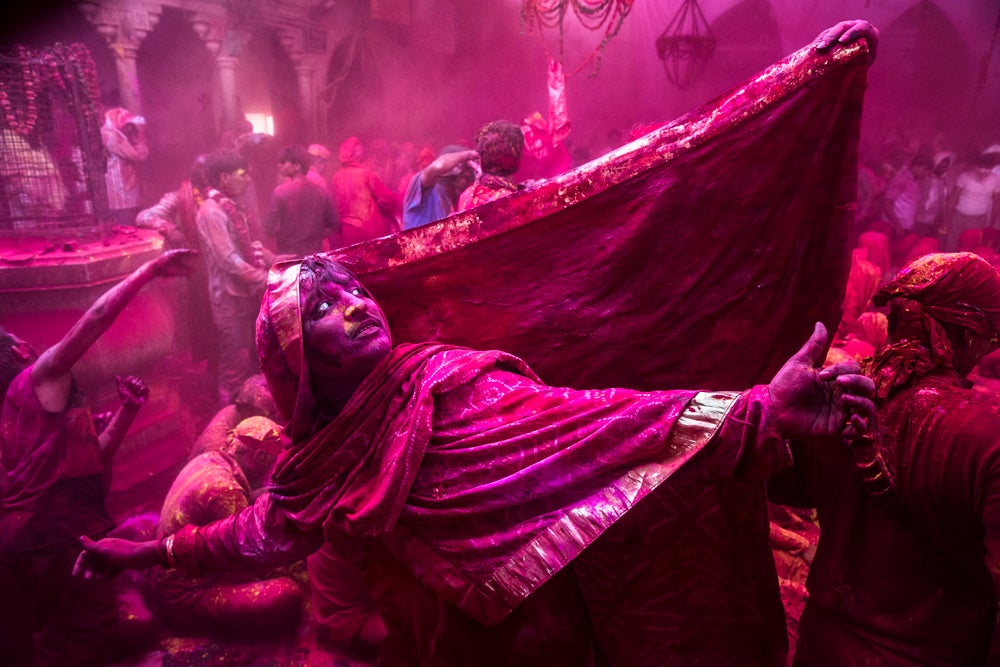 Hindus Celebrate Holi In India
A transgender Hindu devotee dances during Lathmaar Holi celebrations on March 21, 2013 near Mathura, India.

iPhone Panoramics Of The Kumbh Mela
ALLAHABAD, INDIA – FEBRUARY 09: (EDITORS NOTE: Image was created using an iPhone panoramic application) Hindu pilgrims make their way over pontoon bridges near Sangam, the confluence of the holy rivers Ganges, Yamuna and the mythical Saraswati, during the Maha Kumbh Mela on February 9, 2013 in Allahabad, India. The Maha Kumbh Mela, believed to be the largest religious gathering on earth is held every 12 years on the banks of Sangam, the confluence of the holy rivers Ganga, Yamuna and the mythical Saraswati. The Kumbh Mela alternates between the cities of Nasik, Allahabad, Ujjain and Haridwar every three years. The Maha Kumbh Mela celebrated at the holy site of Sangam in Allahabad, is the largest and holiest, celebrated over 55 days, it is expected to attract over 100 million people. (Photo by Daniel Berehulak/Getty Images)
Daniel Berehulak has spent the last five years covering history in the making across Asia. As a Getty staffer based in New Dehli, Berehulak covered the 2009 Afghan elections, the 2010 Pakistan floods and child labor in the mines of North East India. Last year, after eight years shooting for Getty, Berehulak left his staff position to freelance. In that time he has picked up assignments from the New York Times and recently won the Chris Hondros Fund Award.
Berehulak's first solo photo show opened this week in New York at Site 109 Gallery. The exhibit features photographs from Pakistan, India and Afghanistan and will be on view until June 26.
Last year you left you're position as a Getty staff photographer to go freelance, what have the benefits been?
As a Getty Images staff photographer I'd be filing like 20-40 pictures a day. It sometimes limits the extent to which you can cover a story. You can't stay till midnight or one o'clock, two o'clock—you don't have the luxury of focusing an hour and a half on one person in the crowd and waiting for that moment to get that expression that kind of encapsulates the whole mood. Now, [being freelance] working for a publication like the New York Times you have a slight luxury. You have your deadlines, but I ended up covering the India elections for like four to five weeks.
At Getty, working as a staffer, we would take risks, try to get a nice frame, but you would have your bases covered. I suppose I'm still doing that, but I'm trying to wean myself off it a little bit to take my photography to the next level. Focusing more on story telling and weaving narratives and doing them with a theme. With every assignment I'm doing now, I'm learning so much more.
Rather than taking the safe route and making sure that I've got [shots] that are going to appease editors and the newspapers I get to step back a little and look at the bigger picture. At the historical value of the imagery, rather than just the daily rush for news.
Why did you want to go freelance?
I wanted to work on stories for possibly longer then three days or five days [as a staffer] usually you hit somewhere, you hit the ground running, you shoot, the story dies down or another story breaks and you are extracted from there you go off onto something else, but that place, life doesn't change for those people.
Tell me about covering Holi Festival in India?
We make this festival look so beautiful and incredibly charming, and it's probably one of the most intense things to cover. The colored powder, this stuff goes through all of your equipment, it goes in your eye sockets. You're literally pulling powder out of your eye sockets. When you are going through the streets, going to these temples, everyone is throwing color in the streets and they are actually pretty aggressive. I ended up being jumped on my last Holi by like 10 guys. They have a drink called bhang lassi and they get high and they also drink alcohol so it brings out the nasty side of India as well. It is one of the most challenging things because you at least lose one camera or one lens gets pretty much destroyed.
You also covered the Maha Kumbh Mela in India. Can you tell me about the photographs you made there?
It's the largest religious gathering of people on the planet, over 100 million people gathered. This set of panoramics I was shooting on an application called 645 Pro on my iPhone. It's not one of those swing around, it basically just cuts the top and the bottom off. The problem with panoramic photography is filling the frame, but there are over 100 million people that visit the waters of the Ganges River. They came on train, buses and even walked in. We actually stayed like 12 kilometers away because we needed to have power and electricity, we needed to file on a daily basis. We sent my fixer there earlier, three months ahead to nail down accommodations. We ended up getting murder bikes so we'd have a driver who would get us as close as he could, which was three or four kilometers and then we would have to walk in.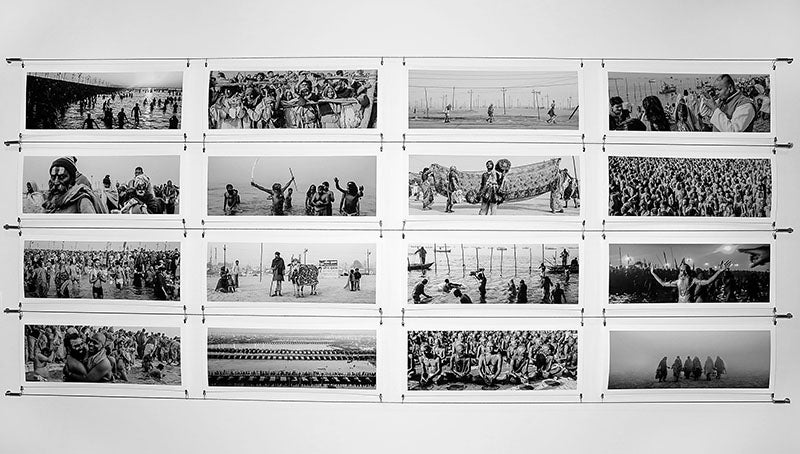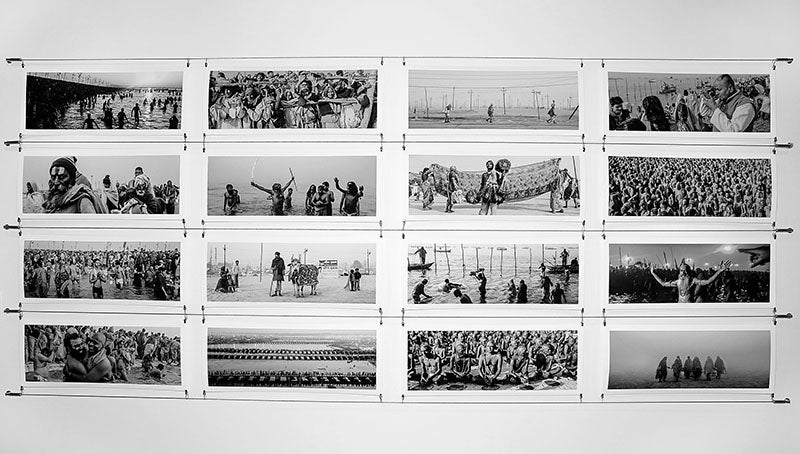 NOT FOR SITE – Opening Night Of Daniel Berehulak's Exhibit
NEW YORK, NY – JUNE 18: A general view of atmosphere at the opening night of Daniel Berehulak's exhibit at Site 109 on June 18, 2014 in New York City. (Photo by Monica Schipper/Getty Images)
You were in Pakistan during the floods, and made a photograph of a young boy and his grandfather wading through floodwater to their homes. How were you able to capture this image?
These are places in Pakistan that if there wasn't any flood water we wouldn't have been there. They are actually dangerous places. On the night I photographed that I was with another AP photographer because it's safe to travel with someone else. We had ventured out without our translators, without the drivers, and the sun is like set, we were making our way back to the camp. There was just a lot of movement through here. This is kind of the more shallow places, the water got a lot deeper. Unfortunately I didn't speak the language, I wasn't able to get their names, but I knew when I had taken this photograph that it was a strong compelling image and really brought home the story of the floods. A lot of times when you are dropping in to certain places by helicopter, you drop down for 10 minutes you are there for an hour—you don't have the luxury of time. I wanted to find out as well who these people were. So I went back a year later to a number of these places, with this photograph and a whole lot of other prints that I had.
How were you able to find them?
During that time I had my iPhone and I was like pinning places as well, so that came in handy the year after when I was going back to the villages because I could actually go back. It took a day and a half, I showed the photograph to one guy, we were in a marketplace, this villager saw the picture and he recognized them, and then looked up at the translator who looked like a Pakistani ISI, special police kind of agent and he just dropped the photo and ran. It was discouraging, but it was exciting to know that we were warm. We found one guy who was selling chicken, everyone suggested we go there because everyone buys chicken from that one place. That guy didn't know, but we were walking past a mechanic and showed it to him and he was like yeah, "that's my neighbor." We ended up finding out it's a grandfather and grandson, this trip that they are doing back on this night, they had fled from their house probably around six days earlier and the waters were just now starting to subside. I was so relived that I was able to find the story, which is really, really important.
Why did it matter to you to find out who they were?
When I originally sent the photograph in 2010 I captioned it as a man and a boy, some publications had kind of romanticized it and said father and son. Whatever we are showing, we need to be showing it in the right context so it's not romanticized and it adds weight to the situation.
The final country covered in this show is Afghanistan, what can you tell me about those images?
This is part of my first assignment for the New York Times, which was on child malnutrition. It was a two month rotation in Afghanistan where you stay in a Times house and you work with the journalists there. They had two or three at any given time and you kind of rotate out and you work on stories. The reason for the malnutrition was kind of baffling. There was a number of different causes, you couldn't exactly just pin it on war. The malnutrition story by Rob Nordland, he was the journalist who was writing, was an incredible story and matched with the visuals—that story got so much more attention than any of the other stories that I had done previously for Getty Images, even when it was decimated across different newspapers. That kind of collaborating really drives your work forward.
See more of Daniel's work here.
Site 109 Gallery is open Wed. – Sun. 12 p.m. – 7 p.m. Daniel Berehulak's work will be on view until June 26.